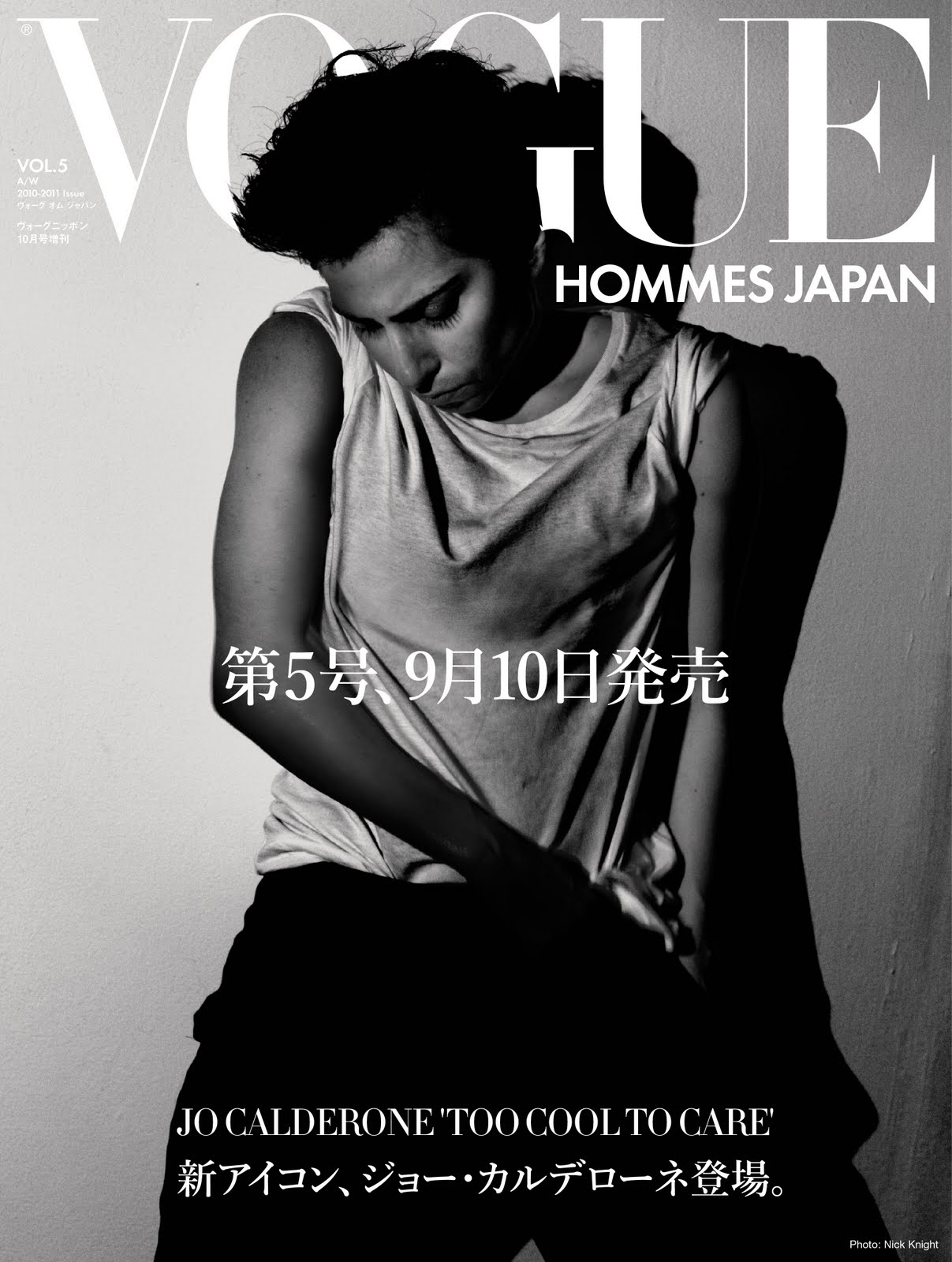 A few months ago, Perez Hilton released some exclusive images of Lady Gaga dressed up like a very Bob Dylan-esque dude. It was all for a photo shoot for Vogue Hommes Japan. Gaga even gave her male alter-ego a name: Jo Calderone… which sounds like a sandwich, in my opinion. Anyway, the Nicola Formichetti blog just released the Vogue Hommes cover, plus a short interview with "Jo". Jo sounds like a perfect gentleman, actually. He also sounds like he comes from Depression-era Kansas.
JO CALDERONE – INTERVIEW

WHERE ARE YOU FROM?
Palermo, Sicily

HOW WOULD YOU DESCRIBE WHAT YOU DO / YOUR
OCCUPATION?
Mechanic for my dad's business. This is the first time I've had my picture taken.

WHEN DID YOU DISCOVER YOU WANTED TO TO THIS?
Well, I always helped my dad at work, since I was a kid. I thought it would be fun to have my picture taken.

WHAT ARE YOUR AMBITIONS?
I'd love to own my own car shop, I have a bunch of my own 'muscle' cars. Maybe if I take some more pictures I can afford it.

WHAT IS YOUR RELATIONSHIP TO LADY GAGA?
I met her at a shoot Nick Knight was doing. She's f-ckin beautiful, and funny, and interesting. I was a little nervous for Nick to start shooting. She said, "Don't be baby, you were "born this way." I took her out after. The rest is private 😉
[Vogue Hommes Japan interview, conducted by Jo-Ann Furniss, via Nicola Formichetti's blog]
Is it okay if Lady Gaga comes back now? I don't really have anything against Jo, nor do I have an opinion in general about Depression-era Bob-Dylan-styled mechanics who refuse to kiss-and-tell and have never had their picture taken. Jo seems like a lovely young man. But I prefer Gaga. The real Gaga. With the tuck.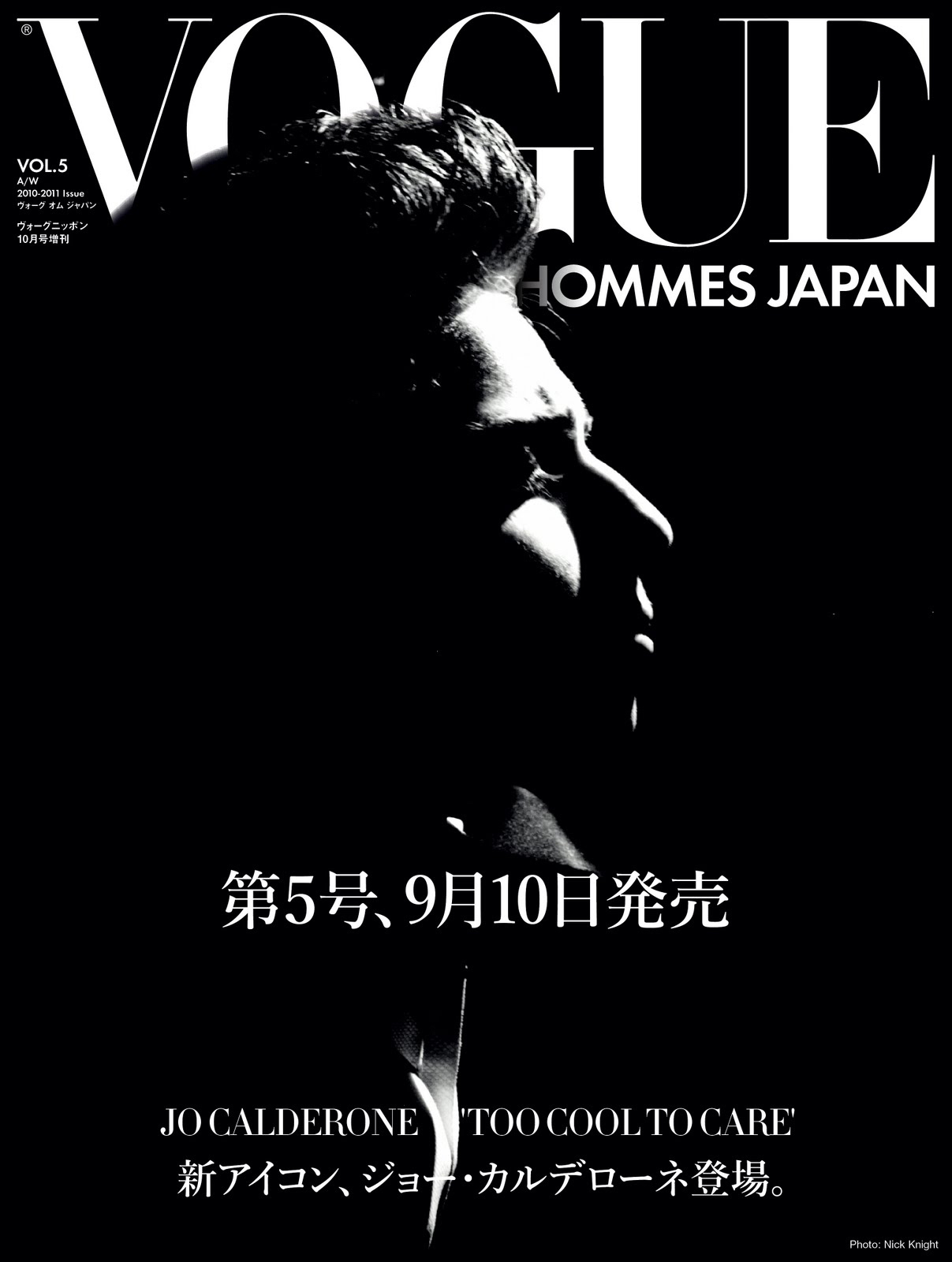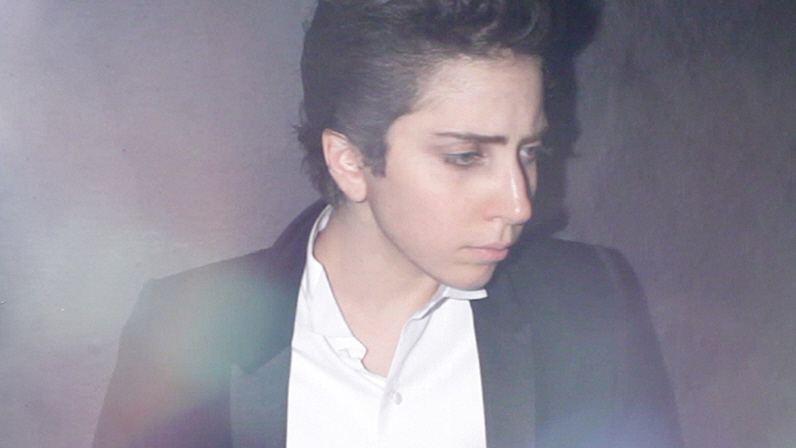 Vogue Hommes Japan images courtesy of Nicola Formichetti's blog, plus additional images courtesy of Perez Hilton's Twitter.