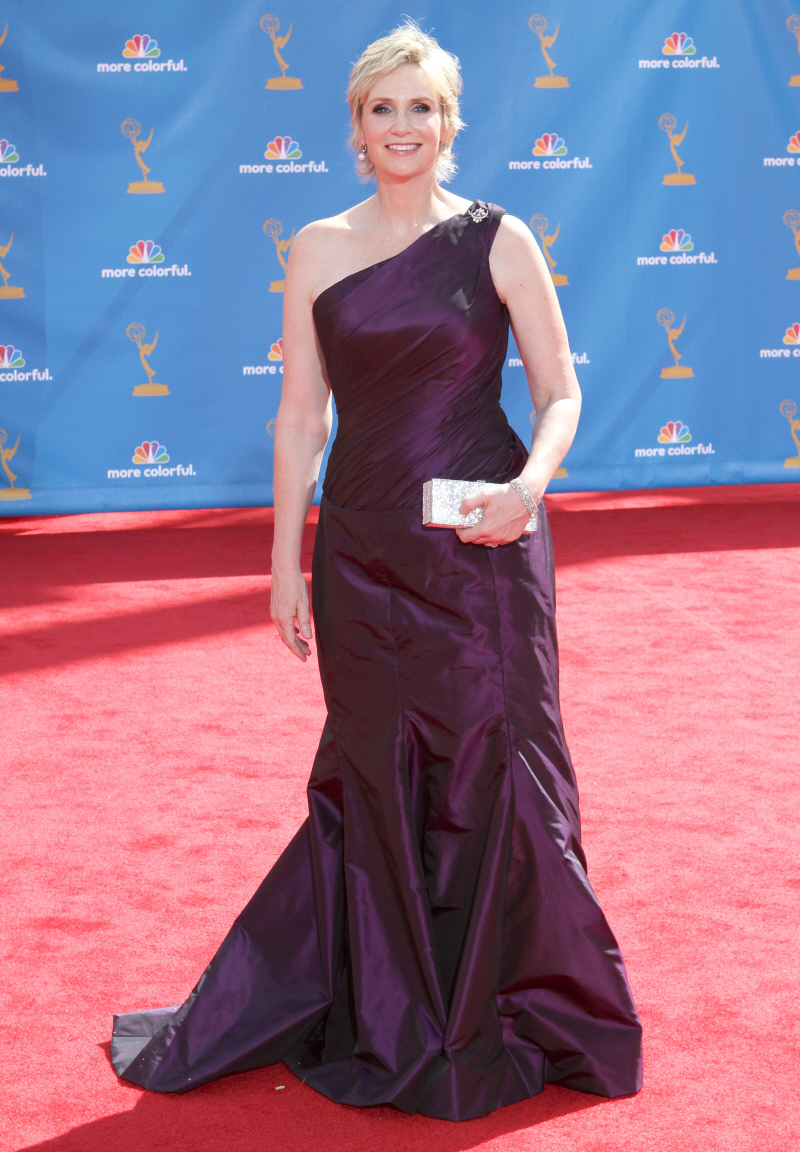 At last night's Emmys, I have to admit that no one really blew me away with a look that was so fabulous, so right-on, so immaculate that I was seething with fashion envy/jealousy. But there were some good, even great looks. I actually thought Jane Lynch was one of the best-dressed of the night (above). She chose a very girly, princess-y gown in a deep amythyst color which looked great on her. She seemed to be the harbinger of two trends: jewel tones and one-shoulder gowns, both of which I wholly endorse. Plus, Lynch won last night, which was spectacular for her. WHOOP!
Claire Danes was one of my best-dressed of the evening. This is Armani Prive, and it could easily have washed her out. But something about the right tone and her hair – I don't know, it really worked. It worked everywhere – on the red carpet, on stage, and in photos. It's a fabulous dress, and Claire kept everything else simple in service of the dress, which was smart.
I thought Lea Michele looked adorable, and I'm not even a fan. This dress moved beautifully, and the fit was gorgeous. It's Oscar de la Renta.
Here's a controversial decision – I'm putting Kyra Sedgwick on the best dressed list. I know, I know: her hair. But the dress, the makeup and the first-ever Emmy win (WHOOP!) make up for the bedhead. The color was absolutely fantastic too. Plus, I just love her.
Tina Fey in Oscar de la Renta = WIN. This looked great on her, she looked smart and pretty and age-appropriate and sexy. Plus, the detailing on this dress is gorgeous.
Christina Hendricks in Zac Posen. At first I was like, "Jesus, Chrissy, put down the damn feathers." This dress is all about boobs and feathers and STATEMENT. But you know what? This is actually not hideous. The color is nice on her and the dress compliments her figure, and it's one of her better red carpet looks.
Julie Benz in bridal styles. I can't hate it though, she's kind of pulling it off.
I'm only putting Jennifer Westfield (in Armani) on the best dressed list because I want to look at The Hamm (he was in Armani as well). Personally, I find her dress "meh".
I liked Maura Tierney's whole look. The short (post-cancer) pixie hair looks great on her, the color popped, and the dress moved well. It doesn't look great in still photos, but whatever.
This dress on Dexter's Jennifer Carpenter made me think she's like a prettier Gisele Bundchen. She looked gorgeous, I think. The hair was a little bedhead, but she looked glamorous and sexy.
Amy Poehler makes the best dressed list just for showing up three weeks after giving birth! She looks great. The color isn't my favorite, but it doesn't wash her out and she looks very pretty. Great nursing boobs too!
Julia Louis Dreyfus is another example of a woman who has found what works for her, and wears that style consistently. She usually wears Narciso Rodriguez, and she consistently looks good. Plus, her styling was great.
Yes, Edie Falco was a mess. The dress didn't fit right and the hair was off. But I'm still putting her in the best dressed because suck it.
The Good Wife's Archie Panjabi unexpectedly won Best Supporting Actress in a Drama. She looked great! She's so, so pretty. Love her now.
I feel like we've seen Susan Sarandon in this dress a million times before, but at her age, I'm glad she's found a consistent style that works for her (insert side-eye to Rita Wilson, who you will see on the worst dressed list). And Susan does look great, albeit kind of boring. Her daughter Eva Amurri looks like a bombshell though – so, so pretty.
Ryan Murphy was my Best Dressed dude of the evening. Love that he thanked Tom Ford in his speech!
Header: Jane Lynch at the Emmys, credit: WENN.