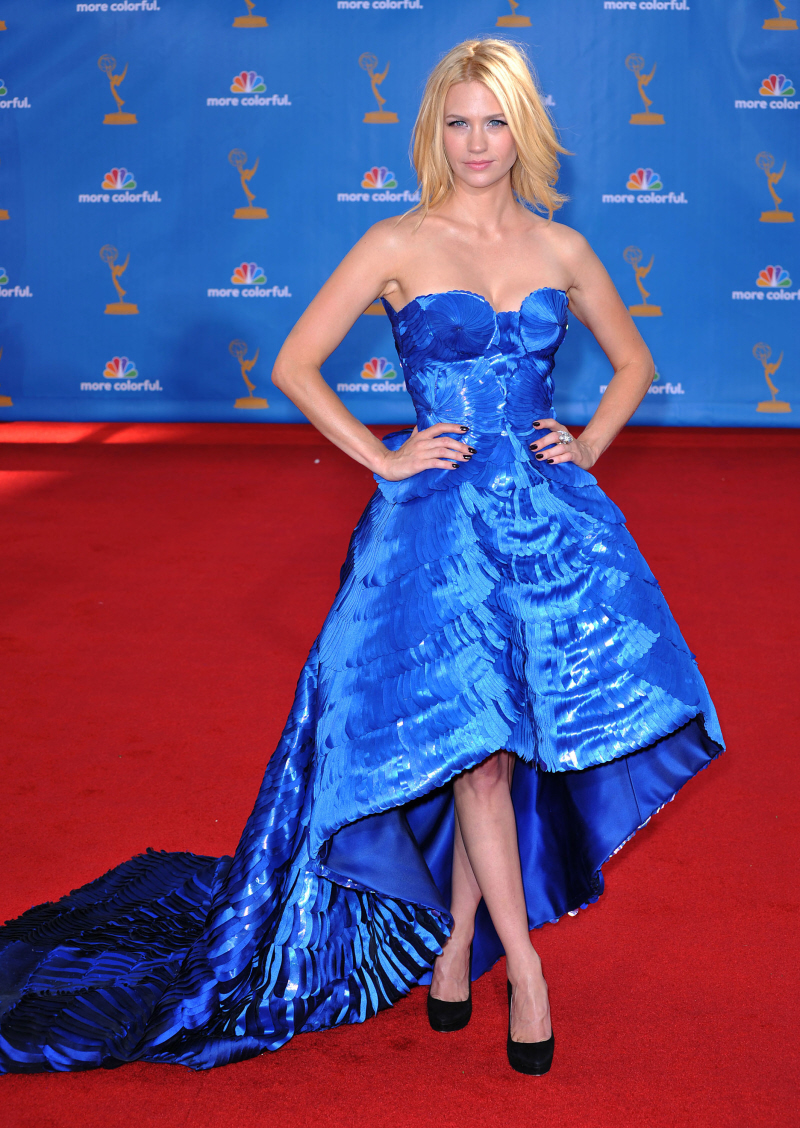 There was a tremendous amount of fug fashion last night, even from some repeat offenders. Like January Jones – what the fug is this mess? It's Versace, by the way. Donatella needs her head examined for making this crap for January. Beyond the hideous (too bright) dress, January hair was hideous, and she looked WAY too thin. Also: seashell boobs!!!
As offensive as January was, the truth is that she's still young enough to say, "Well, she's still experimenting with her look." You cannot say this about Rita Wilson. Rita usually knows what looks good on her figure, and she usually has pretty decent taste. Not last night – Tom Hanks was nominated as executive producer of The Pacific, and this is how Rita showed up: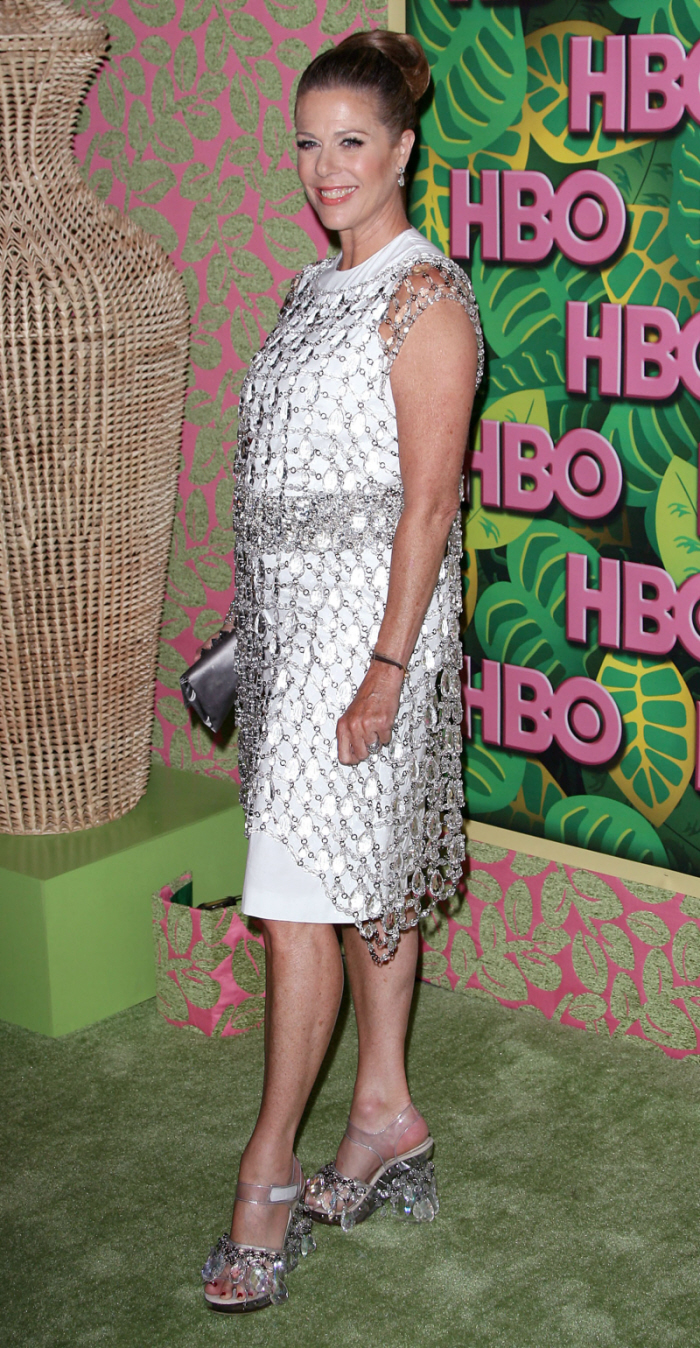 Hideous, right? Sparkly fisherman's net. Check out her Prada shoes: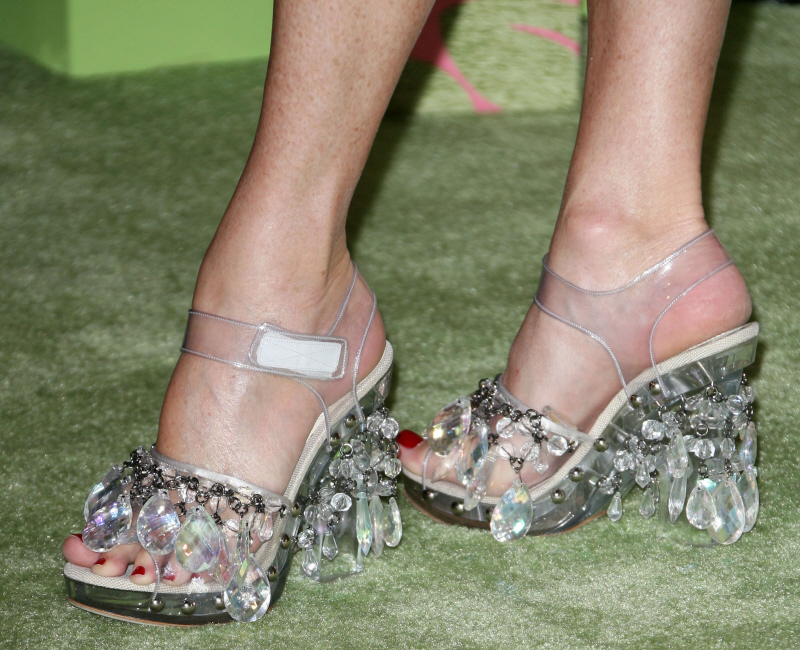 I know Anna Paquin was wearing a dress by the late Alexander McQueen, who was one of her favorite designers. But I think this looks horrible – on her, for this event. Maybe for a different event, with different hair and makeup, I wouldn't hate this so much. But I just think this does nothing for her.
Sometimes it's difficult to judge someone as badly dressed because it's not even that they look terrible, it's just that in mind, they could have looked spectacular. Sofia Vergara just didn't bring it – she could have looked amazing, and this dress just seems to be phoning it in. Controversial choice, I know. It just doesn't do anything for her figure or her coloring.
Dianna Agron (is that her name?) in funky princess styles. Hated it. Next.
I thought Julie Bowen looked like hell too! And the camera kept cutting to her during the Emmy telecast because she was in the front row. She was wearing WAY too much makeup, and her dress makes her look like a mermaid whore.
Now, I don't know this chick's name. She's Ty Burrell's wife, and I am embarrassed for her. My first thought was "cat toy." My second thought? "How could she think this looks cute?"
Honestly, Glenn Close looked much prettier in motion, and you can tell that she's a beautiful woman who is aging naturally, and I applaud that, for real. Plus, she can act the pants off of nearly every woman at the Oscars. So on talent alone, Glenn is awesome. But I didn't care for this look at all. Something was off, and I still can't put my finger on it. Like, the color should have either been darker or lighter, and the fit should have been better and her hair should have been different. Eh.
I kind of loved Julia Ormond's dress, honestly. The fit was awesome, and it looked great on her. The hair just ruined it for me.
Lauren Graham. Hated it. Next.
Jewel. Hated it. She looked like a pale pink doily.
Heidi Klum in Marchesa. Hated it. Too short – it was neither age appropriate nor venue-appropriate. And her styling sucked too – who wears a huge, chunky necklace with a tiny little minidress? Tacky.
I thought Keri Russell looked very pretty, actually. It just wasn't appropriate for the Emmys. This would have been good for a premiere (with a better fitting bust, right?) – but for the Emmys, she needed another three inches of fabric at the bottom.
I wanted to like Elizabeth Moss's dress, I really did. I find her adorable, and I want her to have great fashion moments. But the color washed her out, and I hate the crap on her shoulder, and the hair is horrible, like Sally Field in Steel Magnolias helmet hair for a 50-year-old grandmother.
Ever since I saw Rose Byrne in Get Him To The Greek, I've been in love with her. But these Bride of Frankenstein styles have got to go.
Speaking of Bride of Frankenstein, Mindy Kaling. I love her, she's quirky and interesting and a really talented writer, but NO. Honey, just stop.
Kate Gosselin's dress looked totally WalMart. As did her hair and makeup. As did her bitchface.
Jane Krakowski – always a bad dresser. This doesn't make her top five worst looks, but she still needs a new stylist.
Emily Deschanel = Bangs trauma.
Padma Lakshmi can't dress for sh-t. At all.
Is Betty White still being dressed by the Golden Girls costumer? Because she can afford to hire someone better. I still love her though.
Emily Blunt should know better. This is so fug, it hurts my eyes.
I think Toni Collette is one of the best actresses of her generation. I also think she's one of the worst dressers of her generation. While this is a really, really great look for Toni (it fits and everything), it's still a fug look overall. It looks like she's been walking in mud and dung.
Naya Rivera, no one knows who you are, and no one cares. Settle down.
Speaking of no one caring, Eva Longoria. Zzzz….
A dude made it on the worst-dressed list – Mr. Alan Cumming. Now, I love Alan. I love his funky style, because I think it's genuine and not some hipster affectation, you know? He really is this strange. So I love to hate this look – women's palazzo pants, loafers, and an ascot. Bless his funky heart.
Photos of January Jones and Rita Wilson, credit: WENN.