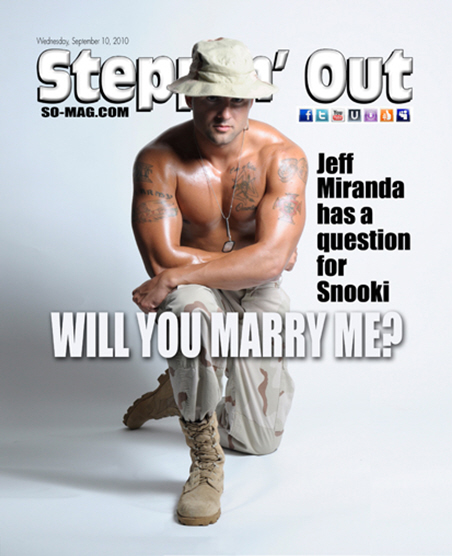 Snooki's latest boyfriend, Jeff Miranda, has been accused of using her for fame and hitting on the other women on Jersey Shore before settling with her. Miranda, a 24 year-old Iraq veteran, denies that he's with Snooki for publicity and says she's "really cute and seems like a cool a** person, even though she's drunk most of the time." Now that they've been together a whole few weeks, it's time for Jeff to propose and he's doing it in the classiest way possible – shirtless and on the cover of a magazine known for featuring Jesse James' racist mistress and giving Jon Gosselin's ex a forum for telling the world how small his d*ck is. Radar Online has the excerpts, and they're priceless:
Jeff Miranda is featured on the cover of the September 10 issue of Steppin' Out Magazine and that is where he pops the question to Snooki. "Will You Marry Me?" is printed over a shot of Jeff shirtless wearing only fatigues shorts and a hat and down on one knee for the proposal.

In the exclusive excerpts from his interview, obtained by RadarOnline.com, Jeff tells Steppin' Out editor Chaunce Hayden why he decided to propose to Nicole "Snooki" Polizzi.

"I want us to be together forever. I could see us having children. I want to pop the question to her. If we got married we would be the best parents around. She's so loving and puts everyone else before her self. She'll be a great mother."

He admits that Snooki is going to be shocked by his magazine cover proposal, but he isn't worried that she'll say no. Once she deals with the shock I think they'll say yes. I really do. In fact, I know she'll say yes."

Miranda says he doesn't think MTV will be very happy about his proposal but that isn't stopping him from trying to get married to Snooki.

"I love her and want to be with her," Jeff gushes about the 22-year old tan reality TV star and promises that they'll be happy together.

"I will never break her heart. She's such a great girl. If people could see us together they would think we're a match made in heaven. People think I'm using her for fame. But that's bullsh*t."

Jeff Mirandi addressed the difficulty of living with a reality star surrounded by cameras. "It came with the territory. But I'm willing to put up with it for Nicole. I just want to be with Nicole and make her happy. I can make her the happiest girl in the world. I have very strong feelings for her."

Since the magazine isn't out for two weeks Snooki will be learning from RadarOnline.com that he boyfriend has proposed. How romantic!!
[From Radar Online]
I hope he got her a ring at least! This is what happens when you spend your days sucking down margaritas in front of a camera, everything becomes a drunken blur and you end up with guys using you to get on the covers of magazines. At least he's not shopping a sex tape with Snooki. One of her exes recently said he wishes he would have made one in light of how much it would be worth. In January Snooki admitted that she's made quite a few sex tapes, and I doubt I'm the only one praying that none of them ever see the light of day. I'm sure it's inevitable, though, once this girl's star fades.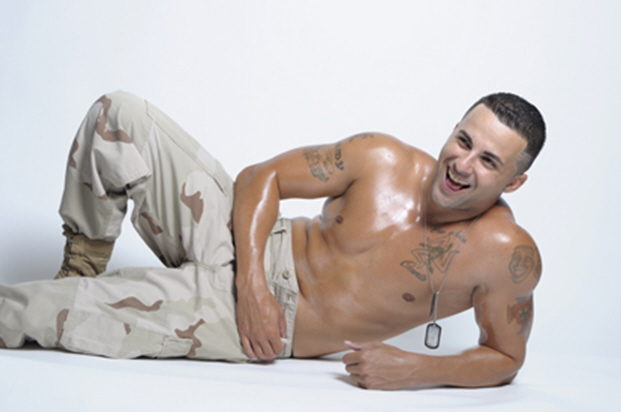 Steppin Out cover and images courtesy of Radar.