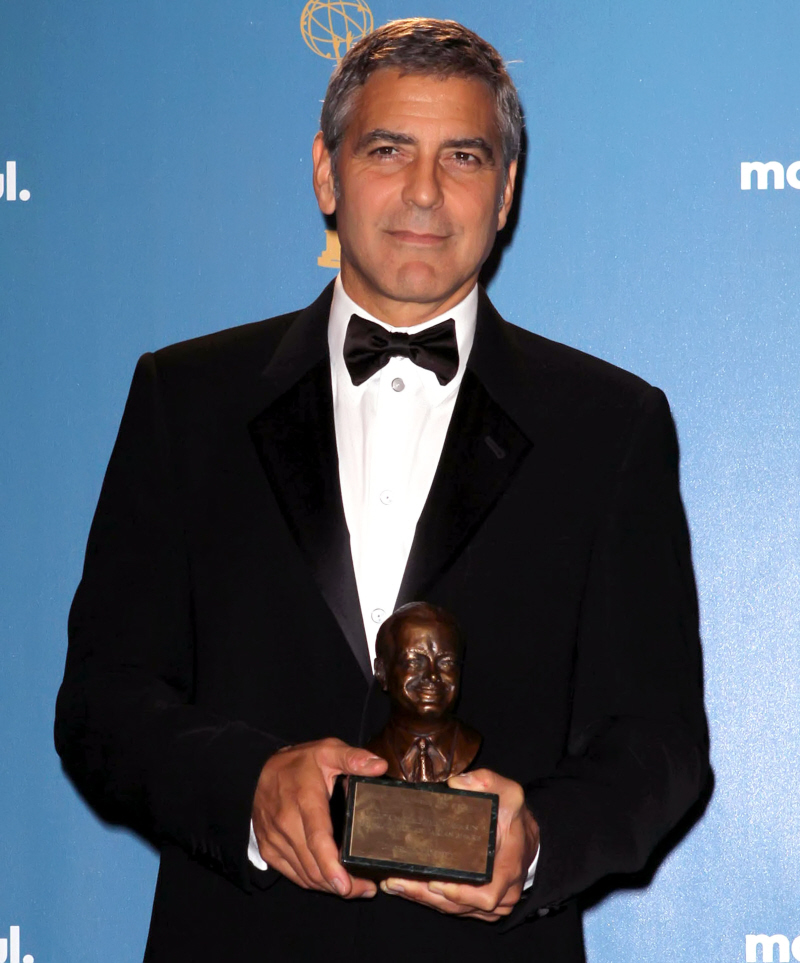 Ah, the Hot Men of The Emmys. Hot Guy Emmys? Hot Guy Awards: The Emmys Edition? Whatever you want to call it, there was a spectacular dearth of truly hot men at the Emmys. Sure, there were cute guys, and many very talented men. But panty-droppers and leg-crossing hotties? There were only a few. So let's start it off with a classic, Mr. George Clooney. I thought he came across as a bit smug during his award presentation (for the Bob Hope Humanitarian Award), and his bronzing is reaching George Hamiliton proportions. But I still get hot for George sometimes. I mean, he knows how to wear the hell out of a tux, and you know he loves the kinkiest sh-t out there. Also – I can't find any photos of Elisabetta Canalis anywhere, although most sources have her backstage at the Emmys. Clooney didn't let her walk the red carpet and wouldn't answer questions about her – which I think means she's on the way out. So Clooney will be single soon, maybe.
Aaron Paul is adorable. Beautiful eyes. I would love to see more of him. And he won his first Emmy, bitches!
Jon Hamm is just so lovely. Sigh… is there anything else to say about him, really? His dance moves are killer and he wears the f-ck out of a tux. Sweet Jesus. His girlfriend better watch her back.
Alexander Skarsgard was there, although he barely posed for any photos. But he did present with Paquin & Moyer. Rumor going around that he and Kate Bosworth are over… I might write about it in a sec. So… hello, Mr. Skarsgard.
I swoon a little when Stephen Moyer talks in his regular British accent. He's very sexy in real life, although he's pretty short. Little pocket rocket.
Nathan Fillion! I cosign his hotness. He's lovely.
I love Eric Stonestreet. He's amazing. And I'm so glad he won!
Matthew Morrison's hair brings the funk. Hideous. He needs shorter hair, for real.
Speaking of funky hair, Al Pacino. Don't get me wrong, I would still hit it (it's Michael Corleone, after all), but is he wearing a hairpiece? Right?
John Krasinski should avoid bow-ties at all costs. They emphasize his ears.
I've never gotten hot for Matthew Fox, and his appearance was totally "meh."
NPH & his partner David. NPH looks gorge, per usual. David has a bitchface, right?
Kevin Bacon needs to shave.
Stephen Colbert – I would hit it like a house on fire. LOVE.
Michael C. Hall's post-cancer hair is funky as hell. But I would still hit it. He's so cute.
I think CB gets hot for Joel McHale. I think he's one of those dudes who does not look better in a tux or suit – he's way sexier in casual clothes.
Ty Burrell is adorable, and I like his tux. He's so fancy!
Michael Emerson will always be villainous to me, but he looks nice with his wife.
I saw Mark Salling interviewed by Ryan Seacrest, and can I just say? This kid is a moron. And he's rude. And unprofessional. I really dislike him now.
Ricky should take off his sunglasses.
Jimmy Fallon did a great job, y'all. Props to him. I'm not hot for him, but he's a cutie.
Tom Hanks looks rough, right? It's not just my imagination?
Jim Parsons is adorable. Love his little Southern accent.
I don't get hot for Bryan Cranston, but I do like him a hell of a lot. He seems like a sweet, generous man, and God bless.
Will Arnett is a handsome guy in his own right – so why do I chuckle every time I see him? I just look at his face and I start laughing.
Damn, is Hugh Dancy already over it? They JUST got married. He's like, "This bitch."
Seal's open shirt was distracting and weird. Like he was a lounge singer or something.
Alan Cumming, once again bringing the funk. Love him.
Does John Lithgow turn anybody on? Freak. You, not him. He seems like a sweetheart. But he's not making me hot.
BUCKY GUNTS!!!!! Let's end it on him!
Header of Clooney, credit: WENN.