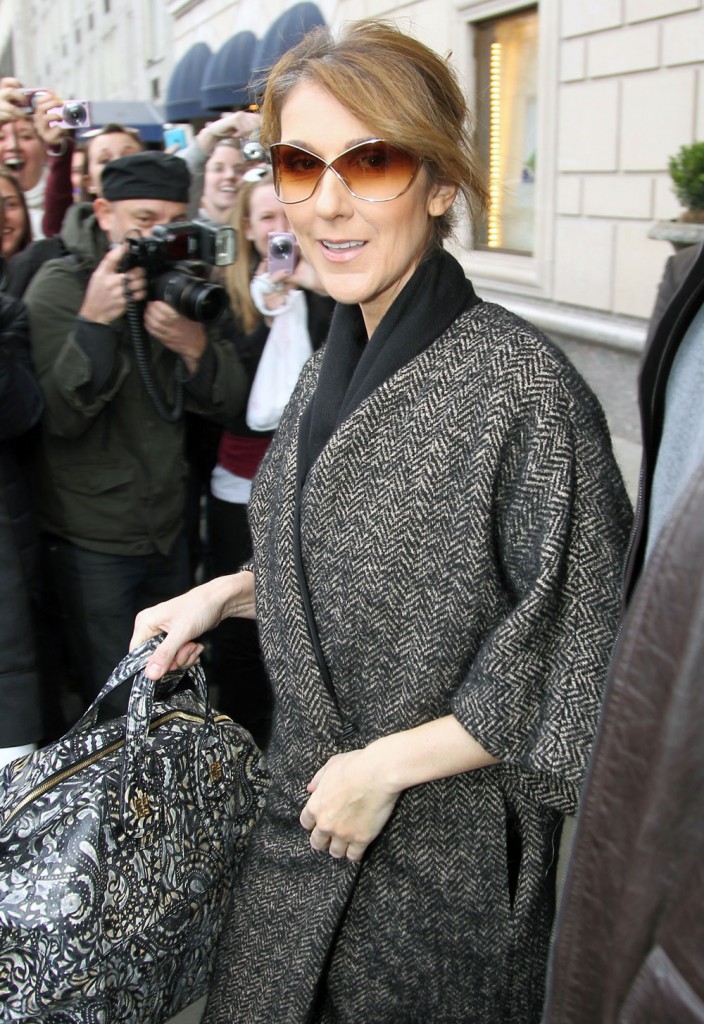 We haven't heard from Celine Dion in some time. She's still pregnant after many heartbreaking attempts, and her husband lets us know that she's healthy and doing well. She isn't even in the hospital, contrary to reports, and is a full seven months into her pregnancy. Celine and her husband Rene Angelil confirm that she's having twin boys! In May they announced that they were expecting twins and now they're confirming a story from Star that they're having twin boys! Good for them. The boys will join Celine and Rene's son, Rene-Charles, 9. It's thought that the twins were conceived using embryos left over from when Celine underwent IVF for Rene ten years ago.
Celine Dion – and the twin boys she is expecting in November – are just fine, thank you very much.

Recent reports in a French tabloid claiming that the singer was rushed to the hospital following pregnancy complications are "completely fabricated," Dion's rep tells PEOPLE.

"She's never been in the hospital – her pregnancy continues to be healthy and she feels fantastic."

In fact, Dion has so far gained 33 lbs., and has continued with the acupuncture treatments she has credited with helping her have a successful pregnancy.

Dion, 42, who will return to Las Vegas for a new show at Caesars Palace next year, has been following doctors' orders to take it easy as she heads into her final two months.

"As with most women expecting multiples, her doctor wants her to stay off her feet as much as possible as she finishes her pregnancy," says her rep.

During what has been a very joyful time, Dion and husband/manager Rene Angelil were distressed by the reports of complications.

"They've gotten calls from friends worried that something is wrong. To be so happy and then to get these calls, it's been upsetting for them when they are in such a good place," says her rep.

"Their son Rene-Charles started the new school year last week, Celine's feeling great, and she and Rene are excited to meet the twins – they just can't wait."
[From People]
The last time we heard from Celine was June, when she said that she was exhausted and felt like she had been pregnant for over a year. It sounds like things are picking up for her especially now that she's in the home stretch. Those boys are going to have a lot of love around them. They're also going to have an awesome place to play when they get older. Check out the huge waterpark at Celine and Rene's estate in Florida. It's got one of those "lazy river" type circular pools with a current that carries you around. Can you imagine?
Congratulations to Renee and Celine and we'll surely be seeing photos of those babies in time for their first Christmas.
Update: here's a photo of pregnant Celine with her family on the cover of a French Canadian magazine. She looks great and I love that she's not wearing any makeup! [via Huffington Post]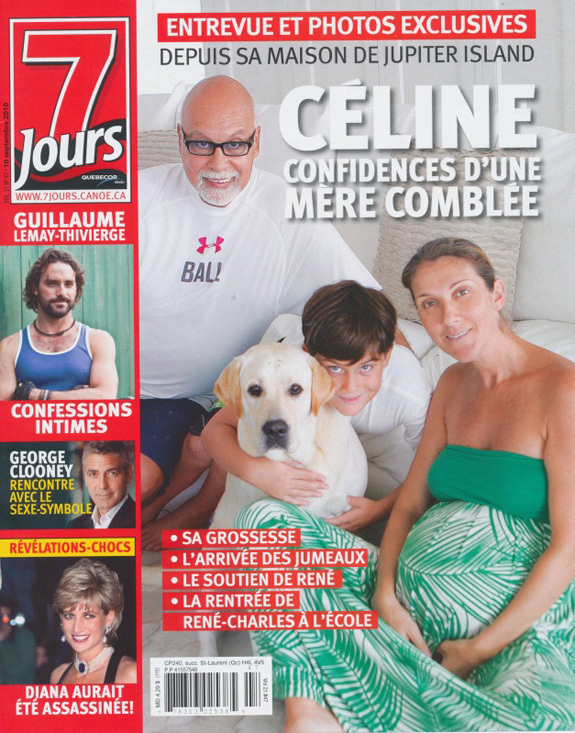 Header is from 3/10/10. Credit: Fame Pictures. Images of Celine's waterpark are from June. Credit: OHPIX/WENN.com. Image of Celine and Renee from April, 2008. Credit: WENN