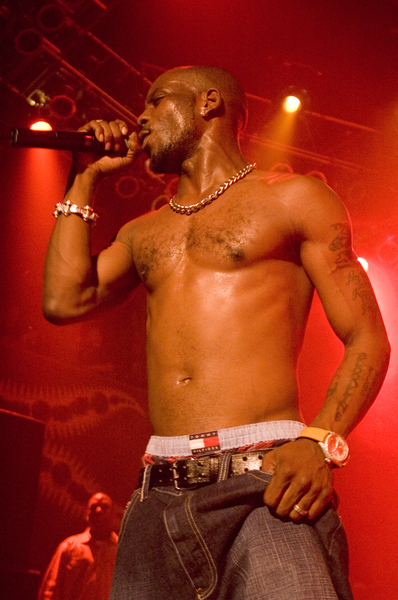 DMX's life is really going down the crapper. On Tuesday he was arrested in Arizona for speeding over 100 MPH and driving with a suspended license. In January, a judge ordered him to pay $1.5 million in a defamation suit brought against him by the mother of one of his children. DMX had said in an interview that he didn't cheat on his wife, because the woman had raped him. He also said he didn't remember sleeping with the woman, and he'd remember, because she was ugly. So she must have raped him. And last summer, sheriffs took away twelve of the rapper's pit bulls due to neglect and abuse. So the easy way to sum up DMX's life right now is that he is physically incapable of doing even one thing right.
But apparently that wasn't enough for the guy. On Friday, police went to DMX's home to finally arrest him on animal abuse charges. Did the guy surrender like a normal person? No, he holed up in his room, refusing to come out, and forcing the police to call in the SWAT team.
…the actor-rapper was arrested early Friday at his Phoenix-area home on suspicion of animal abuse and felony drug possession following a search of the house and, before that, a brief standoff with police when he attempted to shut himself up in his bedroom. According to the Maricopa County sheriff's office, a SWAT team executed a search warrant on DMX's Cave Creek, Ariz., residence at about 3 a.m. in connection with a seven-month-old investigation into reports that the Cradle 2 the Grave star had a number of malnourished pit bulls on his property.

"A guy like this DMX character with all his money and fame has no excuse for not providing proper care for his animals," said Maricopa County Sheriff Joe Arpaio. "He has a long criminal history and obviously has no respect for the law."

DMX, whose real name is Earl Simmons, tried holing up in his room when the fuzz first arrived, but officers quickly talked him into cooperating, after which they discovered weapons, drugs and five pit bull puppies, which were taken to a nearby prison where female inmates will look after them (the pups, not the guns and drugs).
[From E! News]
DMX is due in court on the charges next week. He was also booked on four counts of drug possession. His lawyer gave some poorly worded speech about how the sheriff just had it in for DMX, because he was videotaped speeding and arrested. And apparently the lawyer thinks the sheriff somehow took that as a personal insult. Um… I'm guessing it definitely served to remind the guy to follow up on some legal issues with DMX, but I don't think it's exactly a personal affront.
"I think [that] Earl, when he was caught on video just this week speeding at 114 miles per hour, just rubbed it in [the sheriff's] face, so the sheriff felt he had to do something. From what I hear, I would've been glad to bring Earl in if they ever requested it. I called the sheriff on numerous occasions and never, ever received a phone call."
[From E! News]
All right then. Next time, it might be a better idea to advise your client not to keep breaking laws, instead of complaining when he gets arrested on new and old charges. Maybe feed your dogs, take care of them, treat them with dignity… and drive less than 114 mph. All those things are likely to keep a sheriff – even one with a personal vendetta – off your back.