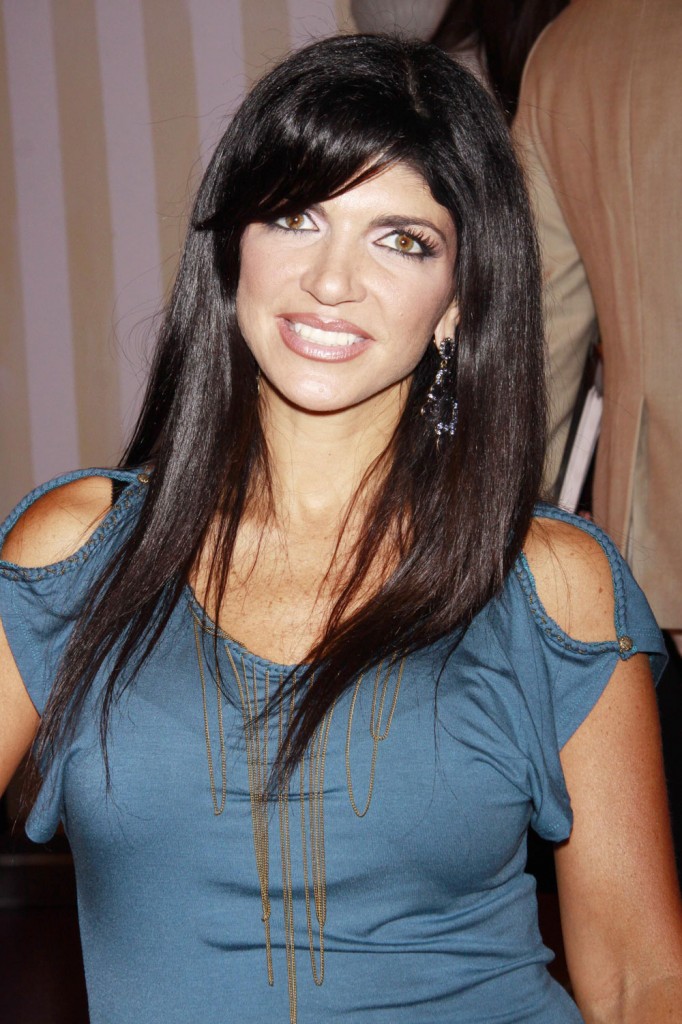 Slap happy bankrupt entitled RHONJ's Teresa Giudice may be screwing herself out of the only reason we know her name. The NY Post is reporting that she's so pissed off at producers for not letting her promote her cookbook on the show that she's considering leaving. That sounds ridiculous and just like Teresa. Her cookbook is a bestseller for the sole reason that she so well known from Real Housewives. It's not like they have to let her promote it on air, but because they cut scenes where she plugged it, she wants to leave. It supposedly comes down to the fact that she signed away 10% of the royalties to Bravo in exchange for promotional opportunities. Again, the only reason she's selling that damn book is because she's on the show so she should count her blessings. Here's the story from the Post:
Don't expect Teresa Giudice to return for Season 3 of "Real Housewives of New Jersey," according to a friend of hers. Giudice struck a bad deal with Bravo over royalties from her best-selling cookbook, "Skinny Italian." The bankrupt babe is the only housewife in the franchise to give the network 10 percent of royalties from her book sales. In exchange, Bravo said it would make up the difference by promoting her book on the show. She filmed several scenes with the book, cooking and testing recipes — but the footage never aired. The book was mentioned once during the reunion episode. Her friend told us Bravo is trying to hardball Giudice by moving to hire her sister-in-law, Melissa Gorga, whom she hates, as a possible replacement. Although Giudice is $11 million in debt, her friend said, "Teresa is done with Bravo, I don't think any amount of money will make her come back." A rep for Bravo didn't get back to us.
[From The NY Post]
Is this Teresa's way of playing hardball with producers in exchange for more money and on-air promotional opportunities? Maybe, but I hope it blows up in her face. Then again, if Teresa is off the show next season, and Danielle is also off, (which has just been confirmed by Bravo), what reason will people have to watch it? The up and coming baddies, Kim G and Kim D might be the new foils to Caroline and Jacqueline. Bravo knows that it's the formula, not the ladies in particular, that keep us watching. They'll find some new entitled whack jobs to bring the drama.
There might be yet another reason why Teresa doesn't want to come back, though. Her sister-in-law, Melissa Gorga, has reportedly been asked to appear next season. Radar reports that Teresa can't stand Melissa and has said she won't be on Real Housewives if she has to share screentime with her. They quote an insider who says "When Teresa got word that her sister-in-law was asked to be part of the show she said, 'If she's going to be on the show, then I'm not going to do it.'" I guess they found their new entitled whack job.
Also, have any of you seen part 2 of the reunion? I'm having a hard time finding it online. (I'm unable to view videos on Bravo's website as I'm overseas.) I found a recap, though (spoilers in that link if you're waiting) and there's a surprising hug that I won't give away. Damn, I'd really like to see this one.
Photo credit: WENN.com