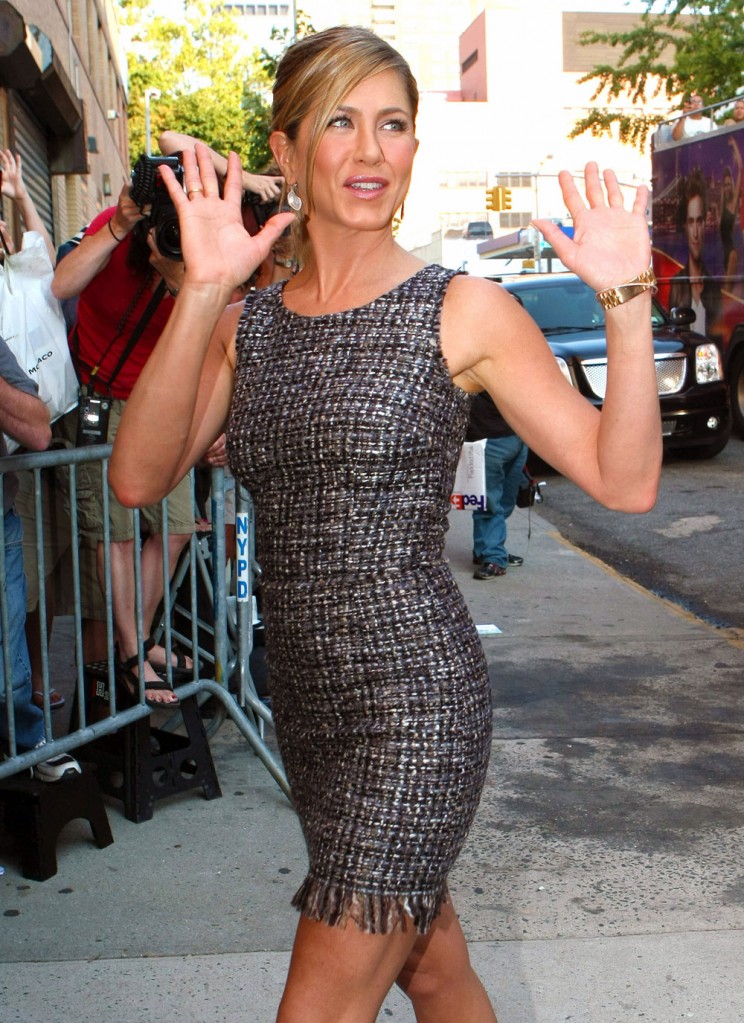 I try to give Jennifer Aniston a chance, I really do, but she's so obvious to the point that it's laughable. Take for instance this latest blurb in People Magazine, no doubt sent to them by her well meaning but completely off the mark PR guy, Huvane whats-his-face. People mentions that she went on a date with her Cougar Town co-star, Josh Hopkins, (he plays the hot single neighbor of Courteney Cox's character) and that they had "a flirty energy between them and Jen looked very happy." We saw pictures of Jen and Josh after said date, so the message is out there and there's no need to follow it up with such a lame story. Jen has also been linked to quite a few other guys lately, including Lindsay Lohan's ex Harry Morton (who may just have been at the same place at the same time as Aniston), and her on-off go-to douche, John Mayer. So was the article a strategic move to dismiss the stories that she's back with Mayer and show that she's happily dating other guys? Obviously.
Looks like Jennifer Aniston's guest starring role on Cougar Town comes with some sweet fringe benefits.

The actress, 40, (who was recently rumored to be back together with John Mayer) shared a two-hour Italian dinner with Cougar Town actor Josh Hopkins at Madeo in Beverly Hills on Sept. 2.

"She seemed very excited about her date," says a eyewitness. "She and Josh sat at a more private table and they seemed to get along great."

Aniston, who sipped white wine and ordered fish, shared animated conversations with Hopkins, 39. "It was obvious that they don't know each other well, but there was a flirty energy between them and Jen looked very happy," adds the witness. Reps for both haven't commented on the relationship, but there's no denying the smile on Aniston's face these days.

"Jen has been in the best mood lately," a source tells PEOPLE. "She is trying to do whatever makes her happy, which includes going on fun dates with interesting men."

And the star's optimistic attitude could lead to more fun in the dating world.
[From People]
Ok, we get it! Jennifer Aniston is gorgeous, happy and dating. It's a shame she can't string a sentence together and is being managed by a team who regularly issues statements on her love life but can't bother to apologize when she offends people with her thoughtless comments. Think I'm too harsh? She still hasn't issued a peep about using that word. I'm not condemning her for letting it slip and as many of you mentioned it's still in common usage. I'm condemning her and her PR team for not even issuing a brief acknowledgement that she offended people. They'll surely let us known when she goes on a date, though. This is how I imagine how behind-the-scenes meetings on Aniston's image go. "Let's ignore the r word fallout, wait three weeks and then send her on a date with a guy who needs the press."
photos are from 8/19/10. Credit: Fame Pictures