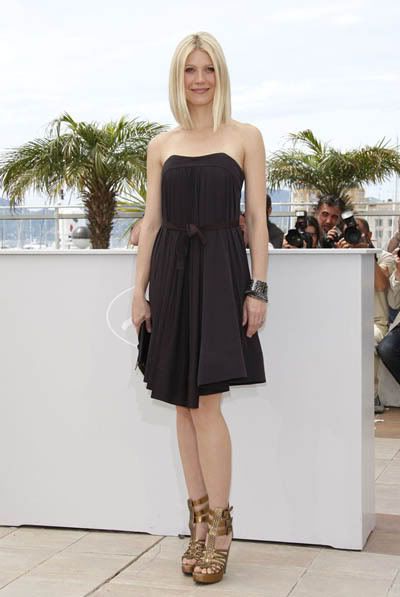 You have to hand it to Gwyneth Paltrow. She's managed to skirt the fine line between getting press for giving somewhat revealing comments and not telling us anything that's incredibly personal. And in the interviews I've watched with her, she doesn't look like she's full of herself or of shit. She's launched her comeback with the incredibly successful Iron Man, and now it's on to a film called Two Lovers which is in competition at Cannes. As long as she able to walk those tottering shoes away from the spotlight after she's done promoting these films, she's poised to win back the good will of the public. If she keeps talking and showing up at every event she's surely going to ruin it.
Gwyneth revealed last month that she suffered post partum depression after the birth of her son, Moses. She also told us that Iron Man was her first paycheck in six years. Now she's talking about what's really behind this press blitz – her career was floundering after she took time off to raise her two kids:
"I really did not know if there would be a place for me," said Paltrow. "Jodie Foster was right, especially if you are a woman and especially if you are not 25. Hollywood is pretty cutthroat, and everybody has a short memory. There is always someone who is younger or hotter or prettier."

In terms of her own career, "I was very realistic of that fact there would not be room for me," said Paltrow. "I definitely knew I had lost my place."

She considers Two Lovers, a romantic drama set in Brooklyn, a shot in the vocational arm.

"It has given me a lifeline, because I had taken a long time off work," said Paltrow. "Going from being a mother at home for a long time, which was the greatest time in my life, but also feel like an artist again … that was a gift for me."
[From People]
While that's true, her image was also suffering from comments she made on multiple occasions which were perceived as anti-American. I don't know whether that affected her ability to get roles, and it seems like she made a conscious decision to step away from Hollywood for a while.
What Gwyneth doesn't mention is that even if she never had another job, she had 1) earned enough at that point in her life to retire if she lived within her vast means and 2) has a husband who is among the most successful rock stars in the world. She had the option to stop working and many mothers don't, but good for her for talking about it. She's in a much more cutthroat business than most of us can imagine.
You can't expect her to acknowledge how good she has it in this brief sound byte, and she has stated that she has a great nanny who helps her immensely. Somehow Gwyneth has managed to touch on yet another issue that a lot of women have trouble with and to talk about it in a way that makes her look vulnerable, but in a completely normal, non-embarrassing way.
Gwyneth shows one of her boobs in the film Two Lovers and it's deliberate and for several seconds. She has appeared topless and fully nude in several films, so it's nothing the public hasn't seen before. Gwyneth controls exactly how much she's willing to reveal but somehow makes her calculated moves seem intimate. It's kind of like her fashion – risky but well planned.
Thanks to WENN for these photos from the Two Lovers photocall earlier today.