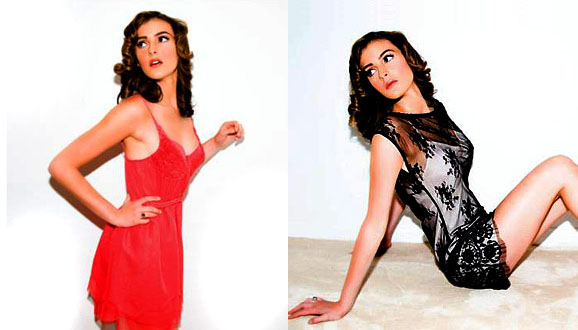 I guess it was just a matter of time before Ali Lohan got gussied up and put on her best vacant stare to help move some of Lindsay's knock off clothing. She's all of 16 now and needs to do her part to bring in money for her mom's plastic surgery now that Lindsay is broke and about to be re-incarcerated. A lot of models are in their teens and these images probably aren't more provocative than what we see in fashion magazines and ads. Still, it's disturbing to see Ali posed like she's much older, and like she's fallen down drunk (like her sister) and can't get up.
US Weekly pointed me to these ads for Lindsay's clothing line 6126, featuring Ali. Then I found these other photos of Ali in her sister's clothing which came out this spring when she was all of 15. I was sneaking into clubs at 15, but at least I had a mom and dad who were trying to keep me on the straight and narrow. (They succeeded for the most part.) Ali has a mom who will buy her a drink and a dad who will tape her phone calls hoping for something good to sell to Radar Online. I hope she has more sense and more humility than her sister. Signs seem to be pointing to "yes" so far, although it doesn't take much to top Lindsay in either department.
You can buy Lindsay's overpriced 6126 clothing on Singer22.com, where some of these images are from.