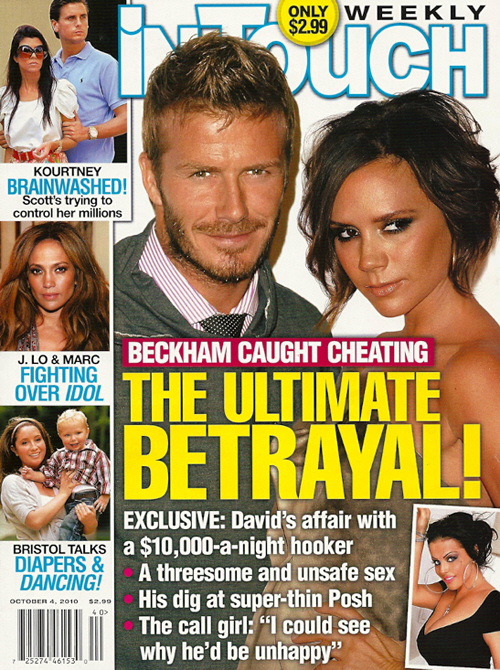 Yesterday, we covered the first excerpts from In Touch Weekly's cover story this week, all about David Beckham's "affair" with a prostitute back in 2007. Allegedly, Beckham screwed the hooker five times over the course of a few months, at the price of $10,000 a pop (so to speak). Just hours after ITW's story came out, the Beckhams' lawyer announced that the Beckhams' would be suing, and that they denied the whole thing. But, whatever. I think it's true, ITW thinks it's true, Jezebel thinks it's true, and I think most people who have followed the Beckhams' tabloid life and marriage think it's true. Anyway, In Touch Weekly just sent out a second part to their story, almost as if they aren't concerned with potential lawsuits whatsoever. Jezebel had better excerpts from the story too, so here are many more details. Just FYI: Some of this might be a slightly NSFW, but not really.
This is a "worldwide exclusive" interview with Irma Nici, a former high-class call girl who claims she slept with David Beckham five times. There's a warning at the top of the page which reads: "This story contains explicit material that may not be suitable for minors," but the point size on the type is REALLY small.

Her account of their first time together is graphic and detailed. He got $5,000 cash out of the hotel safe, made her take a shower, she put on black lingerie, and then they "began to make out passionately."

Irma says: "I normally don't kiss, but I thought, 'why not?'" And: "I gave him oral with no condom, which I usually don't do, but he was very clean and groomed. Then he did it to me. I was having fun."

Irma says she "whipped out" a condom and the two had sex for 15 minutes — nothing freaky. She faked her orgasms. As a "lover," on a scale of 1 to 10, she gives Beckham a 7.5.

Anyway, she ordered room service, and suggested they get another lady to join them. David agreed, and Irma called The Manhattan Madam and requested "an all-natural brunette." The Manhattan Madam corroborates this story and gets her picture in the magazine too!

Ex-"Manhattan Madam" Kristin Davis, who is running for governor of New York, confirms to In Touch that married soccer star David Beckham had sex with former hooker Irma Nici in 2007. "Irma called me and asked if I could supply one of my girls for a threesome," Davis says in a statement. "Per her request, I sent a 'brunette with curves' at the rate of $2,400 cash. The next time we spoke, she informed me that the client was David Beckham."

Davis went to jail for her part in former New York Gov. Eliot Spitzer's dalliance with prostitute Ashley Dupre.

But Kristin tells In Touch in a statement, "Since my arrest, I have not disclosed any of my client details, and I continue to be dedicated to confidentiality, with the exception of Eliot Spitzer. I no longer have any connection whatsoever to this industry. I am dedicating myself to being an advocate for the decriminalization of prostitution so we can drive the sex traffickers and those who exploit women out of business. But this is Irma's story, and it is hers to tell."

Anyway. The ladies had a girl-on-girl show for David. "He asked if we had sex toys," Irma says. "But we didn't. So I grabbed a banana from the fruit bowl and masturbated with that while the other girl was touching me."
[From In Touch Weekly & Jezebel's Tabloid round-up]
Apparently, when this hooker tells all, she really tells ALL. Jezebel says there are lots and lots of details, and we get our ITW scans tonight, so I'm looking forward to reading it. I like a good tabloid sex scandal – and it's interesting to think that David is kinky enough to hire two hookers for some action, and yet he's really not a freak in bed. He likes to kiss and he likes blow jobs. Vanilla!