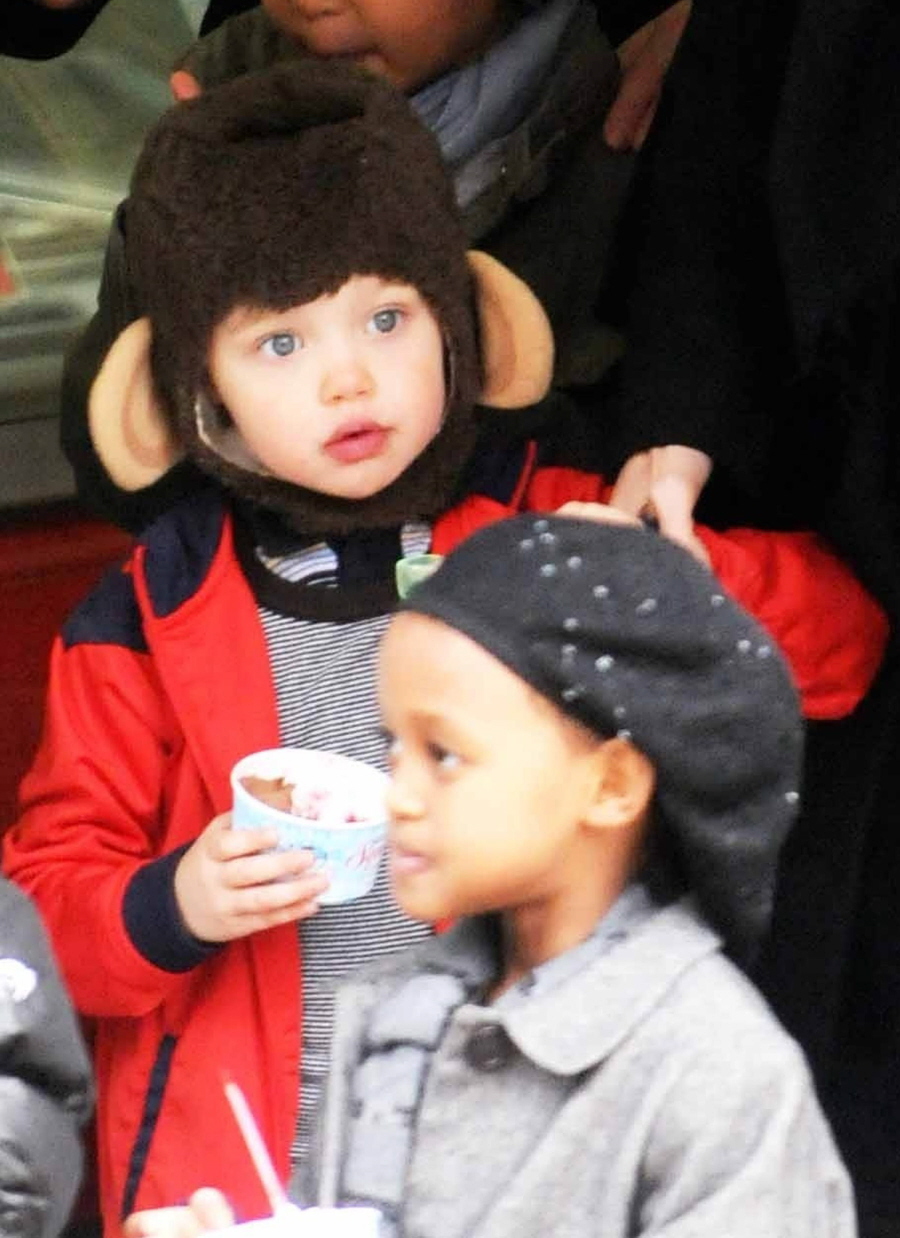 Y'all can just pack it up, because Passive-Aggressive Crazy has chimed in. Jon Voight gave an "exclusive" interview to Us Weekly about the tabloid topic of the year, Shiloh Jolie-Pitt dressing like a boy. Now, since Angelina publicly allowed her father back into her life and the lives of the kids, Jon hasn't been able to shut up. He's been giving "exclusive" interviews all over the place, so the only thing surprising about this is that Us Weekly seems to be the first to ask Jon about Shiloh's Montenegro Style. To his credit, Jon doesn't throw Angelina under the bus, and he basically reiterates what Angelina has said – that Shiloh is her own person, making her own style choices, and she chooses to dress like a Euro hipster.
Seems everyone has something to say about 4-year-old Shiloh Jolie-Pitt's style. What does grandpa Jon Voight think?

"Shiloh's an amazing person," he told UsMagazine.com Sunday at a gala honoring film producer Avi Arad in Los Angeles. "I look at the way she dresses and she has a style! And she's only 4-years old! I'm going, 'What!?'"

Echoing previous remarks made by Angelina Jolie, Voight, 71, told Us, "Shiloh chooses everything she wears, so she's an amazing person. The press, they're going to make a lot of stuff about it, but she's incredible."

Jolie recently described Shiloh as having "Montenegro style" — a phrase that baffled many fashion experts — because she prefers to wear "tracksuits." "Shiloh's hysterically funny, one of the goofiest, most playful people you'll ever meet," she said. "….Goofy and verbal, the early signs of a performer."

Jolie, 35, recently scoffed at reports that she chooses Shiloh's clothes for her.

"I think she is fascinating," she told Reuters, "the choices she is making."
[From Us Weekly]
Good for him. I guess Jon really could have made it worse, but he defended his granddaughter from the plague of douchey tabloid stories. Once again, I'm not sure why it matters how a four-year-old dresses, but people are still up in arms about it, and apparently, the whole situation is completely Angelina's fault. Whatever.
Header: Shiloh on Feb. 16, 2010. Credit: Fame.