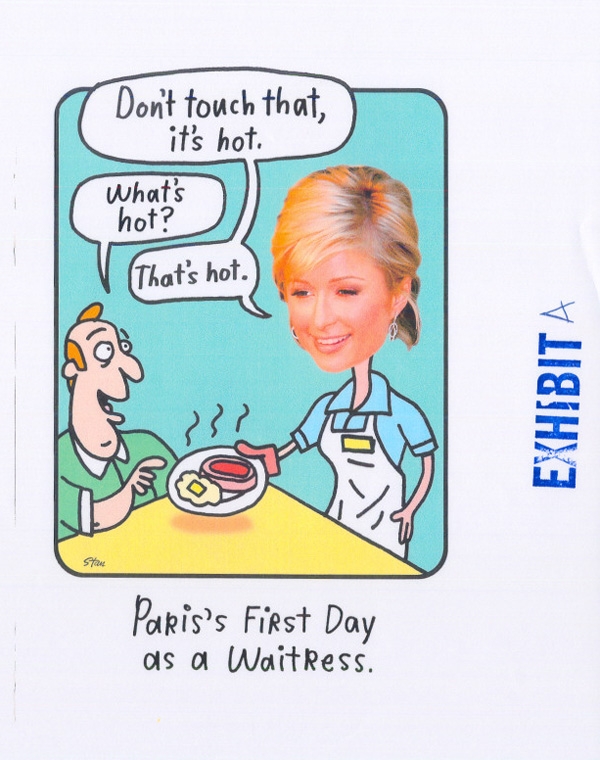 Paris Hilton has settled a 2007 lawsuit against Hallmark for using her image and trademarked "that's hot" phrase without proper licensing. The birthday card, shown here, featured Paris' head on a cartoon body on the outside and a cartoon image of her clutching a chihuahua behind bars on the inside. Paris went to jail in June, 2007. She trademarked her "that's hot" phrase in February of that year, and her suit maintained that Hallmark "wrongfully utilized [her] name and identity and, therefore damaging her rights of privacy and publicity, her exclusive property rights and her personal rights in and to the use of her name and likeness."
In other words, Hallmark made a card of Paris back when she was actually hot following her high profile jail stint and failed to pay her for it. They finally settled with her for an undisclosed sum. Here's E! Online's report:
Call it a hallmark decision for Paris Hilton.

The celebutante has resolved a lawsuit filed against the folks at Hallmark claiming the greeting-card company violated her privacy and publicity rights by using likeness and "That's Hot" signature line without her permission.

Terms of the settlement were not disclosed but Hilton had asked for at least $500,000 in damages.

Hallmark had contended the card was a parody protected under the First Amendment and fair-use laws, but that argument was shot down by a federal appeals court, paving the way for a December trial.

And on the bright side for Paris, any news not involving her cocaine bust has to be good, right?
[From E! Online]
I don't blame Paris for suing Hallmark and this was an infringement on her right to make money by slapping her name on everything from cheap weaves to shoddy clothing. This really reminds me of three years ago when she went to jail and we used to talk about her several times a week. At one point we called a moratorium on Paris, Britney and Lohan stories, calling ourselves LohitneyParis free for the first week of July, 2007. Now we only talk about these fools when they get in serious trouble. Is it any wonder that 2 out of 3 of them have been in jail at this point? Britney may have been involuntarily hospitalized but at least she's avoided getting a DUI.
Images via The Smoking Gun.