Agent Bedhead just sent over this Holy Moly story – apparently, there are some new murmurings that Peaches Geldof and Eli Roth have split up. Now – there have been rumors about their demise before, just as there have been rumors about an engagement (which I think Peaches planted). But Eli and "accomplished journalist" Peaches have weathered the storms before, and they've made it through seven months together, which is longer than many of us were predicting. Anyway, this latest rumor stems from a series of tweets that Peaches made, and then deleted. Holy Moly reports that Peaches first tweeted a quote from Shakespeare, tweeting: "So dear I Love him that with him, all deaths I could endure. Without him, live no life." Then she deleted it, and replaced it with this: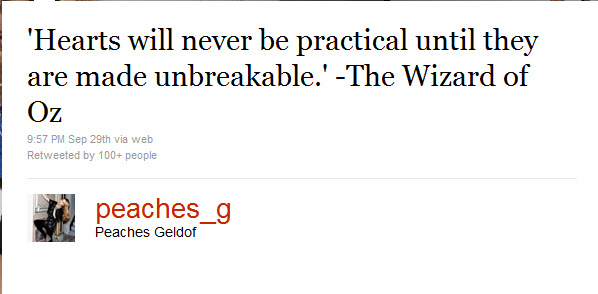 [From Peaches Geldof's Twitter]
Is this enough for a breakup story? Eh. Peaches hadn't tweeted much in the past week, and Eli's Twitter reveals his obsession with the Segway dude's death. Could it be that neither one of them want to come out and confirm it? Or is it that they're still together, and both are just extremely vapid? Eh.
UPDATE: Thanks to SamiGirl for her link – The Gossip Wrap-up is confirming that Peaches and Eli have broken up, and they're insinuating that Eli did the dumping, and that Peaches is devastated. YAY!