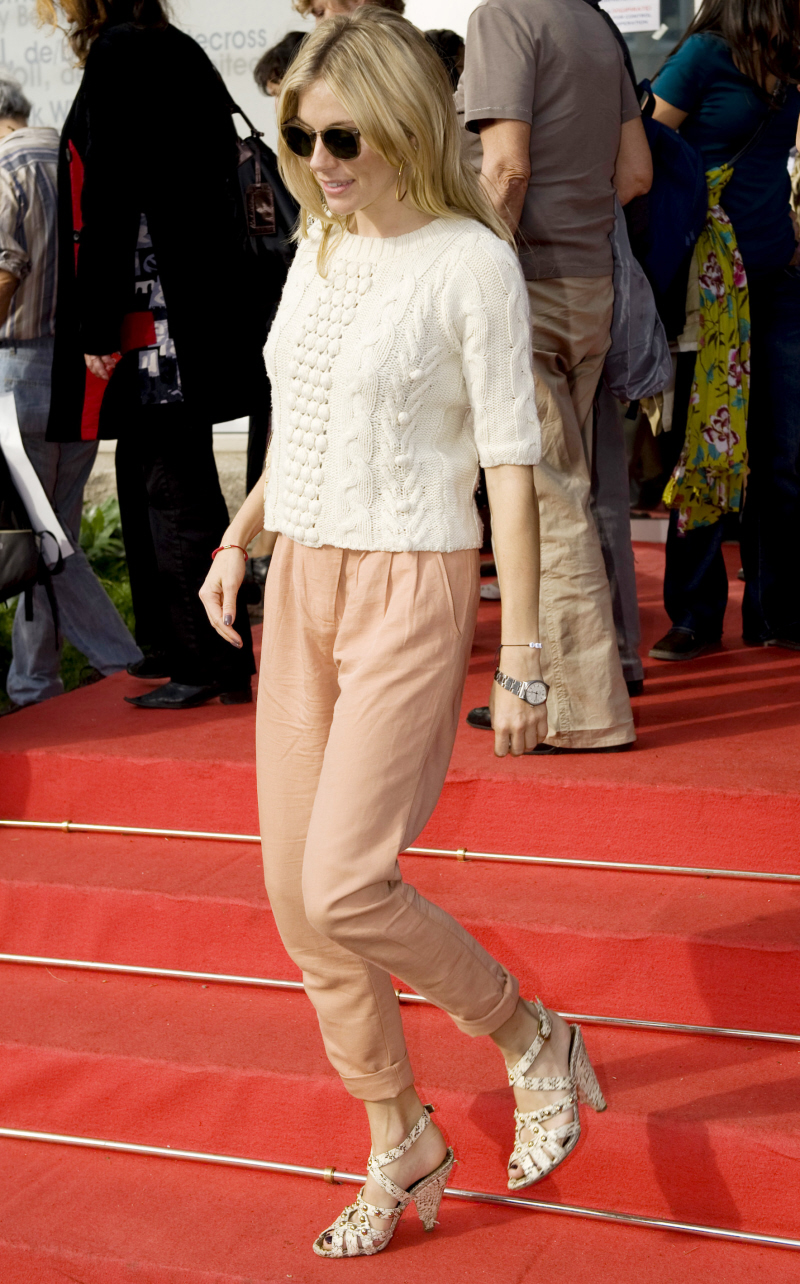 Call me crazy, but I've never gotten why so many women think Sienna Miller is some kind of nouveau style icon. Sure, she started a few trends (boho-chic, not washing your hair, the return of big leather belts), but she was a fashion follower more than anything. And beyond the odd peasant blouse circa 2004, I never really wanted her clothes. When you think about it, she's not even that versatile as a dresser – when she "dresses up," I usually find it horrible, like some dumb hippie girl wearing couture with combat boots, a big leather belt and dirty hair. She usually looks much better in street-wear than on a red carpet. The world is her runway.
Anyway, a few days ago, when I saw these photos of Sienna attending a screening in France, I was aghast. I have this exact same sweater. Or at least I used to have this same sweater. When I was 12 years old. And my mom gave it to me for Christmas. Doesn't every woman have a sweater exactly like this? And almost always, our moms gave it to us. Our moms watch us as we open the big box, the knot of dread in our stomach, thinking "Oh, God, there was a sale at Kohl's. Please let it be a purse. Please God. Please." And it's this sweater. And we smile politely and say "thank you." And we even try it on, noting how the odd sleeves make our upper arms feel like they are stuffed sausages, cased in an itchy wool blend ("It's 10% cashmere!" our moms enthuse).
So, yeah. Sienna Miller made me think of nausea on Christmas. And besides the dumb sweater (that probably cost a down payment on a mortgage), what's with the pants? I think my mom still HAS pants like this. Tapered, pleated, peachy-pink nightmares. You can tell that Sienna is trying to start a new trend. And she's failing.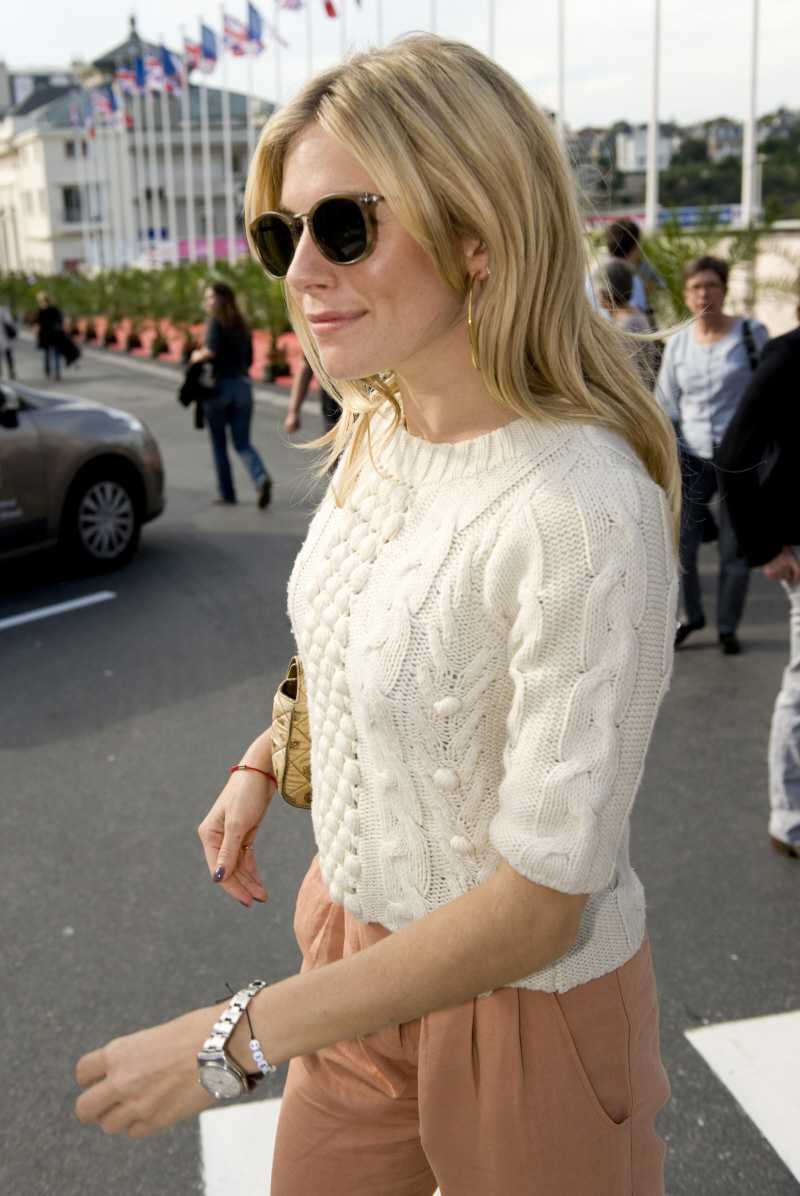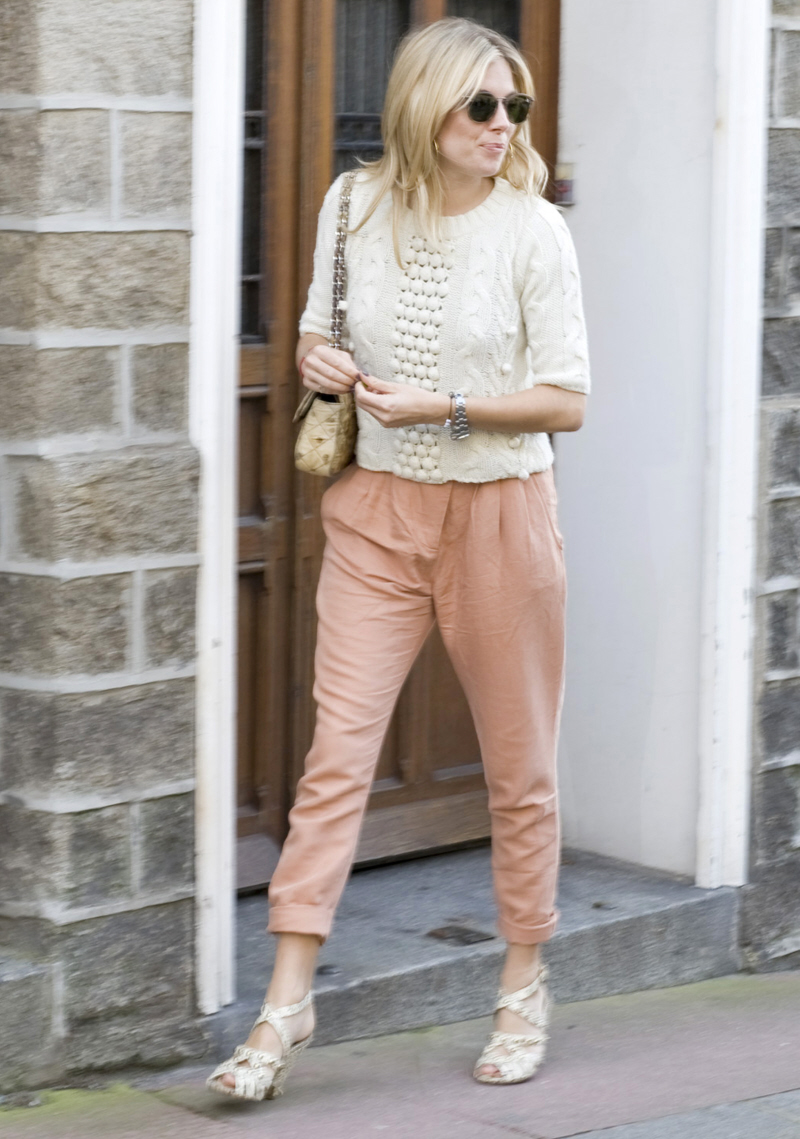 Sienna Miller on October 8, 2010. Credit: WENN.