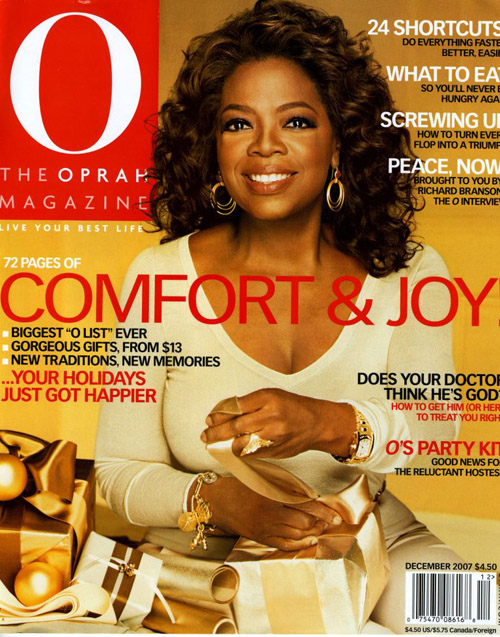 I'm not the biggest Oprah fan, but I have to admit that she is a hugely successful woman. While the New York Times recently claimed Oprah was losing ratings and not selling many copies of her O Magazine, I don't think her empire is close to collapsing yet. Sales might be down, but her show and magazine are syndicated all over the world.
Oprah is giving out some advice in one of her infrequent interviews for people looking at building their own empire – follow your gut, and be polite.
She claims none of her business ventures have come out of forethought: "I haven't planned one thing — ever. I have just been led by a strong instinct, and I have made choices based on what was right for me at the time." She also doesn't judge a business venture by its profitability. "I don't care about money," said the woman who's worth $2.5 billion. "It throws people off all the time in business meetings. They start shuffling papers."

She also believes in treating her staff well. At Harpo Inc. in Chicago, employees are treated to Google-esque office amenities. "There is a cafe on premises as well as Club Harpo, a workout facility, and the Spa at Harpo." And according to Winfrey, "I don't yell at people, I don't mistreat people. I don't talk down to people, so no one else in this building, in this vicinity, has the right to do it."
Oprah added that she has only ever missed three meetings in her life – she doesn't like to disappoint.
Oprah isn't kidding when she says it is good to work for her – last year she took her staff on a trip to Hawaii to thank them for their help. All of them. Of course, she occasionally ropes one of her staff to join her on a diet or exercise regime, which would not be fun, particularly since your failure would be up for scrutiny on international television. At least when I gain 5 pounds I do it in the privacy of my own home.
Oprah adds that at one point she made lunch runs for her staff because they were so busy – which is when she decided to turn the business into a large scale empire rather than keep it a small 'family' production.
Black Enterprise named Harpo Inc the 2008 BE100s Company of the Year. In 2009 Oprah will launch her own television network, OWN or Oprah Winfrey Network, in the United States.