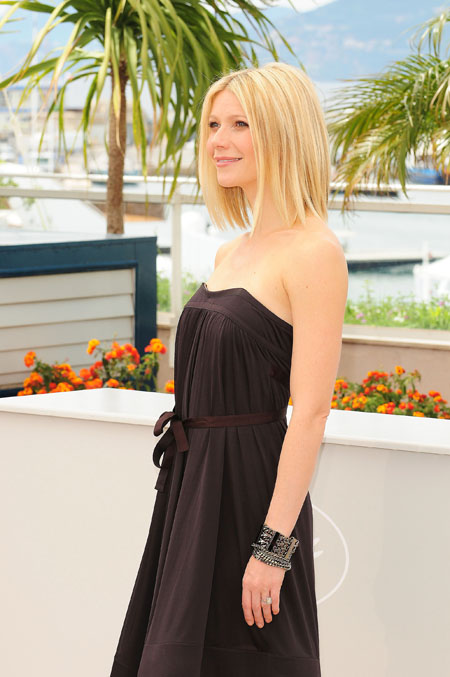 Gwyneth Paltrow is on the cover of Harper's Bazaar, looking warm and happy and completely different to how she has recently appeared on magazine covers. Inside she talks about planning to expand her family, saying that she'd love to have at least one more child.
"I may force myself to do it one more time because the result is so worth it," the Oscar winner says in the July issue of Harper's Bazaar. "My mother loved each [pregnancy] to bits; she felt alive and beautiful. I wanted to throw up all the time."

The 35-year-old mother to Apple, 4, and Moses, 2, adds that she's "very open" to adoption, factoring in the expansion of her family with husband Chris Martin.

"I do feel we're so fortunate, and we kind of owe it to humanity," she says. "We have a lot of love to give and a lot of resources."
She needs to 'force' herself to have another baby? She feels she 'owes it to humanity'? Gwyneth, no one is forcing you to add another member to your family, you've done your duty, you've got two, whose names shall endlessly amuse us.
I wonder if Gwyneth is turning into Madonna – Madonna also has a daughter and a son, with odd names, and a younger child that is adopted. Gwyneth and Madonna have been pictured dressed in similar outfits together quite a bit recently, and have become firm friends. They are both Americans living in London and married to British men. Is Gwyneth suffering from that thing where your friend gets a great haircut that looks really good, and you have to go and get it cut to see if it looks good on you, a la Victoria Beckham and Katie Holmes? Unlike the haircut that you can grow out, adopting a baby is a bit more permanent. Good on Gwyneth for wanting to help out a needy child, all the same.
Gwyneth added that she still wants to make movies, saying that "It's something within you, something that burns," she explains. "It's not a hobby, it's a need." She's talked in the past about how hard it was to return to work after having children, Gwyneth suffered from post-natal depression and probably found it harder than most mothers, even if she could afford plenty of help. We've talked here before about how Gwyneth obviously has it easier than other parents returning to the workforce, but just by saying that she has a need to create, I think she shows that even for the most wealthy and successful of us still has to fight for her own identity after being lost to motherhood for several years. It is really hard to come back to such a competitive industry after 6 years away, I'm amazed that she would want to go through it all again with another baby.
Gwyneth Paltrow is shown in the header at a Two Lovers photocall in Cannes on 5/20/08. She is shown below in a still from Harper's Bazaar.