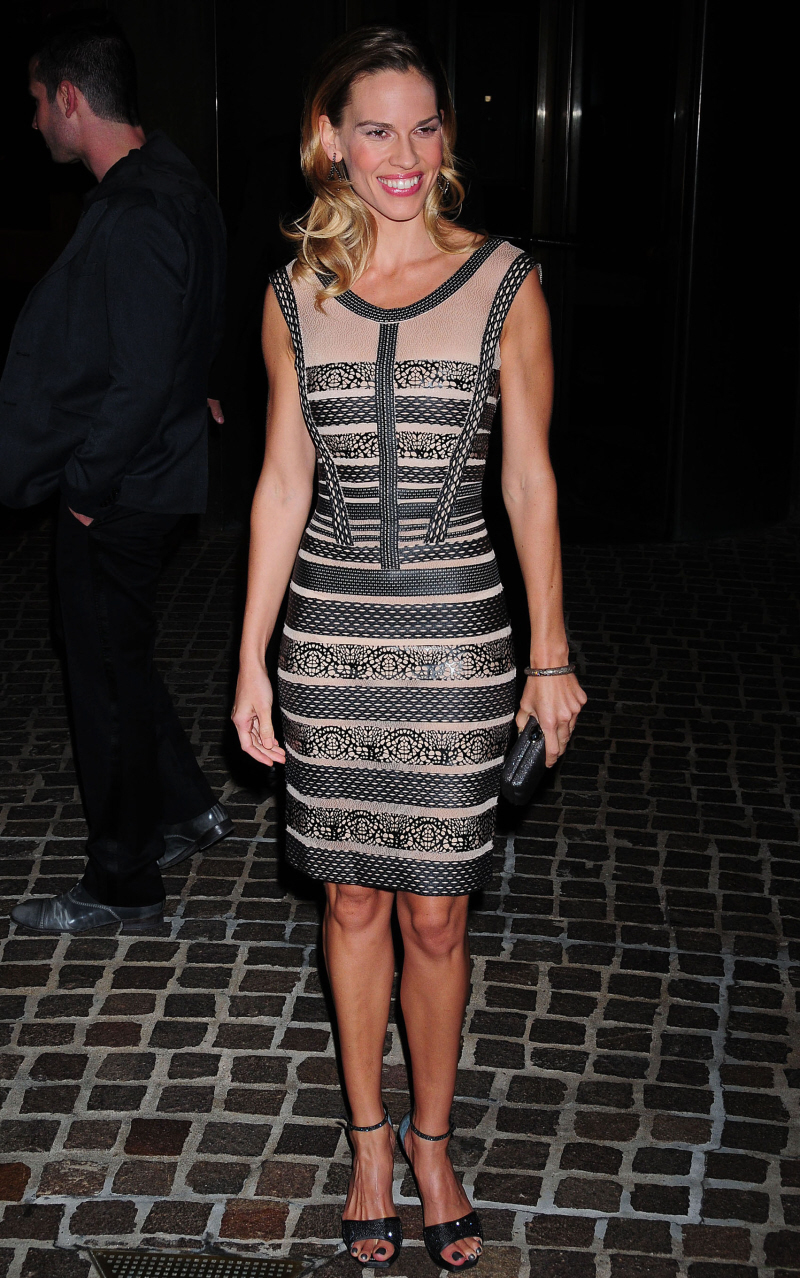 Since you enjoyed yesterday's Hilary Swank fashion post so much, here's another one – Hilary wore Herve Leger on Tuesday night, to yet another screening of her film, Conviction. Though I don't really love the dress, I applaud Hilary for somehow making vertical horizontal stripes look interesting and cute and even thinning. Hilary has a fashion problem, though. Her face is so angular, and her body is so tight – if she wears something super-structured, she fails, but if she wears something too loose and flowy, she fails too, I think. Anyway, I don't hate or love the dress. It's just there.
Meanwhile, Hilary is making some big news with this film. She just got a gift from publicity heaven – she's now on Gloria Allred's sh-tlist. And Ted Casablanca is asking – hand to God – if Hilary is a "thoughtless hag". I kid you not. Here's what is going down:
Hilary Swank: two-time Oscar winner…and thoughtless hag? The actress's reputation is under attack today by none other than Gloria Allred, who is shocked—shocked!—that Swank didn't even touch base with one of the real-life inspirations for her upcoming film, Conviction.

So what exactly is Allred's latest beef? Seems Allred's panties are in a bunch because she believes the actress should have had the courtesy to ring up the family of Katharina Brow, whose grisly killing is at the center of Conviction.

"We don't think the burden should be on the murder victim's family members on how to get in touch with Hollywood upon reading the murder victim's going to be in a film," said Allred. "The film's producers, including Ms. Swank [who's listed as an executive producer] have never bothered to contact this family in the 10 years this film was made."

Allred made the comments at a press conference today, two days before the film hits theaters, flanked by Brow's son and daughter.

"This family has gone through a lot of pain and there's no reason to feel they should suffer more," said Allred. "They're not going to profit from this film. If we're talking about a murder we need to reach out to murder victims' families. As far as I'm concerned that should be the new principle in Hollywood."

"My mother was not just a name and was not and is not a person who should be used as a line in the script or just a way to make a profit in the entertainment industry," Melrose Brow added. "She was just a human being and a member of our family."

Allred says she plans on sending a letter to Swank via her agent ("because that's the only way we know how to contact her") on behalf of Brow's now grown-up children, Charlie and Melrose, demanding a face-to-face meeting.

"They need and deserve to receive answers to many questions they have," said Allred, adding that she wants the family to get a private screening to avoid having to re-live the incident in a theater surrounded by the popcorn-munching masses.

Specifically, the family wants to know: if their mom's murder be seen on screen; how will she be depicted (as "the loving mother and grandmother that she was?") and whether the filmmakers will earmark any of the profits to find the real killer.

While the public has yet to see Conviction, there have been several advanced screenings, so perhaps we here at E! can try and help clear up at least one mystery for the family.

Conviction opens in Brow's home and we see details of the crime scene, specifically shots of blood, but viewers don't see the actual slaying. At that point, the movie flashes forward two years to Kenneth Waters (Sam Rockwell), the man wrongly accused of the murder. Swank plays his sister, Betty Anne Waters, who eventually gets a law degree and helps prove her sibling's innocence.

It's that story that's the focus of the movie and not the Brows' tribulations, though during the end credits, a title card notes that the real killer has yet to be found. So far, reps for Swank and Fox Searchlight, the studio distributing Conviction, have decided not to take Allred's bait.
[From E! New]
I'm a big believer in "Son of Sam" laws, which are basically laws that ensure that violent criminals cannot in any way profit from their crimes. Like, someone convicted of murder can't write a book from prison and have it published for profit. However, that doesn't really seem like the case here – this film is about a man's wrongful conviction of the murder, not about the murder victim. Maybe Hilary should have met with the victim's family – but the man who sat in prison for a crime he didn't commit is a victim too, Ms. Allred. Team Hilary on this one.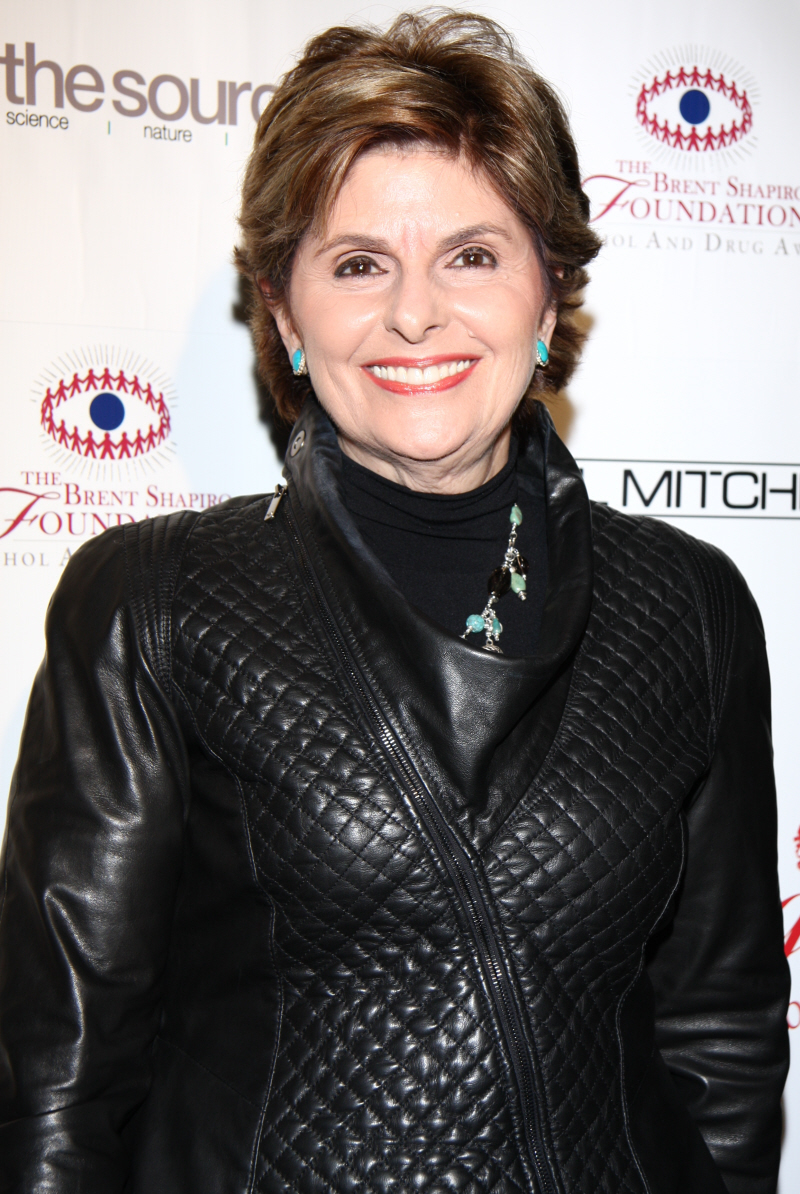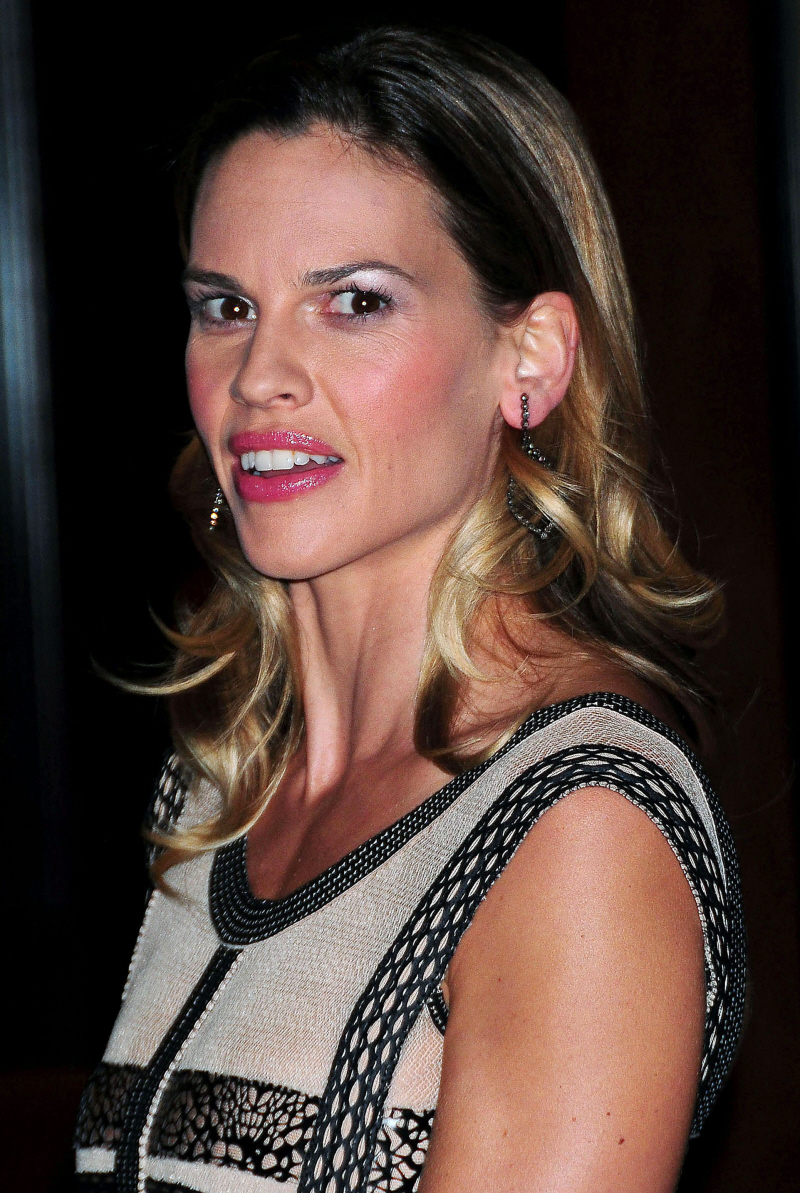 Photos courtesy of WENN.