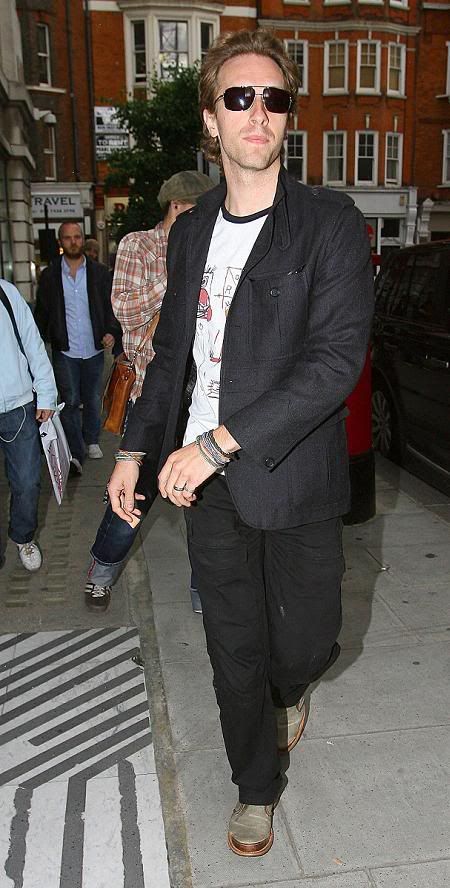 Chris Martin is a rather uppity fellow. The Coldplay frontman has long had a rule that he won't discuss his wife, Gwyneth Paltrow, or their kids. Yet during a recent interview with the BBC's Radio 4, he walked off the show when asked a question he didn't like – which had absolutely nothing to do with his family.
It's tough at the top. The new Coldplay album may be steaming towards number one but the pressure is telling on Chris Martin. The notoriously highly-strung frontman always makes clear he will not discuss his famous wife – Gwyneth Paltrow – or their children. However, when lobbed a straightforward question on the inspiration for Viva La Vida Or Death And All His Friends on Radio 4, the singer lost the plot.

'Did you start with the song Viva La Vida and the idea within that song of the disposed dictator looking back at his life?' asked John Wilson, the Front Row presenter.

To which Martin replied: 'I'm not enjoying this. Can I have two minutes?' and walked out of the studio.

The presenter pressed him for more. 'Are you feeling under pressure?' The singer replied: 'I just don't like talking about things.' The interview continued with Will Champion, the band's drummer, who insisted his colleague was not upset. But when Martin returned, he refused to give full answers and little more light was shed.
[From the Daily Mail]
Martin did break his rule and give an in-depth interview to Rolling Stone recently, in which he admitted that he felt competitive with Brad Pitt, Paltrow's former fiancé . And really, who could blame the guy? Perhaps he regrets divulging anything personal and has become even more introverted.
While I understand that some people "just don't like talking about things," you probably shouldn't go on a show to be interviewed if that's the case. The question Martin was asked was not only not personal, but it was a really well thought out, introspective question. I'd imagine it was one of the better ones bands get, and you'd think someone passionate about his music would be eager to answer it.
If we all got to walk out whenever we were "just not enjoying" things, no one would get anything done. Martin's behavior sounds incredibly immature, over dramatic, and completely uncalled for.
Here's Chris Martin leaving the BBC Radio One studios in London yesterday. Images thanks to WENN.