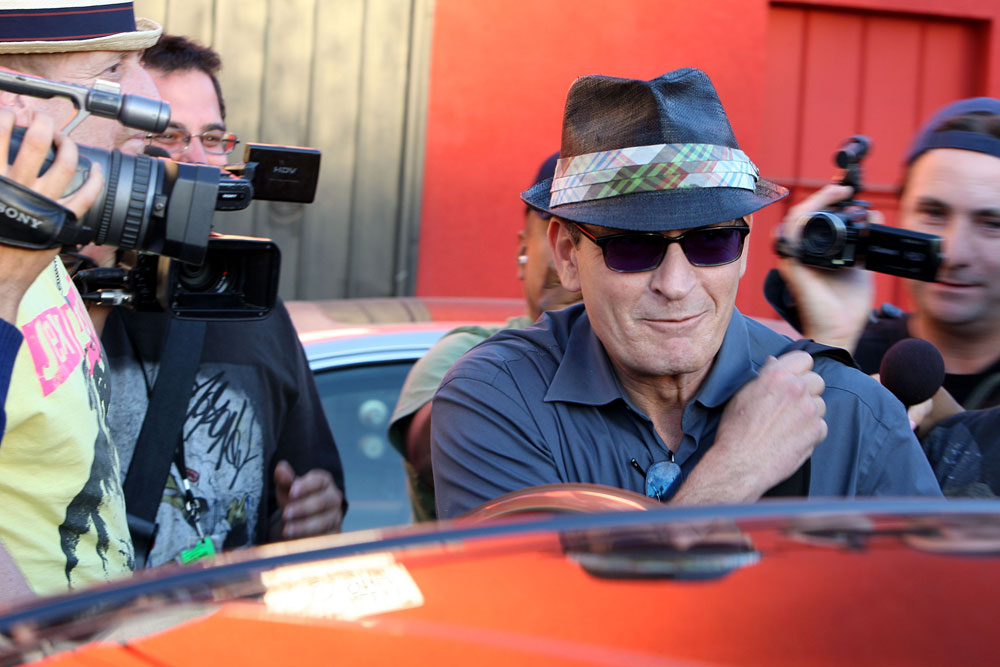 Radar Online is reporting that Charlie Sheen celebrated his hospitalization and public humiliation for his hooker and cocaine binge going on another binge with more cocaine and more hookers once he was back home in LA. Radar quotes a supposed friend of Charlie's who is worried about him and says that he "is going to die this week." TMZ is of course refuting Radar's report on principle. They have a statement from Charlie's rep, who claims that Radar's story is inaccurate and that Charlie is fine. I'm sure it's just an average weekend for Charlie. Here's Radar's reports vs. what his rep told TMZ. I have to admit that his rep's story is pretty convincing. Instead of issuing a bland "reports are overblown" statement he says he went to see Charlie and barged in all worried and Charlie was just sitting on the coach eating a turkey sandwich.
Radar: Charlie is going crazy partying
Out-of-control Charlie Sheen is on a NEW rampage with hookers and cocaine, partying wildly since returning from New York, RadarOnline.com is reporting exclusively. And the situation is so grave that one close friend, who has known him for more than 20 years said: "Charlie Sheen is going to die this week…"

Now RadarOnline.com has learned things have gotten even worse for the actor since he returned to Los Angeles and the star's handlers are gravely concerned.

Sheen has been partying in LA using massive amounts of cocaine while getting together with several hookers.

Team Sheen is frantic about Charlie's behavior and one close source said: "Charlie's cocaine use is out of control. The situation has gotten even worse."

Behind the scenes, his handlers are trying to figure out what to do, RadarOnline.com learned.

Sheen wasted little time resuming his drug binge after leaving New York last week. Prostitutes have been at his house for several nights and he has used cocaine non- stop in front of them, RadarOnline.com learned.

In New York, he hired porn star Capri Anderson for $12,000 and was so wasted at one point he was found naked, disoriented and with cocaine on his face in a restaurant bathroom.

Sheen later flipped out in his room at the Plaza hotel, and as RadarOnline.com reported exclusively, began screaming the "N" words in his cocaine-induced violent rampage that left his porn pal cowering behind a locked bathroom door.

Amazingly, things have gotten only worse.

"It's been a non-stop party of drugs and hookers since Charlie got home," a source told RadarOnline.com. His handlers have no idea how to get him to stop. "He is completely out of control," the source added. "No one can get through to him."

Even the hookers have been amazed at Charlie's behavior. "He's going crazy partying," one source told RadarOnline.com.

TMZ: Charlie is just hanging out at home
Charlie Sheen's manager, who minutes ago left Charlie's home, tells TMZ reports that Charlie could die this week are "reckless lies."

Mark Burg tells us … after reports surfaced that Charlie was coked out of his mind, cavorting with hookers and in a fast death spiral … he went to Charlie's house, entered a side door and saw Charlie sitting on the couch eating a turkey sandwich, saying, "Way to knock, dude."

Burg says he asked Charlie about the report he was at death's door and "Charlie looked at me like I was nuts."

Burg says Charlie plans on handing out lots of Halloween candy … because his neighborhood gets besieged by trick-or-treaters.

Burg added, "He looked as normal as he's looked in a long time."

Burg says Charlie not only said he'd be on the set Tuesday for "Two and a Half Men," he impatiently asked when he was going to get a copy of the script.
[Sources linked in text]
Which story do you believe? The hookers and blow version sounds the most likely, but maybe he took a break and sent the working girls home eventually.
A paparazzo asked Charlie's estranged wife, Brooke Mueller, how she felt about Charlie cheating on her and she said that they're separated and "Charlie can do whatever he wants." She's probably just glad to be rid of him.
Meanwhile Charlie's hooker, pornstar name Capri Anderson, is planning to sue him, according to TMZ. He seems to have escaped any criminal charges but he may face some legal consequences. This whole thing is going to end up costing him a hell of a lot more than just the $150,000 watch he either misplaced or lost to a sticky fingered prostitute.
Here's Charlie leaving a film set in NY on 10/28/10. Credit: MAC/Fame Pictures