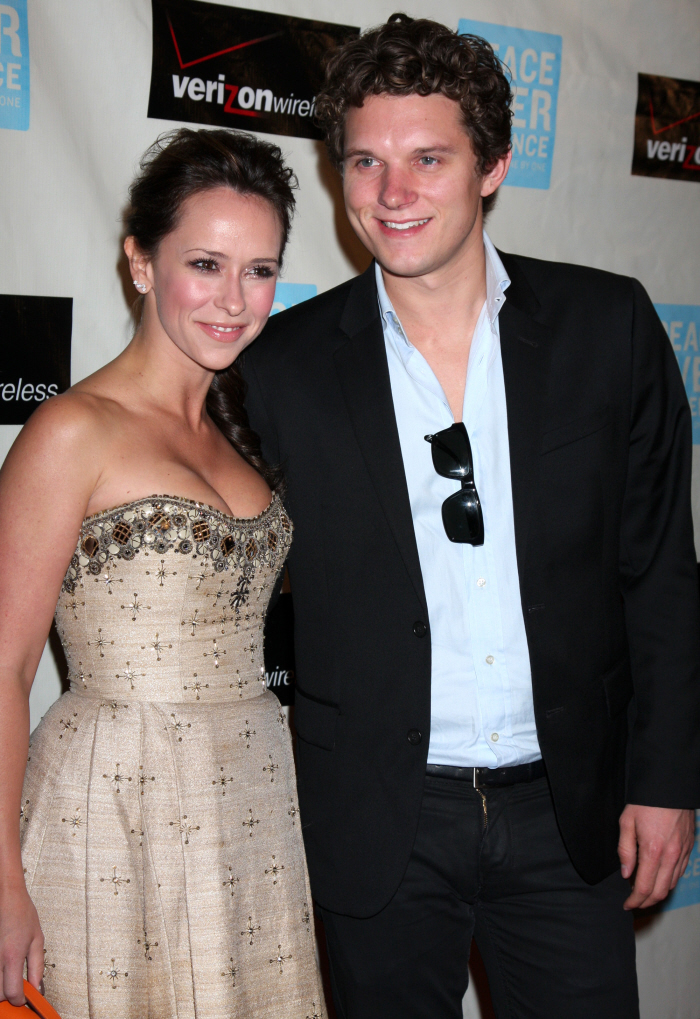 Well, I've been prepared for this. Jennifer Love Hewitt really is an old-fashioned kind of celebrity. She still "rolls out" a new boyfriend in the oh-so-standard way. First is the "rumor" that she's dating someone. Then, the coy confirmation. Then some candid photos of the two of them running errands ("Oh, the paparazzi caught us walking the dog! How cute!"). And then the interviews and more formal red carpet photos. That's where we are now – Jennifer Love has been dating Alex Beh for several months, and they just did their first red carpet photo op, on the heels of their joint interview talking about how "in love" they are. Next up: they get engaged, Love gushes in interview after interview for a year, and then the engagement is called off. Rinse and repeat. By the way, I still can't get over how much this Beh guy looks like John Mayer. Beh and Mayer could be brothers. Love really has a type. Ugh.
But it's not all repeating the worst dumb patterns! Variety reports that Love is slated to produce several new comedies in the coming year:
Now that she's no longer whispering to ghosts, Jennifer Love Hewitt has been busy behind the camera developing several TV projects. Through her Fedora Films shingle, Hewitt and production partner A.J. Rinella have set up comedies at ABC and Fox, as well as a series adaptation of her TV film "The Client List" at Lifetime.

At ABC, Hewitt is behind "Bad Taste in Men," from scribe Austin Weinberg. The single-camera half-hour comedy centers on a Chicago woman who's been unable to find the right guy and settle down.

Hewitt is exec producing with Rinella, Brillstein Entertainment's Peter Traugott and Untitled Entertainment's Dannielle Thomas. ABC Studios, where Fedora has a first-look deal, would produce.

In the case of "The Client List," Lifetime is looking to develop a fresh take on the TV movie, which starred Hewitt as a Texas housewife who becomes a prostitute. "The Client List" posted Lifetime's second-highest audience for an original TV movie this year. Jordan Budde ("90210") will write the series project, which will offer a new take on the idea — originally based on a Texas Monthly magazine article. Hewitt, Rinella, Thomas and Howard Braunstein (whose Jaffe-Braunstein shingle produced the movie) are all exec producers.

Then there's the untitled comedy project at Fox, which is being written by Tiffany Paulson. Single-camera laffer is a romantic comedy told from the p.o.v. of a career-driven woman. Walt Becker is exec producing with Rinella, Dana Dubois and Walt Becker.

Hewitt will be seen in the Hallmark Hall of Fame movie "The Lost Valentine" opposite Betty White. Telepic will air on CBS in early 2011. Hyperion recently published Hewitt's book, "The Day I Shot Cupid."
[From Variety]
Wow – it sounds like Love could actually become a pretty successful television producer, and a producer who employs many up-and-coming women behind-the-scenes. Good for her – that's the kind of feminism I can get behind, even though it sounds like most of the projects are about finding a man and/or being a hooker. Oh, well.
Header courtesy of WENN.