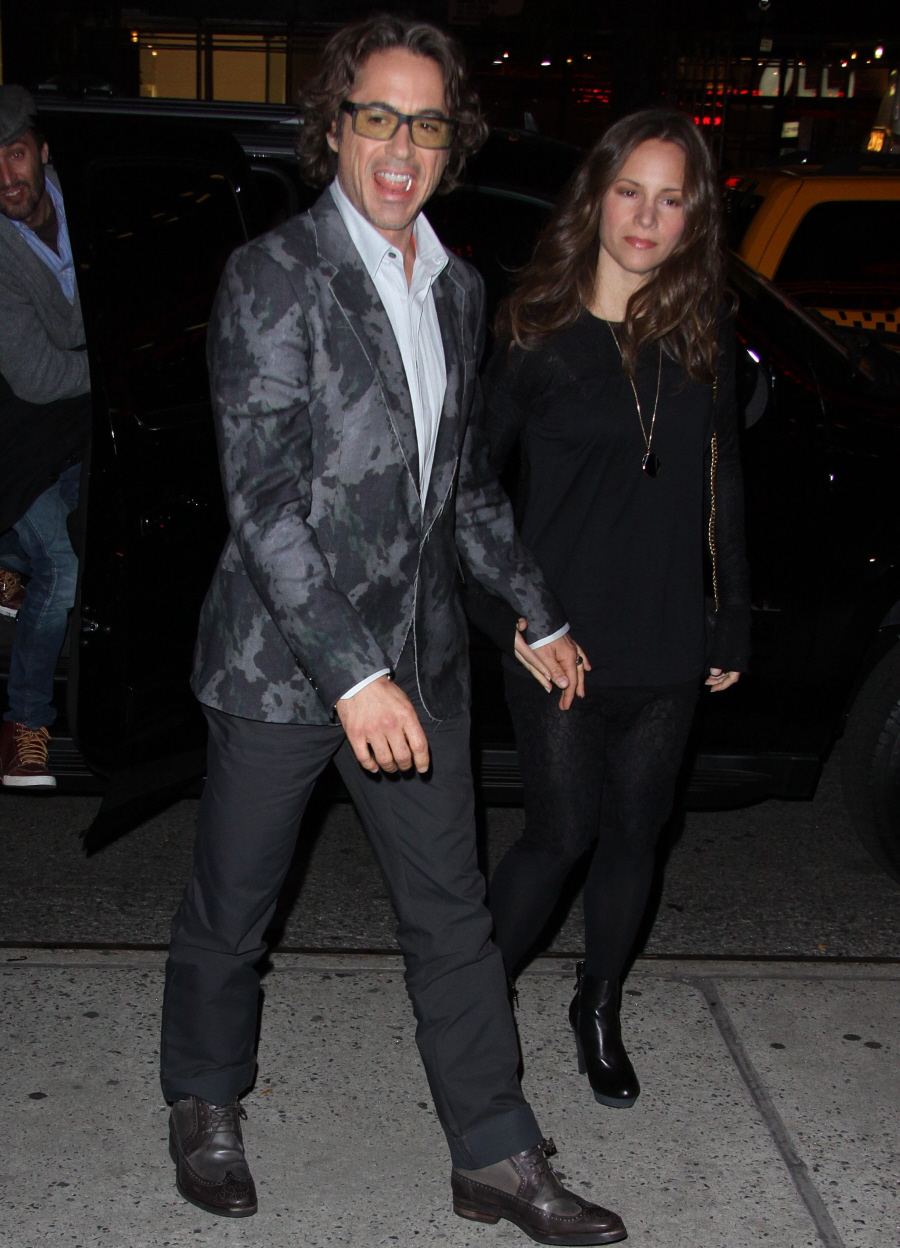 Last night, Robert Downey Jr. was David Letterman's guest, and in addition to that, RDJ had a screening of his new movie, Due Date. These photos are from the screening. Since we so rarely do fashion posts about men, and since RDJ is such a dandy, I thought we'd analyze his outfit before we get to the Letterman stuff. First of all – this is kind of an unfair photo of Susan Downey, because the girl looks over it. She's giving a look like "THIS BITCH. I need a night off and a stiff drink." While I can only imagine how cool and fun it is being married to RDJ, I do think it would get a bit tedious after a while. Like, "Seriously, stop. Stop talking. Or I will shoot you in the face." Anyway, RDJ's fancy-dandy jacket. It's very pretty! Very few men could wear this and still look… cool. And handsome. RDJ is one of the few. Also: love his hair. This hair is one of his best styles ever.
Onto to RDJ's Letterman interview. As you can imagine, RDJ got some questions about Charlie Sheen and his antics. RDJ continued his attempt at radio-silence regarding other people's problems, but Letterman did get him to open up a little:
"Don't get arrested." That's all the advice Robert Downey Jr. had for the troubled Charlie Sheen on the "Late Show" Monday night, pushed by host David Letterman to chime in on Sheen's recent drug-fueled antics and problems with. Downey spent much of early adulthood in and out of jail and rehab facilities, battling substance-abuse problems and that pesky bad-boy gene. Letterman wasn't going to let the connection go unmentioned.

"Do you know Charlie Sheen?" Letterman asked. "You guys are contemporaries, aren't you?" The audience laughed a "we get it" laugh. "I have a feeling you guys all kind of grew up together, in the same part of L.A. Am I right about that?"

"We didn't really hang out," Downey said. "It sounds like we could've really partied."

Letterman played to Downey's vanity in an attempt to get him to open up, calling the now-clean actor "the shining example of how one can turn one's life around and succeed as deserved." Downey demurred. "He's a grown man," he said. "What am I gonna say?" The side of Downey's mouth kept curling into a brief grimace. He shook his head, but it looked more like a twitch.

Letterman insisted — "Look at me!" he urged the actor to say — and finally, Downey caved.

"Here's the problem," he explained. "I start believing my own hype, and then I start thinking people need to listen to what I say and next thing you know my wife is miserable and the director goes, 'He's crazy. What is wrong with this guy?' And as far as whatever example I can say to anybody else, I think the best thing I can do is just keep the plug in the jug myself and stay out of trouble." He raised his eyebrows again — another quick twitch. Happy now?
[From The LAT]
I like RDJ's stance on not really talking about other people's problems. It would be… what's the word? I guess "sanctimonious" would fit, but that's not exactly what I mean. I think RDJ works as an example of a drug-addicted hot mess who got his act together, only because we're the ones saying that about him, and he's not putting himself out there as Mother Superior to all the little wounded birds of Hollywood.
Notably, RDJ has also refused to slam Mel Gibson over any of his junk, for much of the same reason. When asked about Mel a few days ago, RDJ only said: "I've known the guy for 25 years and he hired me when no one else would. So I think that's enough said on my position. I love the guy." Mel hired him when RDJ first got his act together for this final time – they did both Air America and The Singing Detective together. So Mel has RDJ and Jodie Foster on his side… power players, both. Ugh.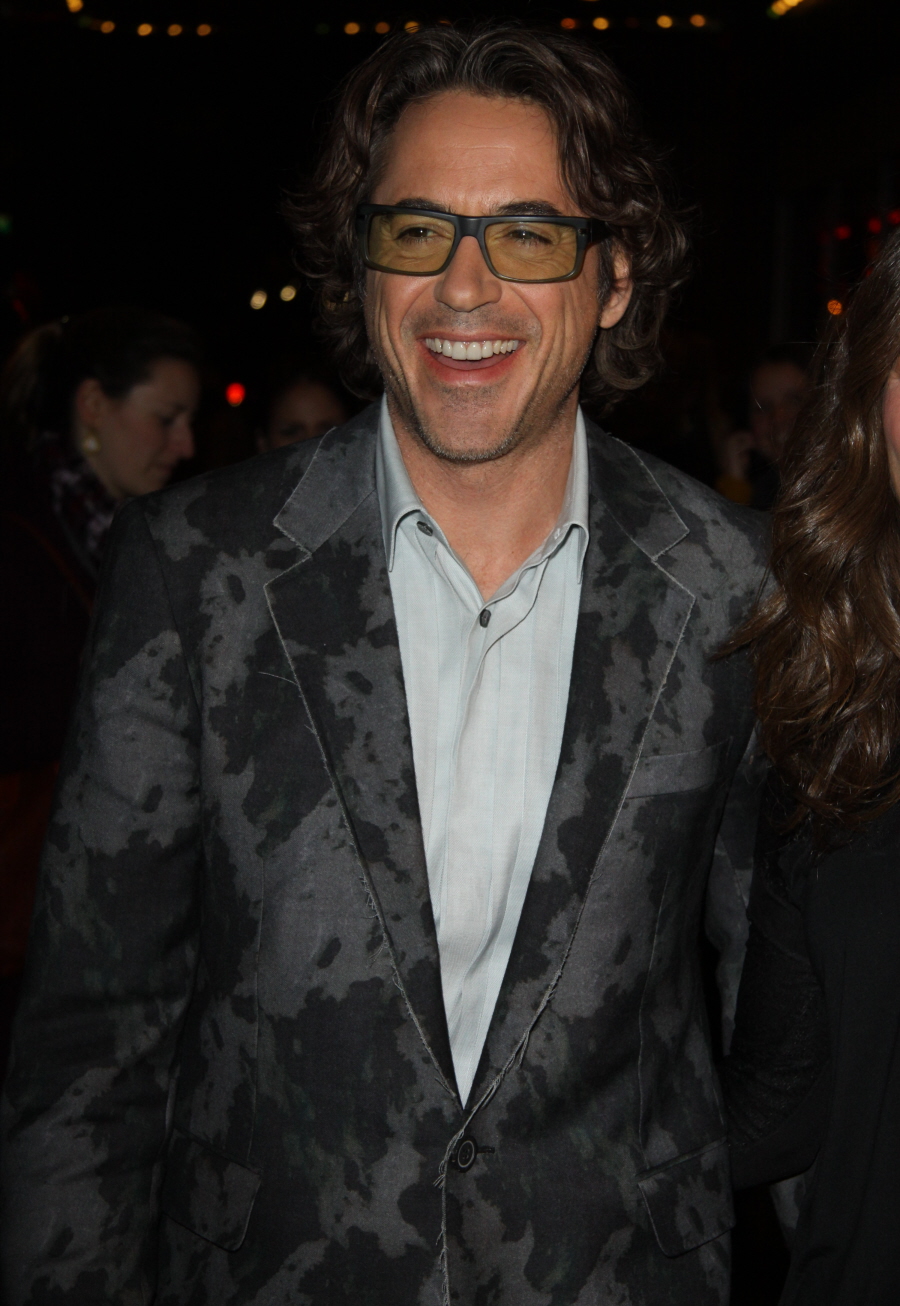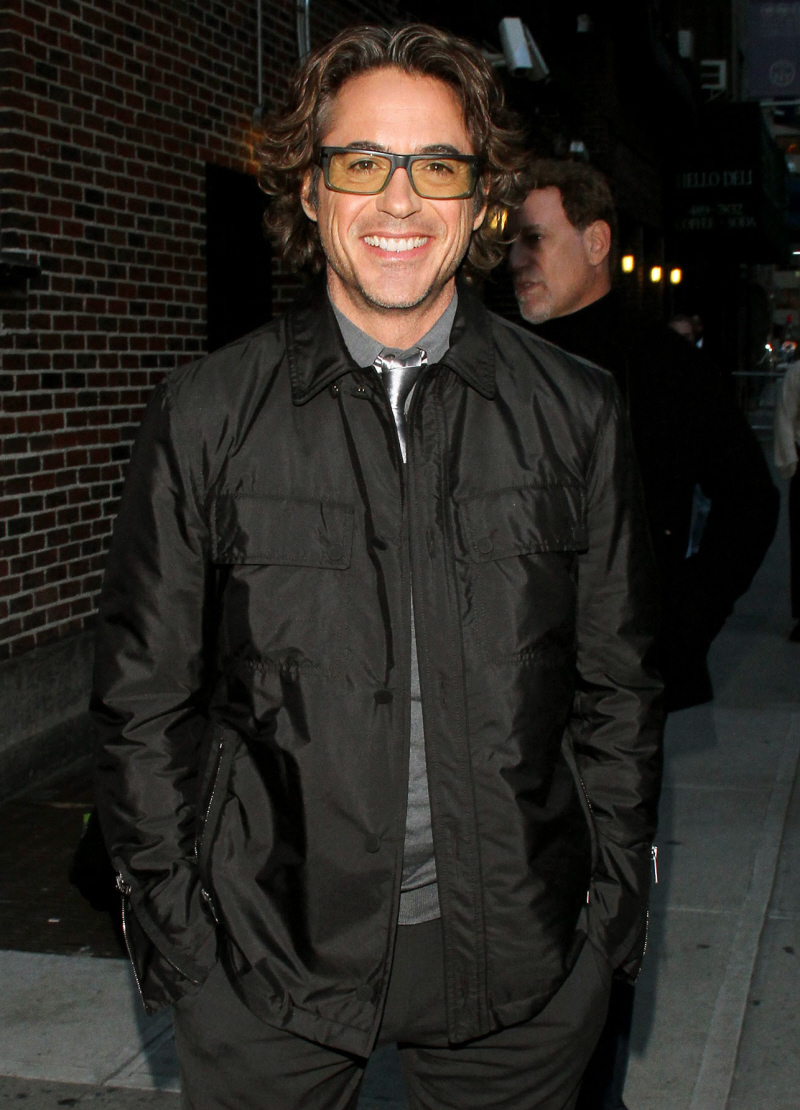 Photos courtesy of Fame & WENN.