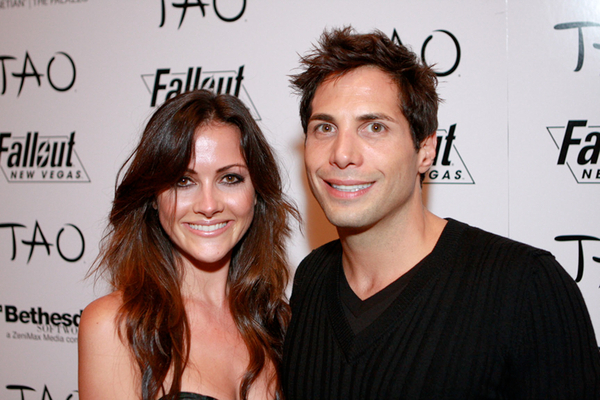 Girls Gone Wild head and all around abusive sociopath Joe Francis has sort-of married his poor fiance. Joe entered into a "civil domestic partnership" with entertainment reporter Christina McLarty after a ceremony held at his estate in Mexico. He issued a statement claiming that they didn't get legally married out of respect for same sex couples who don't have that right. I'm sure it had more to do with protecting his assets, which are still considerable despite the tax lien and resulting incarceration. Joe and McLarty were first engaged this summer, and it's surprising that they lasted long enough to make it official.
'Girls Gone Wild' creator Joe Francis is no longer a single man. The founder of the controversial video empire traded vows this past weekend with his longtime girlfriend Christina McLarty, E!Online.com reports.

Francis and McLarty didn't participate in a traditional wedding; instead they choose to have a civil union.

"We have chosen to have a civil domestic partnership because we don't believe it's appropriate to be married until our gay and lesbian friends are afforded the same rights as us to legally marry in the United States," he told Page Six soon after getting engaged.

The couple's ceremony took place at Francis' beachfront mansion in Punta Mita, Mexico in front of 200 guests. Kevin Huvane, cochair of Hollywood talent agency CAA, officiated the union. The guest list included several Kardashian family members including Kris and Bruce Jenner and daughters Kylie and Kendall. Francis' best man was reportedly Quincy Jones.
[From Popeater]
Of course the Kardashians were involved – why wouldn't they be? Those women would go to OJ Simpson's wedding if he wasn't in the clink. How long is it going to be before we hear about drama at the Francis house? You know that's coming soon. This is a guy who attacks women and then blames them for it.
On another note, don't these two look eerily similar? Like Christina is just Joe as a woman with only some of his crazy lurking behind the eyes? Stare at the image at the top of the story for a moment and tell me it doesn't freak you out.
TMZ has the photos of Joe's wedding.
Photos are from 10/15/10. Credit: Amanda Meredith and PRN/ PR Photos