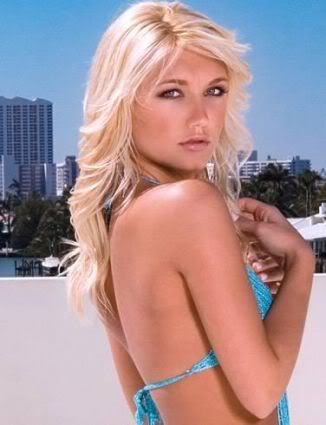 A few months ago some paparazzi pictures came out of Hulk Hogan rubbing suntan lotion on his daughter's ass. It was mildly disturbing, to say the least, and generated more than a few comments, mostly along the lines of 'Help me! My eyes! My eyes!'
Anyway, daughter Brooke says that it's okay when her dad rubs lotion on her behind, because her ass is like a car.
"I know I'm a grown woman, but it's like he's touching an old car," the singer tells Us Weekly in its latest issue, on newsstands now.

"He used to change my diaper!" she adds.
Brooke is on the cover of Maxim magazine looking surprisingly good, and now that she's fighting with her mom she's obviously back to being on good terms with her dad again following their falling out about his relationship with her former best friend, because he came with her to her Maxim shoot.
You can view the video below, where Hulk tells the camera that when Brooke was 17 he wouldn't let Maxim take sexy pictures of her, but now that's she's nearly 20 it's okay. I have no explanation for this logic, except I guess she's of legal age now. Frankly, if I ever get the offer of a Maxim shoot, and I'm expecting it any day now, I not even going to show my father the pictures, let alone invite him to the photo shoot. I guess Brooke might have taken her mother with her, but she's not talking to her.
Brooke looks surprisingly good in the photos for Maxim, and in the video she's seen kissing and fooling about with unidentified skinny guy. The rumors of her engagement continue but apparently she feels that with Nick incarcerated she shouldn't be celebrating and she's gong to wait until he is released to break the news to the world. Her wedding won't be featured on her reality show, unless it really bombs and then she'll do it to get ratings boost.
Note by Celebitchy: The thing that bothered me about those pictures is that her dad was touching her ass for one, but also that it's a place she can easily reach herself. You ask people to apply sunblock to the places you can't reach, and there's really no reason for him to be touching her butt at all.