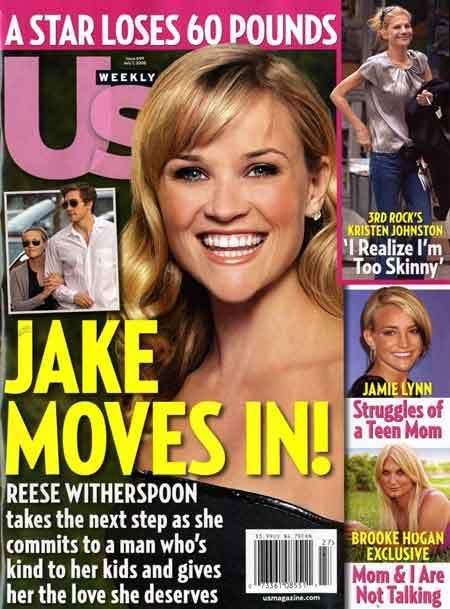 Reese Witherspoon and Ryan Phillipe finalized their divorce just 12 days ago, so now it's time for the gossip magazine charted race for the new celebrity couples to hit the altar.
Ryan debut his girlfriend Abbie Cornish, the actress who was supposedly the 'other woman' in their marriage, at an Australian film award show earlier this month. Now Reese Witherspoon and Jake Gyllenhaal are moving in together.
Meawhile, the blonde beauty Reese Witherspoon and her two children have just moved into a £1.9 million house in the cosmopolitan district of "Notting Hill" to be closer to her love Jake Gyllenhaal.

The romantic 32-year-old star, which was considered as the Hollywood's highest paid actress, took a four-month break from work so she can be closer to Brokeback Mountain actor Jake, who is currently filming in London.

The actress revealed, "Reese loves England and has been really looking forward to spending this time living with Jake."
I don't know if a temporary move for work can be called officially moving in together, but I guess traveling across the Atlantic ocean to be together has to count for something. Us Weekly is covering this also but I can't get my hands on the content so I have to assume this is the same story.
Hollywood Reporter today says that Reese is still the highest paid actress at $15-20 million a film. Others in the top ten include Cameron Diaz, Julia Roberts, Halle Berry, Nicole Kidman and Renee Zellweger. I can't believe Julia Roberts is still on this list following her break to have children, she's made so few films over the last three years.
Picture note by Celebitchy: Here's Reese Witherspoon at the airport on 6/21/08. The main thing that struck me about these pictures is that her glasses look really dirty.