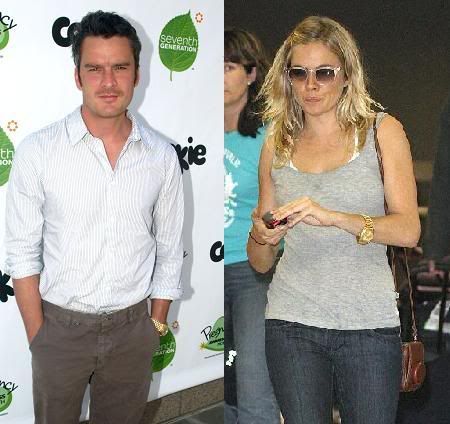 Sienna Miller seems intent on carrying on her string of bad relationship decisions. The actress has taken up with married father of four Balthazar Getty, an actor on the ABC show Brothers and Sisters. They were introduced to each other last summer, and started spending a good deal of time with each other at the Chateau Marmont in March and April. News of the World has a very detailed account of the pair's relationship, including what appears to be a day-by-day near stalking of the couple, along with pictures.
Sexy Brit actress Sienna Miller is secretly on the Edge Of Love with a married multi-millionaire oil heir, we can reveal. The rampant movie beauty has been enjoying romantic nights with tycoon actor and dad-of-four Balthazar Getty after dumping heartbroken Notting Hill star Rhys Ifans earlier this month. The besotted pair have been holed up together day and night in Hollywood after his heartbroken wife fled the country with their kids.

Despite playing a cat and mouse game to stay out of the headlines they have been spotted secretly meeting at restaurants near their hillside hideaway. A source revealed: "They went to great pains to find a place where they thought nobody would find them. They daren't go out together, so they spend most of their time inside. When they do leave, they go separately."

In one rendezvous on Thursday, 26-year-old Sienna drove to a restaurant while former heroin addict Getty, 33, even cycled there to try to avoid being spotted with her. Now Getty's clothes designer wife Rosetta has run away to Italy with their four children —the youngest born only eight months ago—after rumbling her wandering husband.

And pals say lovestruck Sienna has even used her ex-boyfriend and Edge Of Love co-star Matthew Rhys as a smokescreen for their romance… trying to give the impression she might be back with HIM after her split from 39-year-old Ifans.
[From News of the World]
I have no idea what "rumbling" means in this context, but it can't be good. Even though it made me giggle. Thank heavens for ever-evolving British slang. Supposedly Sienna broke up with ex-boyfriend Rhys Ifans because she wanted to "do the right thing" before stuff went further with Balthazar. Apparently the right thing only has to do with her relationship, and not Getty's wife or four kids.
What a seedy situation. You can check out the News of the Word's play-by-play of the couple's secret relationship. The Huffington Post picked up the story as well, so it sounds like it's pretty legit. Sienna Miller makes such poor relationship choices. Rhys Ifans seemed to be a notable exception. He was head over heels for her, and it was absolutely adorable. She seems like someone who will have to repeat her mistakes a couple times before she learns the lesson… if she can learn it.
Here's Sienna Miller arriving at LAX airport after jetting in from London on June 22nd. Header of Balthazar Getty at the Pregnancy Awareness Month event in Los Angeles on May 1st. Images thanks to WENN.