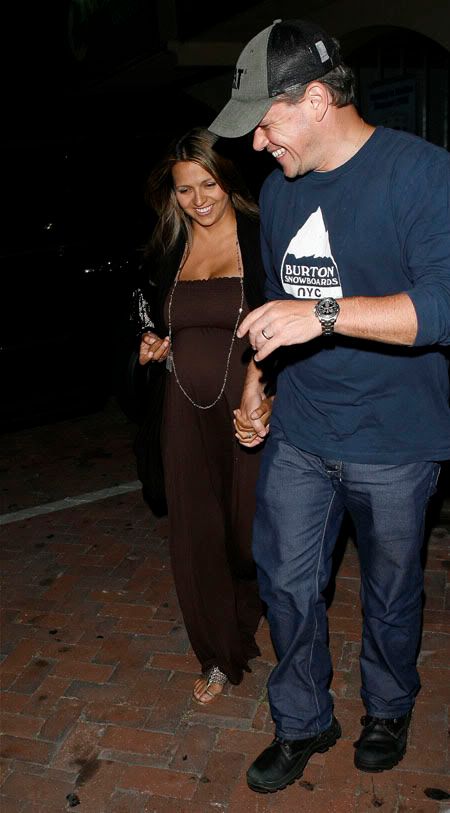 Matt Damon, his pregnant wife Luciana Barroso, his old friend Ben Affleck and Ben's wife, actress Jennifer Garner, went out for dinner on Saturday night at Nobu restaurant in Malibu. Matt and Luciana were laughing up a storm, but Ben and Jennifer looked a little somber. I can easily speculate that at least one photographer was shouting obnoxious questions at them based on that barely decipherable story by Ted Casablanca that there's trouble in their marriage. If you watch any paparazzi video they pepper the celebrities with near-constant questions that can seem incredibly creepy and stalkerish.
The last we saw of Matt he was looking super frumpy and a little plump on the Hawaiian set of The Insider. Put a hat and a normal shirt on the guy and he's the fine action hero dad again. His wife looks gorgeous and I love her outfit and hair.
Affleck appeared on Nightline on Thursday in a piece talking about his work in the Congo. He's more than aware that celebrities can be bashed for doing charity work, but he feels that he has currency as a famous person and he may as well spend it on doing good in the world.
As for the state of his marriage, Affleck told Access Hollywood that everything is fine and that he couldn't be happier:
"Things are pretty great," Affleck said, when asked if he had any vacation plans on the horizon. "We're very happy. Things couldn't be better. We're kind of taking it easy and just kind of enjoying a little downtime at home."
[From Access Hollywood – site has automatic sound]
The tabloids are going to use these photos and run stories with made up insider quotes that Garner and Affleck are having trouble. I bet you these two are just annoyed at the intrusive paparazzi and the rude questions they shout.
Thanks to Splash for these photos.