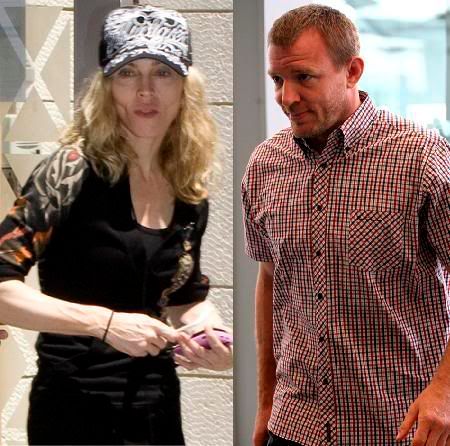 Guy Ritchie's apparently anguished mother, Lady Amber Leighton, has felt the need to address all the tabloid reports that her son's marriage to Madonna is essentially over. Lady Leighton says that the pair are not divorcing, and go through the normal ups and downs every marriage goes through. And she throws in some absolutely delightful British verbiage that I'm going to steal.
Maybe mother does know best. Despite persistent rumors that Madonna and Guy Ritchie are on the brink of divorce, Guy's mother, Lady Amber Leighton, says there's no divorce happening. "It is absolute rubbish, worse than that," she tells the U.K.'s Daily Mail. "Guy will be furious at me for talking to you, but I feel I can't just let these reports go unanswered, as they make me so angry and they are hurtful intrusions into their private lives."

Lady Leighton goes on to say that Madonna and Guy are like every other married couple out there. "Like other couples, they work at keeping their relationship happy and fresh and they are a close and loving couple who have a family to bring up." Guy and Madonna have been leading what appear to be separate lives, with Madonna planning her world tour in New York and Guy staying back in London, but his mother insists, "That is not a couple splitting up. I'll say it one more time, they are not getting divorced; the speculation is TT — that's total tosh."
[From In Touch]
I was half expecting Lady Leighton to break out with some "Pish posh applesauce" or something. I can't blame her for being upset – it's natural that a mother wouldn't want the whole world speculating about her son.
The Sun reports that Guy has been holed up at singer Sting's country estate. He was introduced to Madonna by Sting's wife Trudie Styler. Guy and Trudie have been spotted at a few local pubs, with Guy apparently looking quite somber.
Guy was spotted boarding a flight from London to New York City – where Madonna and the couple's three children currently are staying – without his wedding ring. There's been some speculation that he's going to make one last-ditch attempt to save the marriage – though Madonna's still not wearing her ring either. Sad as it may be, something tells me there will probably be some sort of announcement in the next couple days.
Here's Guy Ritchie – sans wedding ring – flying out from London to New York today; and Madonna (equally ringless) looking very sullen outside the Kabbalah center in New York yesterday. Images thanks to Splash.