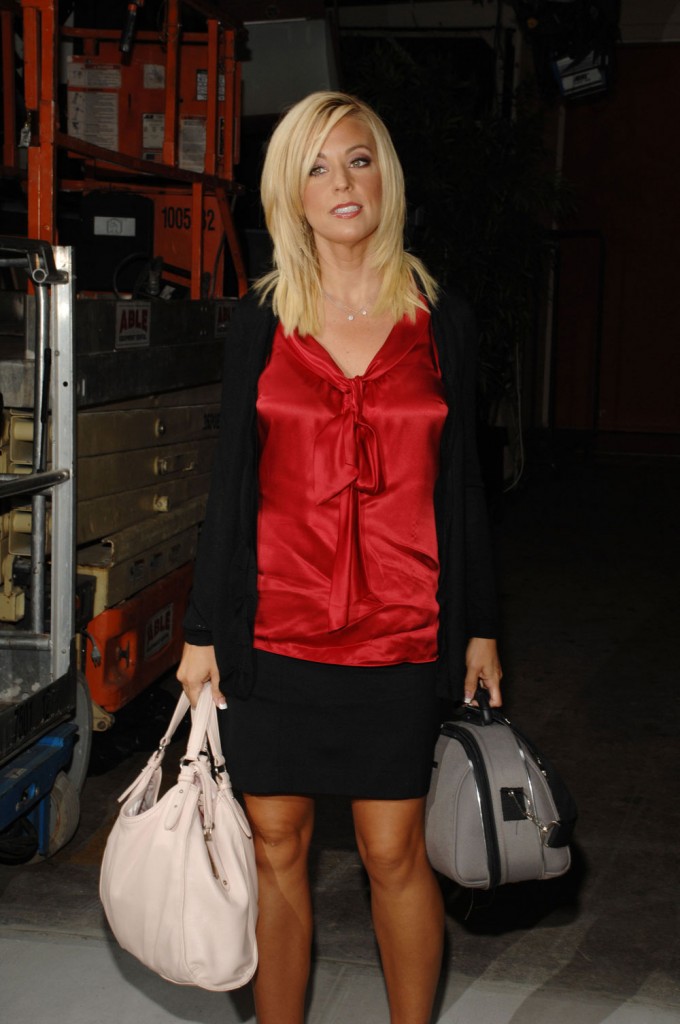 US Weekly has quotes from Kate Gosselin's rep, who refutes the latest rumor that Kate's Twist of Kate show, in which she reportedly travels around the country helping women who write in, has not been canceled. We first heard about this show back in April when Kate was showing us firsthand what an entitled bitch she is on Dancing With the Stars. So far nothing has come of it, but her rep swears it hasn't been canceled. I have to admit that this report confuses me, because it's written as if the show has already aired. There's nothing on TLC's website about it, and I haven't heard a peep about the show so I can only assume that it's still in the works.
Kate Gosselin fans everywhere can breathe a sigh of relief.

Her new TLC show, Twist of Kate, is not canceled, a rep confirms to UsMagazine.com.

Twist of Kate follows the single reality TV mom, 35, as she visits and helps families facing obstacles.

As it turns out, the flurry of rumors about the show getting the axe due to poor ratings are "100 percent not true," the rep tells Us.

Gosselin also stars in TLC's Kate Plus 8, which follows her family life without ex-husband Jon Gosselin.
[From US Weekly]
I wanted to report this story because I had the chance to read the first chapter of Kate's I Just Want You To Know book, which was a complete failure by most accounts. I got a sample through my Kindle app (it came up through another search and I was not looking for it, I swear!) and in the first chapter, she very snottily reports a story of a woman recognizing her and her family and weaves it into a "poor me" account of how people harass her now that she's famous. According to Kate, she years to be "normal" and she writes without any irony at all that she doesn't want people watching her and her kids! Plus, it's more about her than any concern for her kids' safety. Here's a more egregious excerpt:
The persistent fans were often more concerned about what they were getting out of me than having respect for my situation. That's probably where my perceived bad attitude toward the public started. Depending on the location, I tried to be cordial and kind, but I probably didn't always respond very well. Frankly, it botehred me that people wouldn't leave us alone. Sometimes they even wanted to touch the kids. I got very good about quickly stepping in between them before they could.

These type of encounters caused Jon and me to long for what we called a "normal" family life. For us, normal meant being able to travel outside of the house with just the ten of us – no chaperones. Normal meant my kids could get out and play freely, instead of being restrained in their strollers because we could keep sixteen chubby little legs from running in eight different directions. In my fantasies about "normal," I craved a quiet life where my family and I could go out in public without people staring, pointing and counting my kids. It was hard enough trying to be a mom of twins and sextuplets without feeling like the world was watching everything I did.
[From I Just Want You To Know, print edition, by Kate Gosselin]
It's all about Kate and how hard life is for a celebrity. She wants a "normal" non-public life despite all she's done to prove otherwise. She just years to go out with her kids alone even though she has multiple nannies and a bodyguard when there are A-list celebrities that have less help than she does. She better enjoy it now before she's completely eclipsed by that polygamist family and the newest crop of cute multiples.