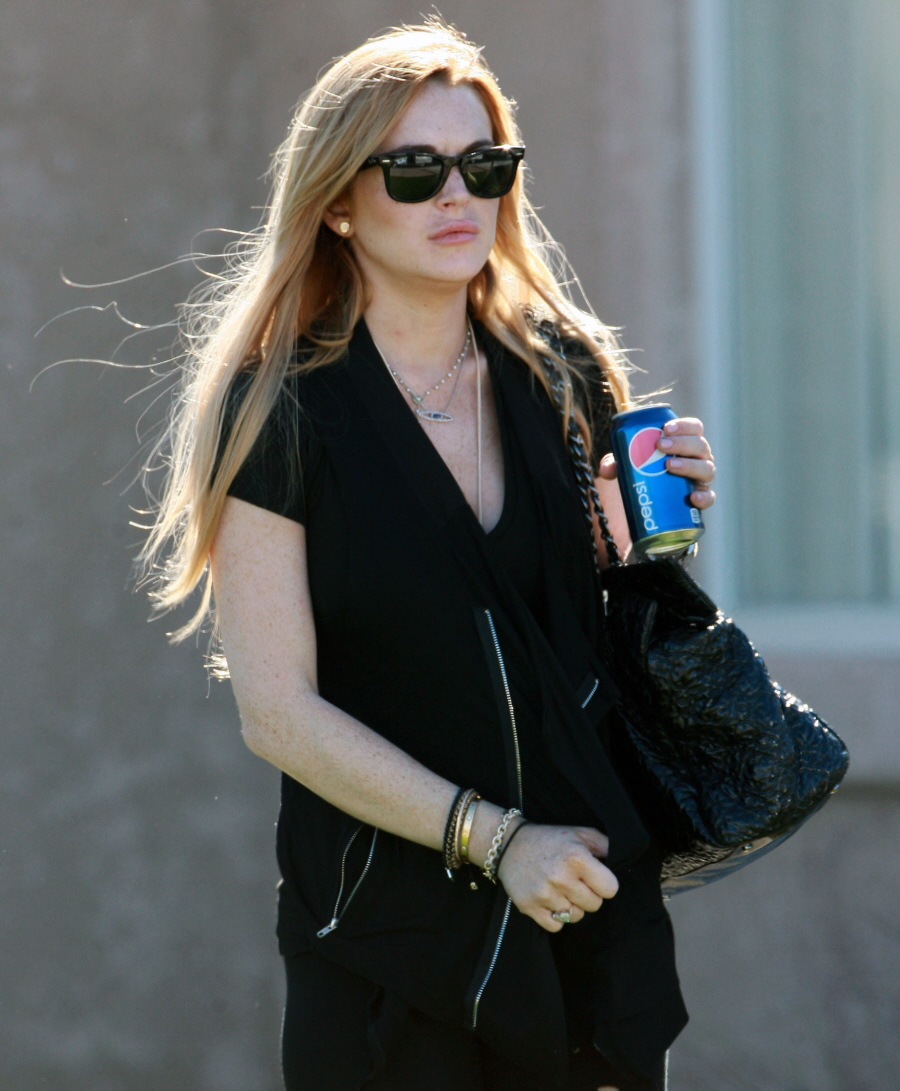 Crackheads never learn. And neither does the Crackhead Industrial Complex. According to TMZ, Lindsay's driving privileges have been reinstated by the state of California and the Betty Ford Clinic. So… babies better check themselves, a Lohan's on the road!
TMZ has learned … Lindsay Lohan is officially a California driver again, because her privilege to get behind the wheel has just been restored.

The L.A. County Probation Department and officials at the Betty Ford clinic signed off this morning, so Lindsay can drive just like us.

And speaking of just like us … we're told Lindsay is not getting special treatment. The folks at Betty Ford routinely allow people "at Lindsay's care and treatment level" the right to hit the road.

It's interesting … because all of Lindsay's legal troubles emanate from driving.
[From TMZ]
I just don't understand how Lindsay could get her license back, ever. Just one fifth of her crack shenanigans while driving should ensure that she's never allowed back on the road again. Is this just a failure of the state of California?
In other crackhead news, E! News has more information of Lindsay's firing/withdrawal from Inferno. Someone submitted this question: "Lindsay Lohan has been fired from this Linda Lovelace biopic Inferno because she's "uninsurable." Is that true or just an excuse to fire her?" Here's the answer:
As if anybody needed an excuse to fire Lohan, she's in rehab. If she's in rehab, she cannot, as Eddie Murphy once put it, be where I'm at. And if she cannot be where I'm at, then she cannot participate in my exciting business venture, now can she?

Anyway. The truth is, yes, this was an excuse to fire her—technically. And I can prove it: Listen to a man who would know, Douglas Turk, CEO of leading entertainment insurance broker Aon/Albert G. Ruben.

The last time I checked in with Mr. Turk, he essentially told me that uninsurability is B.S. Any actor can be insured, he told us. It's just a matter of how much money you want to spend.

The case of Robert Downey Jr. comes to mind. He was once dubbed "uninsurable," but that's not really true. His insurance was just too expensive. Mel Gibson stepped in to assume the balance of Downey's risk, and the future star of Iron Man began his rise once again.

So, what does all this mean in the case of Lohan? It means she can be insured. It's probably just too expensive, and that she isn't worth the trouble, and that she has no rich friends with giant piles of cash lying around gathering dust.

"If you really wanted to get insurance on someone like Lindsay Lohan, you might end up paying 90 cents on the dollar, so there's very little exposure on the part of the insurer," Turk muses to me. "[Director] Matthew Wilder has done a very good job standing by her for as long as he could, but I think it's probably at the point where the producers are saying, 'Let's go'.

"There's too much risk associated with her, so the cost of insurance is probably going to outweigh the benefit."

How much money are we talking about?

Well, depending on the production, insurance premium costs are as little as two or three percent of a budget—but if an actor is risky, an insurance company may try to charge a double-digit percentage, which most filmmakers cannot afford.

Now, if Lohan could just make a call to Mel Gibson, maybe the two of them could work something out?
[From E! News]
So will Lindsay ever work again. As much as I would hope not, she probably will. She'll be "sober" (ish) for a little while and get a couple of parts, maybe on TV or a cameo in a budget film, somehow. And then the train wreck will start all over again. Just a guess!
Header courtesy of Fame.