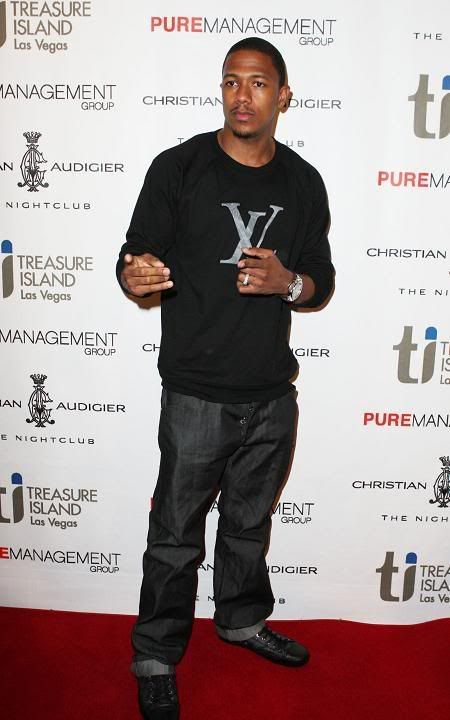 Nick Cannon is making the PR rounds promoting… well promoting his marriage. It seems that's about all he's got going on in his life anymore. And really, who can blame him? If you had a nothing career with a random, unknown movie or CD here or there, and then married a multi-millionaire, that'd probably be the biggest thing going on in your life too.
Nick's been plagued by a lot of rumors lately that he is essentially Mariah's bitch and that their marriage is already on the rocks. So obviously the best way to prove that's not true is to do your wife's bidding and chat up People and Us Weekly about just how solid you're spur-of-the-moment marriage is. Because that'll show everyone your balls are still firmly attached.
Both People and Us wrote essentially the same story with the same quotes from Nick about just how great money marriage is.
Nick Cannon is still in the honeymoon phase with new wife Mariah Carey.

"It's amazing!" Cannon, 27, told Usmagazine.com at the Christian Audigier nightclub grand opening in Las Vegas Thursday night. "It's the best thing that's ever happened to me!" he continued.

[Nick's] plan is to have one [wedding] every year," Carey gushed to Ellen DeGeneres two weeks later. "Instead of trying to be like, 'You're invited, but shhh, don't tell anybody,' we're just going to have another one [wedding] next year."

Up next for the lovebirds? Babies!

"I always said… if I found the right person who I felt would be on the same page as me in term of raising kids and having the same belief system, [we'd have kids]," Carey said.

Reuben Cannon told Us his half-brother Nick, "definitely wants kids," and that he "loves [Mariah] more than any other girl."
[From Us Weekly]
I'm sure it is the best thing that's ever happened to you, Nick Cannon. If I married someone and suddenly got to pee in on a jewel-encrusted toilet seat as a result, I'd think it was pretty much the best thing ever too. And I'm 93% sure that's what Nick and Mariah's marriage is really based on.
Mariah famously took back all her statements on not wanting to have kids within seconds of marrying Nick. Which was extra funny, because she made all those statements right before she married Nick. So it seems like they're both willing to compromise a bit, which I guess is good. Mariah agrees to have a couple kids, and Nick tells People just how happy it makes him to schedule his wife's appointments, pick up her dry cleaning, and do her laundry. Sounds like a marriage that'll definitely go for the long haul.
Here's Nick Cannon (sans Mariah) at the grand opening of 'Christian Audigier The Nightclub' at Treasure Island hotel casino in Vegas on Friday. Photographer Judy Eddy; Images thanks to WENN.