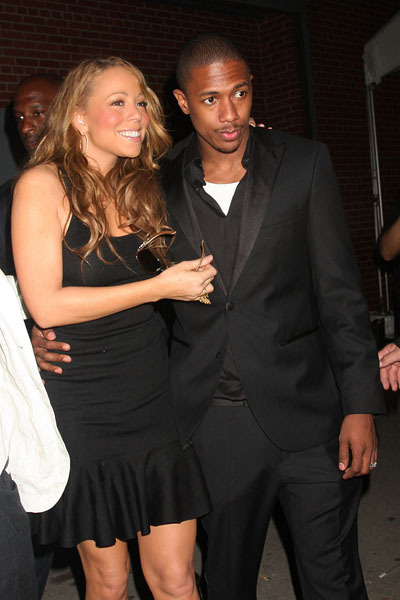 Shocking allegations have emerged… that Mariah Carey and Nick Cannon may already be having marital problems. Say it isn't so! Who would ever have thought a spur-of-the-moment wedding by two people who've only been together a couple of months could ever, ever turn out badly? Apparently Mariah Carey and Nick Cannon don't have quite the mystical emotional bond that they led us to believe. I, for one, feel utterly betrayed.
Is the honeymoon over for Mariah Carey and Nick Cannon? Just two months after their surprise Bahamas wedding, the lovey-dovey couple may be hitting the skids — thanks to Mariah's demanding diva ways. With his wife wearing the pants in the relationship, Nick is rapidly gaining a reputation as the most whipped man in Hollywood, something that naturally doesn't sit to well [sic] with him, a source tells OK!.

"He's basically around to attend to her diva-ish ways," the source says. Shortly after arriving in Oahu, Hawaii, where Mariah was filming her new video for "I'll Be Lovin' U Long Time," Nick, 27, diligently played the part of personal assistant. He dashed off to buy her gifts at Tiffany & Co. and Louis Vuitton, and when his 39-year-old bride hurt herself during the shoot, he was right by her side. "He helped Mariah out of the pool," an eyewitness tells OK!. "She looked like she was going to cry."

Meanwhile, Mariah is taking charge of another aspect of her hubby's life: his career! "Nick had signed on to perform at a sweet-sixteen party before he and Mariah got married," an insider tells OK!. "But now Mariah needs to oversee and approve his career moves. There's no more silly Wild 'N Out, or small-time gigs. She wants him to do big venues and projects. She definitely wears the pants."
[From OK! Magazine]
This isn't the first account of Mariah treating Nick like her assistant. But the examples given in OK! don't strike me as especially "diva-ish" behavior – like a husband helping his injured wife. I mean she was in a pool at the time so I'm guessing the injury is something along the lines of her false eye lashes coming unglued or something of that nature. But Nick helping an upset Mariah out of the pool isn't exactly an example of him being whipped.
Neither is his buying her expensive presents, with (what I'm guessing is) her money. It's all about the extent and the ridiculousness of it all, and that's hard to know unless we actually see the two of them interacting.
Frankly, Mariah Carey has got a pretty great career, and Nick Cannon is most famous… for … crap. He was in something. Once. And that other thing a few times. You get the point. If Mariah Carey wants to help him out career-wise, I'd go for it. If he wants to be left alone and make his own career decisions entirely independently from Mariah, then that's his business. But he may well want her help. Maybe they're just using each other. And isn't that what marriage is all about?