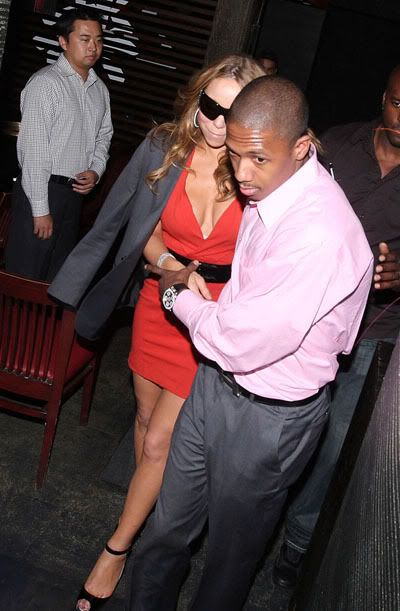 This week's In Touch has a story that reveals the lengths that Mariah Carey's new husband Nick Cannon, 27, will go to please her. The pampered singer has her husband wait for her attentively outside the bathroom, carry her bags, and generally cater to her every need.
In Touch quotes a psychiatrist who theorizes that considering Mariah's failed marriage to Tommy Mottola, in which she felt controlled by the older music executive, she's probably looking for someone she feels safe with and superior to:
Newlyweds Mariah Carey and Nick Cannon were enjoying a romantic dinner at Gyu-Kaku in LA when suddenly, the pop diva felt the urge to use the restroom. "She told Nick to escort her to the bathroom," a witness at the restaurant on May 12 tells In Touch. "He walked here there, then waited outside the door. It was like he was on her security team."

Insiders say that since the two married in the Bahamas on April 30, Nick seems more like Mariah's employee than her spouse. "She treats Nick like an assistant," says a friend of Mariah's. "He's not treated like her equal or her husband." Nick also seems to be at Mariah's beck and call. "He's very attentive to her," his pal… Kevin Frazier tells In Touch.
[From In Touch, print edition, June 2, 2008]
Nick seems to enjoy his protective and some say subservient role to Mariah and there are plenty of other husbands and boyfriends who love pampering their mates. If she doesn't take him for granted and he doesn't mind doing things for her, they may have an arrangement that works for them.
I have a husband who likes to bring me coffee, do the dishes, and treat me well. He's not a pushover though, and he does these things because we love and care for each other, not because he's expected to. I bring him his coffee too. As long as Nick is doing it out of the kindness of his heart and doesn't play the chump role it could work out in his very new, very green relationship with Mariah. It's a hard tightrope to walk, though, when you're with a woman who's used to having her every whim met with the best luxury items money can buy.
Mariah Carey and Nick Cannon are shown in the header image leaving Gyu-Kaku restaurant on 5/12/08. Nick Cannon is shown out shopping at Rite Aid on 5/13/08. Some sites noted that he was looking at laxatives, but all he brought home were some "Hot Tomales" candy.
He's also shown buying Hello Kitty merchandise that same day. Thanks to WENN.