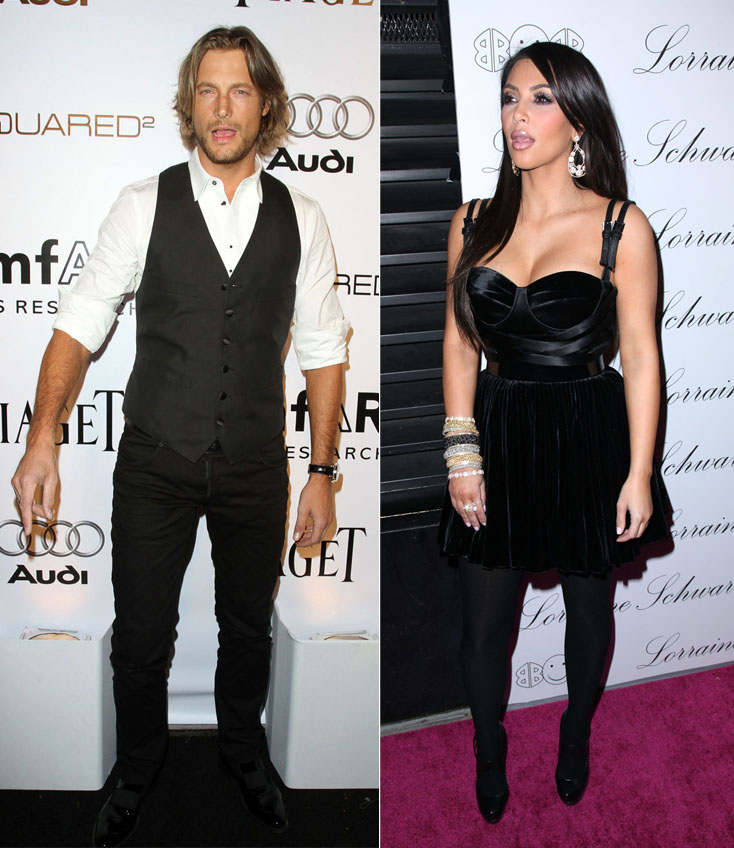 Brace yourselves. Despite Kim's mom Kris sort-of denying that her daughter and fine as hell Canadian model Gabriel Aubry were more than friends, US Weekly is reporting that the pair "are the real deal" and have been "dating a few weeks." Kim and Gabe of course first stepped out as a couple at a Laker's game this Sunday. Please let this be a planted story meant to raise their respective profiles before the holiday.
Kim Kardashian's found a new guy to keep up with: Halle Berry's model ex Gabriel Aubry. A pal tells UsMagazine.com that the duo, who were spotted flirting at Sunday's L.A. Lakers game, are the real deal.

"They met through friends and have been dating a few weeks," says the source. "It's sexy!" Adds the insider, "They decided to step out together at the game."

The hot Gucci model, 34, is not the first guy the reality star, 30, has been linked to since splitting with Reggie Bush in March. After a summertime romance with football hunk Miles Austin, Kardashian has been dating casually — including a few recent nights out in NYC with singer John Mayer.

Aubry, meanwhile, has been laying low since he and Berry, 43, ended their four-year relationship in late April, although he and the Oscar winner spent some time in Paris with daughter Nahla, 2, in August. Berry has since gotten cozy with her Dark Tides costar Olivier Martinez.
[From US Weekly]
Bill Zwecker at the Chicago Sun Times semi-confirms this news. He writes that the two "have quietly been dating for several weeks after meeting at parties — and running into each other purely by accident in a number of clubs, restaurants and stores." Kim allegedly thinks it's "karma" according to a source, and as for what she could have done to deserve such a fine man I have no idea. It's not like she's known for her charity work.
I think that commenter NayNay summed up Gabriel's situation best by writing "That is like going from caviar to fish sticks." Many of us wondered how Halle Berry could let go of her breathtaking baby daddy, but now that he's linked with this plastic surgery victim it makes perfect sense that Halle has so spectacularly moved on. The guy may be hotter than fire, but there's obviously something missing upstairs. Whether his relationship with Kim is a showmance or not, it still reveals an extreme lack of common sense.
Oh and thanks to Oxa for sending me this link to Awful Plastic Surgery's story on whether Kim Kardashian got lip implants. It's obvious she's had a hell of a lot more done to her face too. She used to be so pretty without all that plastic and spackle.
Here's Kim at the ribbon cutting event for new Charmin sponsored bathrooms in Times Square yesterday. This reminds me of something a teacher once told me about not being intimated by anyone. "They all use toilet paper to wipe."
Kim photos credit: Diane Cohen/Fame Pictures. Gabriel is shown on 10/27/10. Photo credit: WENN.com