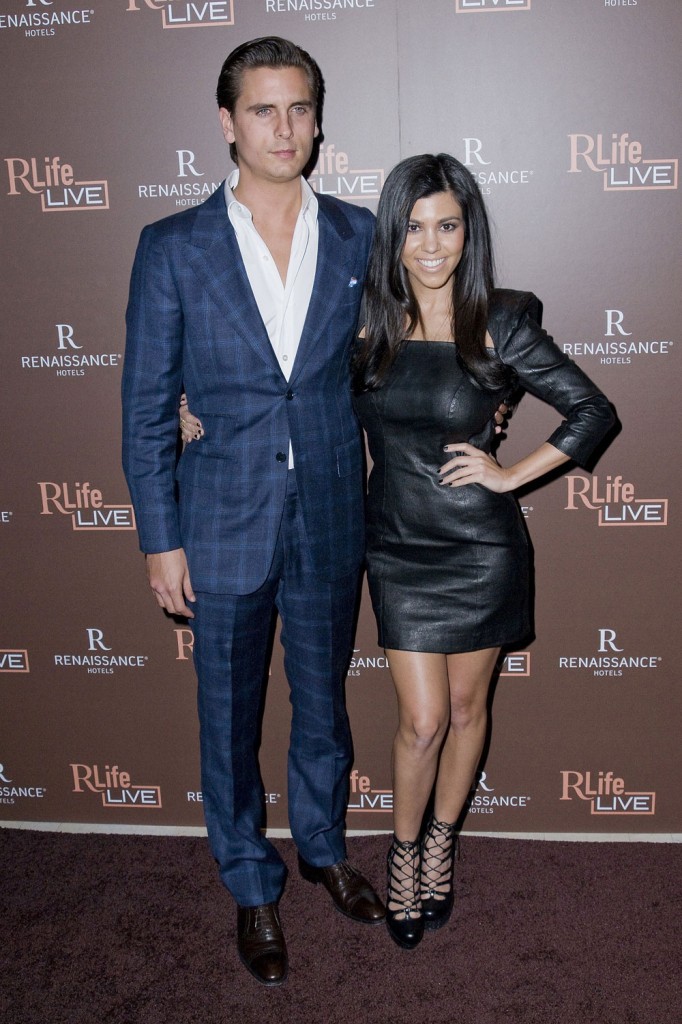 In an all too predictable move, Kourtney Kardashian's sociopathic baby dad, Scott Disick, reportedly proposed to her in early November. He didn't do it for love or commitment reasons, according to In Touch, but conceded to an ultimatum by Kourtney to marry him or get kicked off the family's reality show. Kourtney's pimp mom Kris is of course on board because she knows how much money they can make off the wedding rights. This sounds like a disaster:
Scott Disick [proposed to Kourtney] in early November – but the act was as devoid of romance as the couple's relationship. According to sources close to the family, the "engagement" is nothing more than a calculated business decision intended to drive up ratings for their new show, Kourtney and Kim Take New York, and feather the Kardashian nest…

Explains a family friend, "It's more of a business opportunity than true love. Scott and Kourtney are going to make a fortune off their wedding – E! has already offered more than $500,000 for the wedding rights, and that is only one of the many deals. It's all about the endorsements, and their business machine is already in overdrive.

It may seem shocking that Kourtney, 31 – mother to Scoot's 11-month-old son, Mason – would want to make a lifelong commitment to the man who has let her down, time and time again. But apart from the cash, she has her reasons, says the insider. "Kourtney is very tradition. She did not want Mason to have unmarried parents. So she approached Scott and basically said, 'Either we get married or you are out of the family and off the show.'"…

"Kris Jenner sees this as a huge opportunity to cash in, and is already shopping around deals."
[From In Touch, print edition, December 6, 2010]
Kourtney is said to be opposed to the wedding because she "thinks Scott is a loser." There's no word on what Kim thinks, although this week's Enquirer reports that Scott hit on Kim! The creep allegedly thinks that by hooking up with Kim he'll be better off. Luckily Kim wants nothing to do with him.
When Kim and Scoot were at a bar together recently, the insider says Scott pulled her aside and whispered: "You and I would be so good together…"

"[Kim] was disgusted by Scott hitting on her…"

"I think he's bored with Kourtney and decided that he'd be better off hitching himself to Kim, who is the family's biggest star.

"Never in a million years would Kim consider dating Scott. But that hasn't stopped him from trying."
[From The National Enquirer, print edition, December 6, 2010]
The few times I've watched this show, Scott has never been there for Kourtney and has disappointed her time and again. Instead of realizing that she's better off without the guy, she's supposedly marrying him for the money! You get what you ask for, and this girl will never learn. I hope this story isn't true, or at least that Kourtney gets a good prenup. You know why Scott has stayed with her this long, and we know his motivations for marrying her. Money rules in this family and dictates their personal lives. They know how Scott is, and he's one of their own.
Photos are from 7/24/10, (black dress, pink pants), 8/1 (print dress, pink pants), 9/2 (with mom Kris), 10/28 (black dress, blue suit) and 11/9/10 (with their son, Mason). Credit: WENN.com