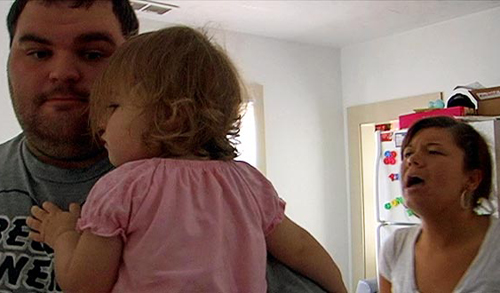 Teen Mom star Amber Portwood has been reunited with her two year-old daughter, Leah, after Leah spent several weeks in the care of her father. Leah will return to live with Amber at least part time. Many people hoped that Leah would be under her father Gary Shirley's care permanently after we heard that Leah was made a temporary ward of the state of Indiana pending Amber's investigation for two counts of felony domestic violence. Amber was shown choking and slapping Gary in two separate abuse instances on the show. Now Amber, 20, has moved to a new home, and she's bought a bed for Leah and had the place professional cleaned. It seems to have been enough for Child Protective Services, as they've allowed Leah to live with Amber yet again. It's not known whether this arrangement is permanent or temporary:
After having her two-year-old daughter temporarily taken away from her last week, Teen Mom star Amber Portwood cleaned up her home and on Monday was reunited with her daughter Leah, RadarOnline.com has learned.

"Amber hired someone to clean up her apartment recently and even went out over the weekend to buy a proper baby bed for Leah," a source close to the situation told RadarOnline.com.

"She was trying to get everything up to par at home so that Child Protective Services would deem it a suitable place for Leah and she'd get her back; and it looks like it worked."

Sources tell RadarOnline.com the exchange happened at 4:30 p.m. EST and that the baby's father, Gary Shirley was very upset about the decision.

"He really loves Leah and was so excited to have her when the court placed her in his care," the source said.

As RadarOnline.com previously reported, baby Leah became a ward of the state of Indiana last week after an emergency child placement hearing on Tuesday in which Leah was temporarily placed with Shirley.

An assessment of Leah's living quarters with Portwood by CPS proved unsuitable, although Portwood was awarded monitored visitations.

It's unclear if Portwood's parental rights have been reinstated.

"Originally Amber was supposed to have a monitored visit today with Leah, but when CPS saw the change in her apartment they decided it met Leah's needs," the source told RadarOnline.com.

"CPS will continue to monitor Amber a few times a week and check in with her to make sure it's going well, but as of now, Leah is back in her care."

The 20-year-old mother of one was charged with domestic violence earlier this month after an aggressive assault on Shirley was caught by MTV cameras while Leah stood at her feet.

Child Protective Services and the Anderson Police Department were unavailable for comment when contacted by RadarOnline.com.
[From Radar Online]
I really feel for that poor little girl. Amber is an angry manipulative person who seemed to spend very little time with Leah on the show. She was either ignoring her or yelling at her on Teen Mom, and the only one who really interacted with Leah was her dad. Now Amber has moved and she actually bought Leah a bed, so that makes her a fit mom? At least CPS has an eye on the situation, but given this latest decision it's not looking hopeful for Leah.