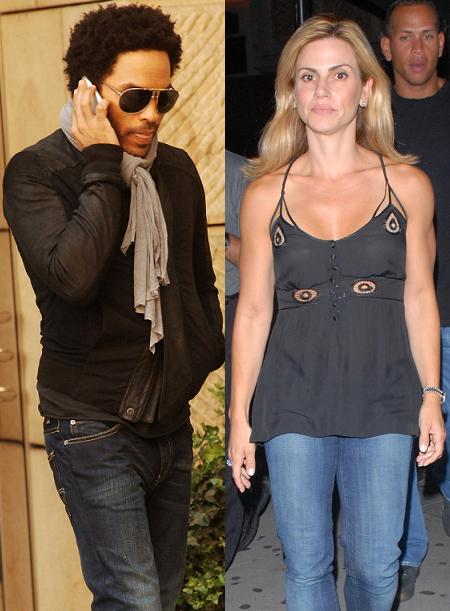 The Madonna/A-Rod spiritual cheating and subsequent A-Rod divorce story keeps getting more interesting. Yesterday we heard that Cynthia Rodriguez went on a wild spending spree in Paris after the news broke of her estranged husband's alleged affair with Madonna. Rodriguez is said to have blown six figures on a lavish first class vacation for herself, two friends and their daughter at a time when she was rumored to have been on a getaway with musician Lenny Kravitz. It turns out she did spend time with Kravitz and friends in Paris during his tour stop there, but the two are not romantically involved. She spent more time getting spa treatments, going to the best restaurants, and generally letting off steam.
The NY Post reports that Kravitz had just dumped his manager, Guy Oseary, after learning of the way that Oseary used a maybe purely cult-driven relationship to generate publicity through a fake cheating story. In retaliation for being fired by Kravitz, Oseary is said to have leaked the story that A-Rod's wife Cynthia had jetted off to Paris to be with him:
Dodd Romero, the hulking fitness trainer who accompanied Cynthia to Paris, told The Post that Kravitz blames his former manager, Guy Oseary, for entangling the rocker in the twisted tales about Madonna and the Yankee slugger.

Romero called Kravitz two weeks ago to tip him off that Oseary – who managed Kravitz, Madonna and A-Rod – was about to "pimp out Madonna and A-Rod," said a source. But Kravitz didn't approve and told Romero, "I'll take care of this" – and fired Oseary.

Kravitz was shocked when he was then accused of having a fling with the slugger's wife, said the source. Romero believes Oseary planted the story in retaliation for being dumped.

Kravitz, Cynthia Rodriguez and Romero were all in Kravitz's tour bus when the reports broke in Paris. "Lenny looked like he was going to throw up," Romero told the Post. "Lenny said, 'I worked so hard to clean up my image and now I'm gonna get dragged into this.' "

The trio planned to fly to Spain to meet up with Denzel Washington, whom Romero also trains, but canceled when Kravitz's alleged tryst made news. The group agreed it was best for Cynthia to instead head back to Miami to "sort out the mess."

A rep for Kravitz confirmed he dumped Oseary two weeks ago.
[From The NY Post]
The Post's source, Dodd Romero, is the same trainer who said earlier in the week that A-Rod was "totally brainwashed" by Madonna and that "he got pulled in by the dark side."
Speaking of the "dark side," Rodriguez was photographed having lunch yesterday with Rabbi Michael Berg, the director of the Kabbalah Centre. If A-Rod thinks his wife is trying to take him to the cleaners he should wait and see how much cash he ends up giving that organization for whatever enlightenment they're going to bestow on him. It doesn't sound like his involvement in the cult has benefitted his career or personal life so far.
Here's Lenny Kravitz on the set of his Levi's commercial in Prague on April 27th. Header of Cynthia Rodriguez at Madison Square Garden for Justin Timberlake's concert last August 15th. Photographer: Doug Meszler. Images thanks to WENN.