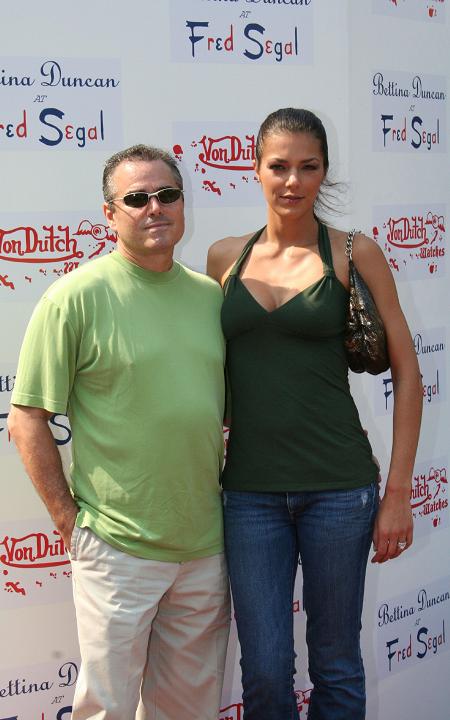 Former Brady Bunch child star Christopher Knight still has a friendly relationship with the actress who played his mother on the 70s sitcom staple, Florence Henderson, 74. Henderson is a certified hypnotherapist and reminds us that she advised Knight, 50, not to marry his third wife, model Adrianne Curry, 25, but said he obviously didn't take her advice. Knight and Curry met on the VH1 reality show The Surreal Life in 2005 and later chronicled their courtship and wedding on the follow-up show My Fair Brady.
Henderson says she didn't want to do reality television, but that didn't stop her from making a guest appearance on My Fair Brady. She says she told Knight and Curry not to get married, but that they went and did it anyway and adds "Maybe I will counsel the divorce." What I find telling about Henderson's comments is that she doesn't refer to Curry by name and simply calls her "this person."
Florence Henderson says that while her former TV son Christopher Knight has lived his life in front of the cameras the past few years, "reality [TV] is not for me."

"It's a double-edged sword," Henderson said of shedding an iconic role. Henderson, 74, spoke to reporters on Tuesday at the Television Critics Association press tour in Los Angeles, where she was promoting her upcoming Hallmark Channel film Ladies of the House.

"It can be difficult to move on," said the former Brady Brunch mom. "Christopher Knight is like my son and he was very involved with this person on The Surreal Life," she says referring to model Adrianne Curry. "He asked me to counsel them – I am a certified hypnotherapist – but I didn't really want to do reality TV."

Henderson appeared on the couple's VH1 show My Fair Brady, which she says seemed to steer the couple into an engagement. "They didn't take my advice at all! And as you may have seen, they did get engaged and they did get married," she says. "Maybe I will counsel the divorce."
From People
I only saw snippets of My Fair Brady, but Curry and Knight's relationship really seemed doomed to me. Maybe they edit it down to the worst parts, although those two didn't seem to fight fair or to really be suited for each other. Unfortunately I have to admit that I watched that entire season of The Surreal Life. (I have the excuse that I was laid up in bed most of the time.) Curry really threw herself at Knight, saying stupid crap like "I'm going to nab Peter Brady." When he eventually started dating her, I was very surprised because she came off as desperate to me. She's an attractive woman and was the first America's Next Top Model winner and all, but she seems goofy.
Curry and Knight have been married two years and they haven't separated or divorced yet, so they must be doing something that works. They're also getting some much-needed publicity with Henderson's comment that she might counsel their divorce.
Here's Florence Henderson and Christopher Knight at the 5th Annual TV Land Awards in Santa Monica on April 14, 2007. Photographer: Adriana M. Barraza. Header of Knight and wife Adrianne Curry at the launch of Von Dutch Watches in Santa Monica on April 8th, 2007. Photographer Katherine Burgers. Images thanks to WENN.