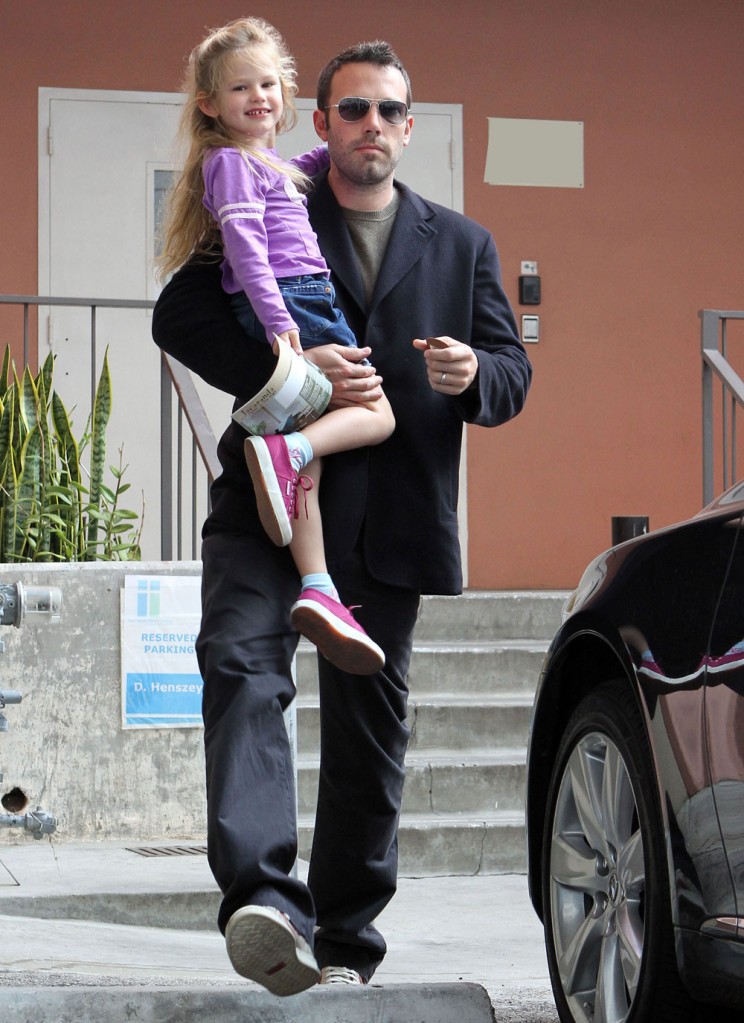 Ben Affleck was a guest on the Ellen Degeneres show and his segment will air tomorrow. Some advance quotes have been leaked from the interview, and they cracked me up. Affleck admitted that he lets his more domestic-minded partner take care of all the Christmas decorating and shopping. He even joked that he's so bad at buying gifts that he ends up at CVS on Christmas eve desperately looking for presents. That's such a stereotype of guys at Christmas time, and it rings true in my experience.
When it comes to getting into the holiday spirit in Ben Affleck and Jennifer Garner's home, Ben admits it's his wife who decks the halls – and hits the stores.

"I'm not particularly proud of it, but it's a bit of a '50s thing I guess. Because my wife is so capable, and because I'm less so, she does a lot of that work and I kind of root her on," Ben told Ellen DeGeneres in an interview set to air on Wednesday's "The Ellen DeGeneres Show."

"I'm encouraging," he said.

When it comes to picking out gifts for family and friends, Ben said he once again defers to Jen.

"It takes her as much energy and effort to buy like the 20 gifts we're going to buy other people, as it does to buy her gift. I spend the whole time, fretting about that and being nervous and hoping she likes that," Ben added.

Typically, as the Christmas deadline approaches, Ben said he abandons the high-end designer stores in lieu of something a bit more convenient.

"I end up at like CVS on [December] 24 being like, 'Maybe she'd like a little Godzilla that goes around,'" the star/director of "The Town" joked.

"[Are] you talking about your wife or your kids?" Ellen asked.

"My wife," Ben said. "My kids actually would like that."
[From Access Hollywood]
I find that oddly endearing because that same dynamic plays out in my house. My husband just told me last night that he has trouble buying presents because there are too many options and he doesn't know what to get. (I mean I knew this, but we were just talking about it.) I usually end up dropping a lot of hints about what I want, and sometimes I buy myself presents online like a purse or jewelry and let him give them to me. I'll actually forget about it so it's still a nice surprise at Christmas, and of course I like whatever it is because I picked it out myself. When he gets me presents they're very practical usually, like a nice coffee machine or a food processor. (Both of which I really wanted and enjoyed, but those are what guys think of.) I have trouble shopping for him too though, as it seems like he has just about everything he needs. Oh and in regards to Christmas decorating, aren't we usually the ones who end up doing that? I get a lot of help once I take the initiative, but I end up deciding how we're going to decorate and rearrange stuff in the house. It's not like we have traditional male and female roles necessarily, that's just the way it happens.
Ben Affleck is shown out shopping with Violet, who turns five tomorrow! (credit: WENN) He's also shown picking her up at school (credit: Fame). Jennifer Garner is shown out with Violet and Seraphina (who turns two in January) on 11/27/10. Credit: WENN.com