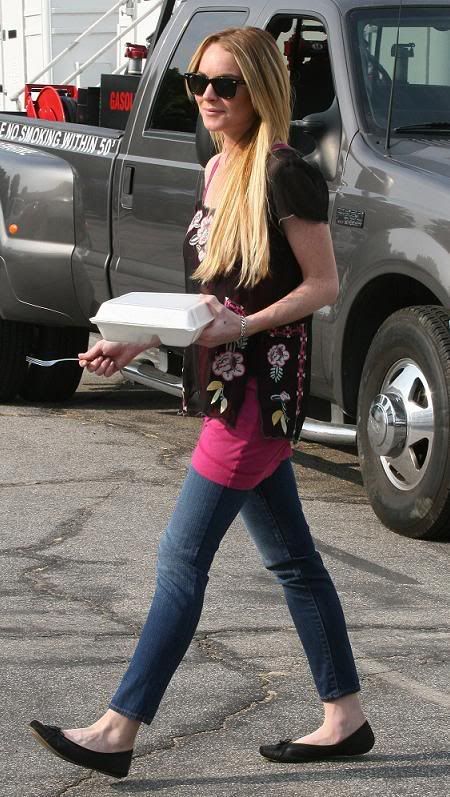 The eternal optimist in me finds it really nice when messed up people get their lives together. Case in point: Britney Spears. Now Brit did it with the help of her parents, older brother, the courts, psychiatrists and a team of lawyers. But she's really doing a good job of getting her life in order.
Someone who hasn't gotten as much attention for improving her life is Lindsay Lohan. Perhaps it's because Lindsay didn't fall quite as far as Britney – she never ended up in a mental ward, and had no children to lose. But she did spend what seemed like three quarters of her life either drunk in clubs or in rehab. She was also very publicly shamed for her poor work ethic on the set of Georgia Rule by Morgan Creek CEO James G. Robinson in the summer of 2006.
However Lindsay is clearly trying to turn things around. Cheryl Hines, one of Lohan's costars in the upcoming comedy Labor Pains, has praised her work ethic.
Cheryl Hines can't curb her enthusiasm for working with Lindsay Lohan on the set of their film Labor Pains. "I have had a great time shooting with her, and when we have scenes together we have a lot of fun improvising… It usually ends in a big laugh fest, and they have to cut because we can't talk anymore."

Hines, who has starred with Larry David in the HBO hit Curb Your Enthusiasm since 2000, insists she expected nothing less from the 22-year-old star – even in light of Lohan's past troubles on set. "It was what I expected," Hines said of Lohan's professionalism. "I honestly expected that she's gotten herself together, and really wanted to work and that's what she's showing us. I'm very proud of her."

Lohan's movie career has been stalled by stints in rehab, but a Labor Pains producer confirmed to PEOPLE in June that those days appear to be over – Lohan showed up for work June 9 on the L.A. location and has consistently been early and well-prepared for the grueling 12-hour shoots.
[From People]
It took Lindsay almost two years to get her act together (I'm not going to go so far as to say she's cleaned it up entirely) but it seems like she's managed to gain a bit of maturity. And to be fair, Lindsay had to do it without the help of her parents.
No one's saying Britney Spears' mom and dad are examples of awesome parenting, but they at least saw their daughter had a problem and tried to step up. Dina Lohan has always maintained that nothing's wrong with Lindsay, while Michael has begged her to find God. They've pretty much done whatever they could to make her problems worse.
It seems like whatever improvements Lindsay has made, she's made on her own, or perhaps with the help of her not-quite-acknowledged girlfriend Samantha Ronson. And Labor Pains looks like it might actually be funny. Good for her.
Here's Lindsay Lohan on the set of 'Labor Pains' in L.A. on Friday. Images thanks to WENN.