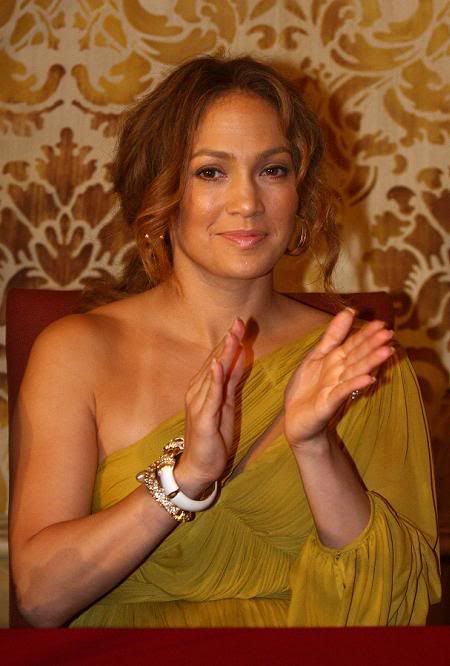 Jennifer Lopez seems absolutely intent on making sure her five month old twins Emme and Max turn into little divas as soon as humanly possible. J-Lo is going to pretty extreme lengths to make sure the kids know absolutely nothing of normalcy, or have even the vaguest concept of modest living. According to the Sun, J-Lo doesn't let them wear any of their outfits more than once.
Even by Jennifer Lopez's extravagant standards, this takes some beating…

The actress apparently insists on dressing her five-month-old twins in new designer gear every day.

We're told: "Jennifer was approached by a charity and asked to donate some dresses for a celebrity auction. She agreed and donated a gorgeous £5,000 frock.

"She also offered some of Max and Emme's clothes, telling organisers that she never lets them 'repeat' outfits.

"But the auction deals only in adult clothes. Jennifer told them it was a shame, as some items cost over Û1,000 (£500) each."
[From the Sun]
That is really, really terrible. Lopez has also been widely reported to be a bit of a germaphobe about the babies, insisting on surgical masks and ridiculous amounts of hand sanitizers for anyone around them. Perhaps that plays into her insistence that the tots not wear anything more than once.
If nothing else she could donate the clothes to any charity for kids. It doesn't need to be some fancy celebrity auction. She could do it just to put clothes on another little baby's back. On Friday Celebitchy pointed out that the twins "probably have their clothes changed as often as their diapers, modeling designer outfits and tiny cashmere sweaters around the house while perfecting their haughty stares." Sounds spot on.
Here's Jennifer and husband Marc Anthony receiving an honorary award from the Milan town council in Italy on July 1st. Yeah, I find that confusing too. Images thanks to WENN.