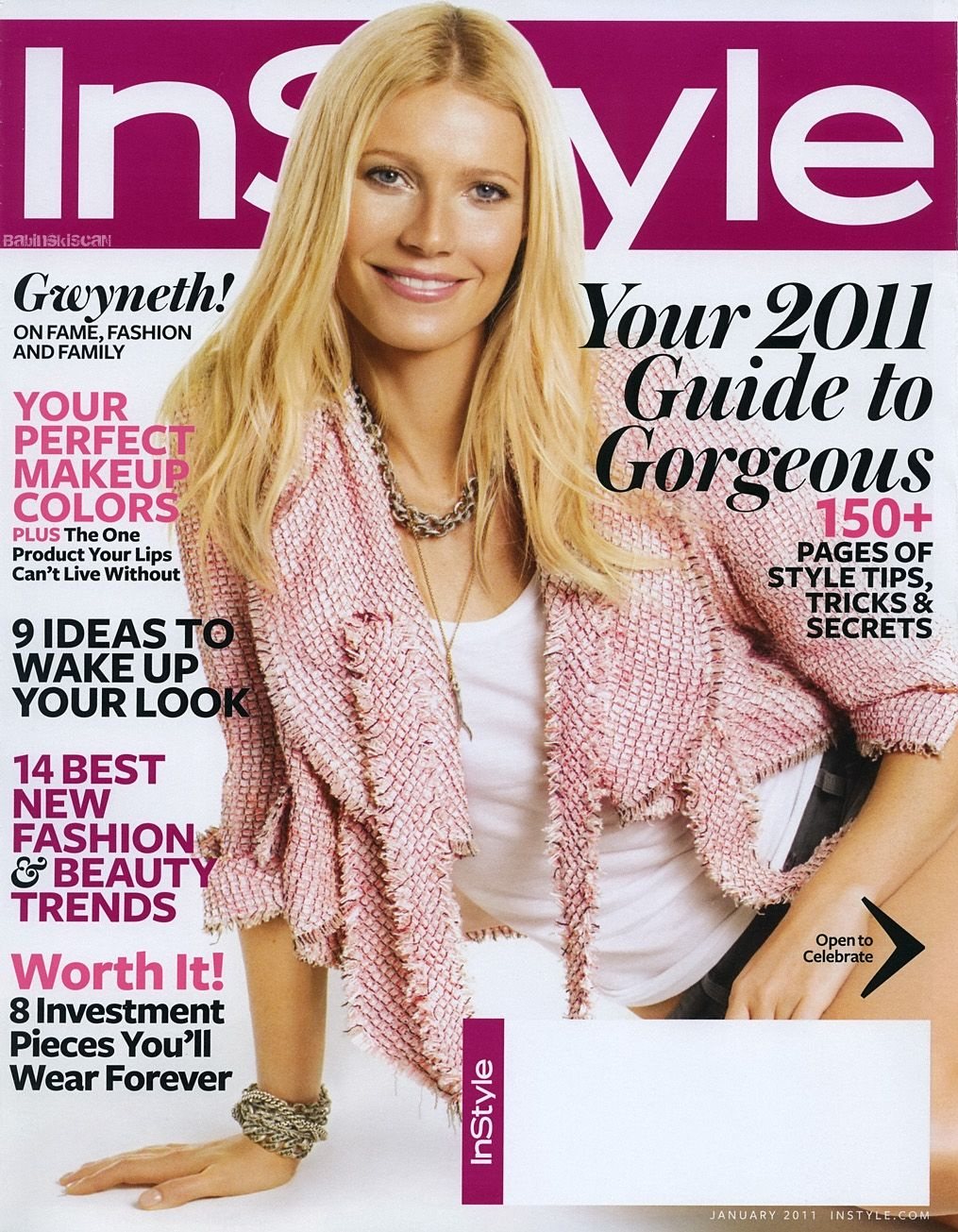 Gwyneth Paltrow is the January cover girl for InStyle Magazine, to promote her lead role in Country Strong. My new happy place is picturing Goop's face when she realized that Angelina Jolie got a Golden Globe nomination for Comedy/Musical and that she, Goop, got shut out. Anyway, Goopy still has a job to do, and that includes talking about her "dear friends" and "good friends" – because Goopy wants to remind us, once again, that she only associates with the very best. Goopy is the worst/best kind of name-dropping starf-cker.
Is a merger in the cards for two celebrity superstar families? Gwyneth Paltrow thinks so. She and her new BFF Faith Hill have spent so much time together lately that their children have bonded – in a major way.

"Moses … we might really become family when he marries Audrey!" Paltrow tells Hill, who interviewed her for January's InStyle, on newsstands Friday. "My son is in love with your daughter!"

Paltrow is referring to her son Moses, 4, with husband and Coldplay frontman Chris Martin, and Hill's daughter Audrey, 9, with country superstar Tim McGraw. The two families grew close while Paltrow and McGraw were filming their upcoming movie Country Strong in Nashville.

"Don't you just love our babies?" Hill, 43, asks her friend, who replies, "I love mine, and I love yours!"

Hill complimented Paltrow on her singing voice, which Paltrow says "didn't have any power or strength to it" before she spent time developing for her role as a country star.

"I don't even know how to respond to that in your presence, but thank you," Paltrow says. "You know, last night when I was watching the film, I thought, this is the best job I've ever done. Normally I can't stand to see myself, but with this film I felt like it all came together."

Paltrow, 38, also dished on her Christmas plans, saying the family of four will hole up in their Amagansett, N.Y., home for some R&R.

"I'm excited," she says. "We always get a big old tree and go see movies. It's so cozy." Another bonus to the holiday season? "The phone stops ringing and the emails stop coming."
[From People]
"You know, last night when I was watching the film, I thought, this is the best job I've ever done." Oh, Goopy is selling it HARD. How about this, Goopy: "Usually I think I play myself and come across as a frozen, icy bitch on screen, but I was playing drunk and I had a twang, y'all. Go see my movie, please." Goopy also tells InStyle: "My kids are everything to me. I was so lucky to have great parents and I don't know if I'll be as good, but I'll certainly try." And: "I'm a clothes person and try to have fun with fashion. It's like playing dress-up." Of course.
By the way, all of you yelling at me for saying Goopy looked like ten kinds of hell at her Walk of Fame ceremony yesterday – seriously? She looked like hell. And don't even try to tell me she just looks "natural". She looked 'Toxed and waxy. Just my opinion, I guess.