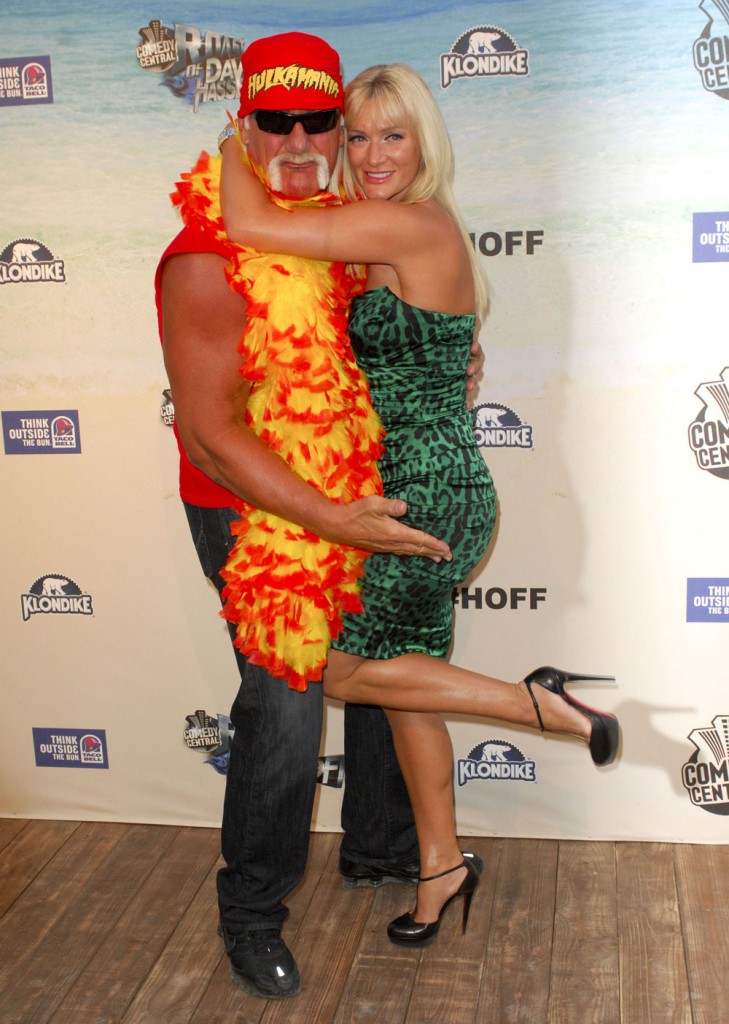 Hulk Hogan, 57, married his longterm girlfriend, Jennifer McDaniel, in an intimate beachfront ceremony at his home in Clearwater, Florida last night. McDaniel, 35, bears a striking resemblance to Hulk's 22 year-old daughter Brooke, but is much more age-appropriate for Hulk than his ex wife, Linda Bollea's fiance. Bollea, 51, is engaged to a 21 year-old boy who is a former schoolmate of her 20 year-old son, Nick. There's a lot of weirdness going on in this family. Bollea wasn't invited to Hulk's wedding and he seems to have beaten her to the aisle. (She's probably not in a hurry to get married anyway, considering that she'll probably give up the $40,000 a month Hulk pays her in alimony.)
The happy event was not without it's setbacks, with Hulk's security guards roughing up a photographer and cops called to the scene. It all sounds typical for a Hogan gathering. The good news, I guess, is that Hulk and McDaniel had a prenup, so when this relationship goes south Hulk might not go totally off the rails. Also, Hulk's ex Linda is writing a book. The idiot should have secured a gag order along with that hefty settlement he paid her.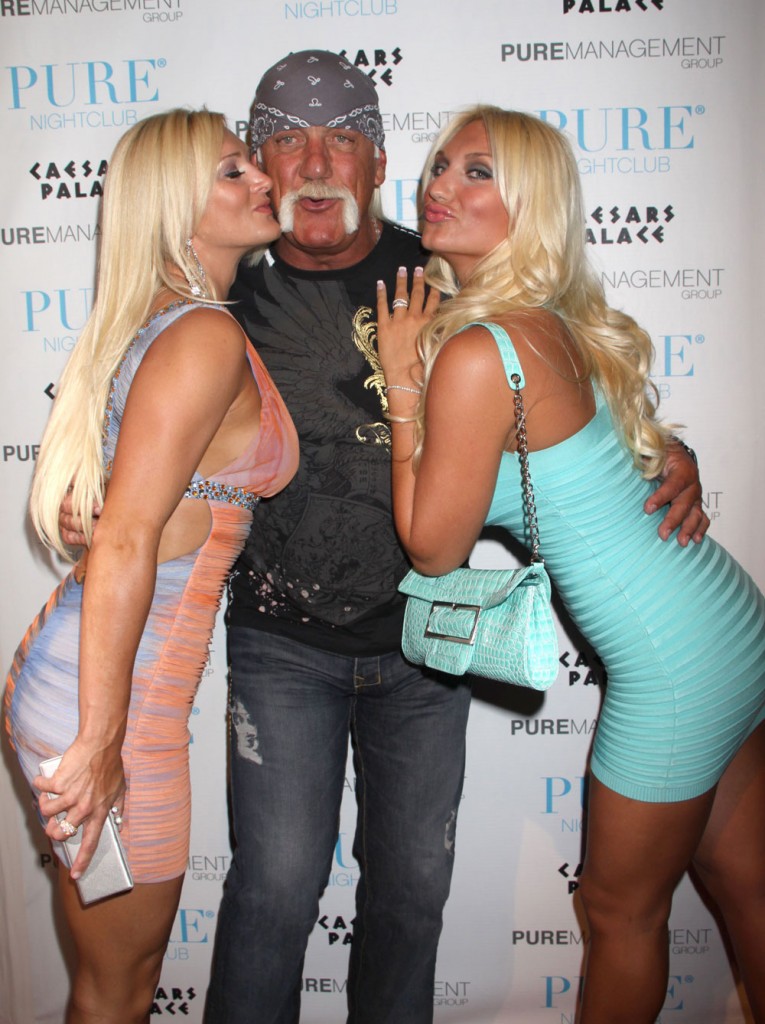 While the couple was exchanging vows at an intimate ceremony in Hulk's backyard, which lasted no more than two minutes according to one insider, Hulk's hired help grappled with the shutterbug who was trying to snap shots of the happy couple.

"Hulk's security team was in the background throwing around the paparazzi who was standing 200 feet away in the shoreline water," said one source.

RadarOnline.com has confirmed cops were called but no one was arrested.

However, a source close to the photographer tells us he later filed a complaint with the Clearwater Police Department, alleging assault, battery and destruction of property.

"Hulk's snappy wedding clip just might be subpoenaed since they are in the background punching it out!" added the insider.

"The paparazzo wants charges filed and plans to sue for physical, financial and emotional distress."

As RadarOnline.com previously revealed, Hogan suddenly decided to marry McDaniel after securing the all-important prenuptial agreement.

Said our source: "Jennifer got wind of ex wife Linda Hogan's new book My Life on the Ropes which will allege a number of Hulk's affairs and infidelities."
[From Radar Online]
In terms of what Linda might be covering in that book, McDaniel wasn't the first woman that Hulk took up with. He also cheated on Linda with a 33 year-old who just happened to be his daughter's best friend at the time. That mistress, Christiane Plante, was a brunette though. Hulk ended up marrying the mannish blonde who looked just like his daughter instead of staying with his daughter's friend.