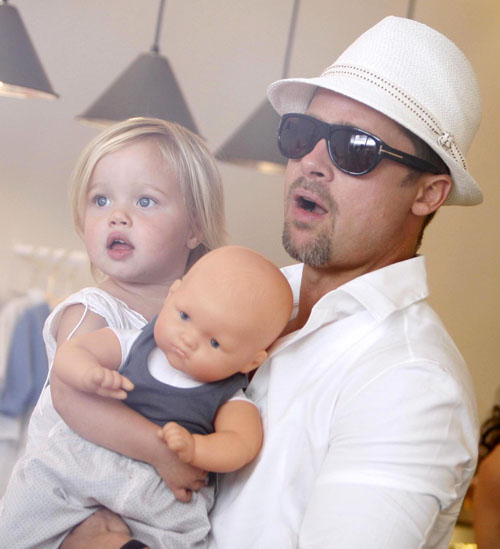 Brad and Shiloh shopping on 5/19/08. Credit: WENN
Brad Pitt and his lawyers are planning legal action because photographers took pictures of their family playing in their backyard.
Lawyers for Brad Pitt on Thursday threatened legal action against anyone publishing recent photographs they say were taken by paparazzi of the actor and his newly enlarged family at their French estate.

Pictures of Pitt and his family in France were "surreptitiously" snapped using a powerful telephoto lens and sold to an unidentified buyer, the Los Angeles lawyers said in a letter published by the U.S. Web site The Smoking Gun (http://www.thesmokinggun.com).

The lawyers did not say which family members were in the pictures.

Pitt and actress Angelina Jolie, the mother of his children, have reportedly sold exclusive picture rights to the first photographs of their newborn twins to a U.S. publication for $11 million. The money would go to charity.
Now I understand that the backyard is a private place and they should be able to play there and not get photographed. I even think that they should be able to walk down the street and get milk, or take their kids for a seatbelt-free ride on a golf cart without getting their picture taken. But somehow I think that the family is going to lose a bit of sympathy in this lawsuit. You have sold pictures of your children to various magazines for huge profit, even if that money has been donated to charities. Just let it pass, and enjoy your time with the family. You have two new babies to get to know, and could probably really use some sleep!
France has much stricter laws about paparazzi photographers than any other country in the world, but if someone secured the first pictures of the twins it would be a huge financial boost. How can a fine and a few days in jail compare to that kind of windfall?
The Smoking Gun website, which got the letter from Camp Brangelina, says that they have never purchased a paparazzi picture in the eleven years of their site being in action. You can view the full letter there, which states that it is a "confidential legal communication and not for publication".