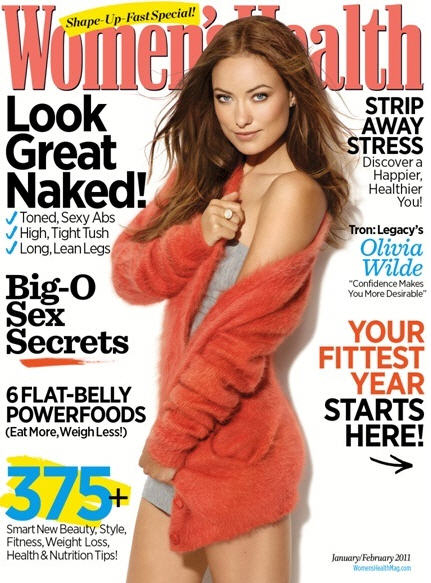 Originally I thought that Oiivia Wilde was talking about being a princess AGAIN. Like she does in every interview. But she isn't. She's the cover girl for the January issue of Women's Health, and in the interview she talks about her marriage… TO A PRINCE. But if you read the excerpts carefully, she's not really going on and on (like she usually does) about how she's technically a princess.
Not every royal marriage requires an over-the-top affair. At least that wasn't the case when a then 18-year-old Olivia Wilde wed filmmaker Tao Ruspoli — son of the late Italian Prince Dado Ruspoli — six months after they were fixed up.

"We eloped," she reveals in Women's Health's January/February issue. "There was nothing traditional about it."

But the Tron: Legacy star, 26, says their unconventional courtship could be the key to their lasting marriage. "You're not thinking, 'We must be perfect!'" she tells the mag. "It was, 'Hey, isn't this an optimistic thing to do? And if it lasts, we're lucky.'"

Seven years later, the duo are still so solid that Wilde says he doesn't even get jealous when she locks lips on-screen. "I think he likes it," she says. "It's a turn-on that I get to do these things."

Something else that likely gets Ruspoli's heart racing: the super hot bod she gained when training for her role in the sci-fi flick (costar Garrett Hedlund graces the cover of Men's Health).

Says Wilde, "I worked with a personal trainer, so I did about an hour of cardio five or six days a week, weight training three times a week, mixed martial arts/fighting three times a week, and that's a lot more than my normal [routine]!"
[From Us Weekly]
She seems to be toning down some of her junk, which is nice. She's not my favorite person in the world, but I don't hate her either. It would certainly be interesting if she succeeded in transitioning from television to film… although I'm not sure if that's going to happen with her roles in Tron: Legacy and Aliens Versus Cowboys or whatever. We'll see.