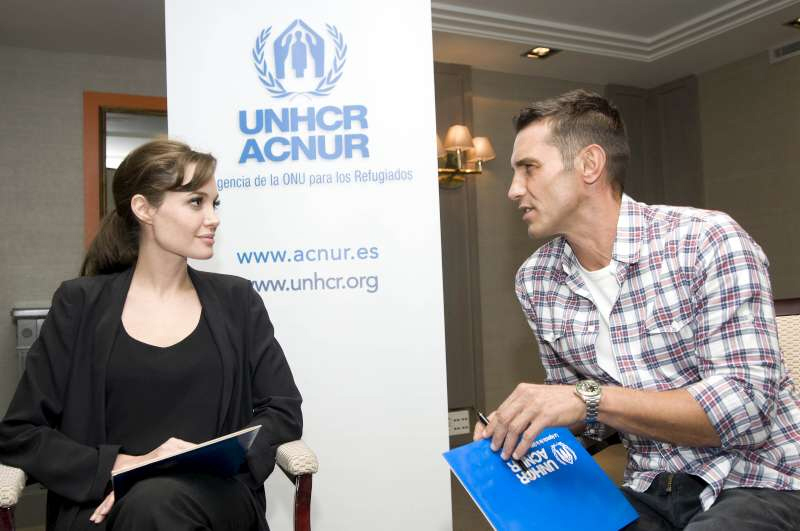 While in Spain on her "Velvets of the World" tour, Angelina Jolie stopped by the UNHCR headquarters in Madrid to celebrate the UNHCR's 60 anniversary. The above photo is from her visit – the dude she's sitting with is Jesus Vasquez, some Spanish "presenter". He's cute. Anyway, she released a statement too!
MADRID, Spain, December 17 (UNHCR) – UNHCR Goodwill Ambassadors Angelina Jolie and Jesús Vázquez met in Spain this week and paid tribute to the staff of the refugee agency on its 60th birthday and to the people they help.

"In the week of UNHCR's anniversary, I would like to highlight the strength and courage of the world's refugees and [other] forcibly displaced people who are, for all of us, an example of generosity and dignity," Jolie said during a visit Thursday to UNHCR's Madrid office. "My thoughts go also to the dedicated UNHCR staff, who for many years have risked their lives to protect the lives of refugees."

Award-winning actress Jolie was in Madrid to promote her latest film, "The Tourist," and took the opportunity to meet UNHCR staff and discuss Spain's asylum system, mixed migration flows into the country, resettlement and other important issues. She also heard about plans for the anniversary year.

Jolie met Vázquez, a popular TV presenter in Spain, and shared with him some of her experiences as a goodwill ambassador over the past decade. Since becoming a goodwill ambassador in 2006, Vázquez has been actively supporting awareness and fund-raising activities in Spain on behalf of refugees, including a charity art auction on Wednesday in Madrid.

UNHCR turned 60 on Tuesday. It was founded on December 14, 1950 to help Europeans displaced during World War II and was only expected to be in existence for three years. Today, it works around the world, helps millions of people and has an open-ended mandate.
[From The UNHCR Press Release]
Good for her. I've been wondering why we hadn't seen any UNHCR stuff from Jolie during The Tourist's promotional tour. Usually she schedules refugee activities side-by-side with film promotion.
In other Jolie-Pitt news, there's a rumor going around that she and Brad are going to get married on Valentine's Day in India. Apparently, some Indian guru has agreed to bless their union…?
[Angelina and Brad] are apparently heading to India for their vows on Valentine's Day. A temple in Northwest India will be where the two have their vows and will be blessed by spiritual leader Guru Gurudev Ramlalji Siyag. The Guru has known the couple since 2005.

A source told the Hindustan times, "They've been practicing his Siddha yoga and they start and end the day by chanting a sacred word he's given them. It's transformed their relationship they've both cut back on drinking and no longer argue."
[From Starpulse]
I thought Aniston got "yoga" in the divorce? But yes, this report is crap.
Header photo courtesy of the UNHCR.