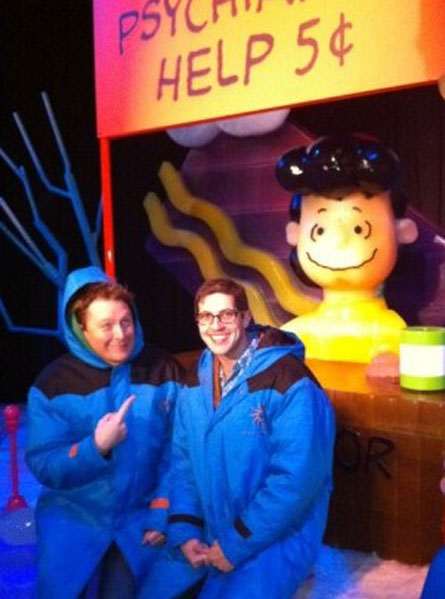 American Idol runner up Clay Aiken only came out of the closet a couple of years ago after he fathered a son with his female best friend. Around that time he said that he'd never been in a romantic relationship, and that was assumed to mean both men and women. That soon changed when he hooked up with another Broadway star, Reed Kelly, who he was dating for about two years up until this summer. Now Clay may have a new boyfriend, an actor and underwear model from Texas named Jeff Walters.
A Pink reader who wishes remain nameless has given me the head's up that Clay has found new love with a local community theater actor in Texas named Jeff Walters.

According to my source and lots of chatter on Twitter this week, Clay has been spending a lot of time with Jeff in Texas this week. Clay was in attendance at a local production of The Rocky Horror Picture Show in Dallas to see Jeff in the role of Rocky. The couple then were spotted at a performance of The Drowsy Chaperon the following night then they showed up at the Gaylord Texan Ice Show the day after. In the days that followed, Clay and Jeff made coupley appearances at Pinkberry, Borders Bookstore and at the movies to see Black Swan. It turns out that Jeff Walters is also a part-time model for 2(x)ist underwear.
[From Pink is The New Blog via DListed]
That's nice! Clay's new boyfriend is geeky hot and they look cute together. Is anyone else getting Hogwarts vibes from their matching snowsuits? It's the hoods along with the black and blue color scheme. (I checked and that's kind of like Slytherin. Update: I guess it's closer to Ravenclaw! Thanks for the help on that!) I would observe that they must be serious if they're dressing alike, but apparently everyone who goes to that Gaylord ice show gets to wear a blue jacket like that because it's only 9 degrees Fahrenheit in the exhibit. Plus, "Gaylord" is just the name for a hotel and convention center in Dallas and apparently has nothing to do with how fabulous their ice exhibit may be. It seems fitting, though.
Photos are via DListed, where there are more