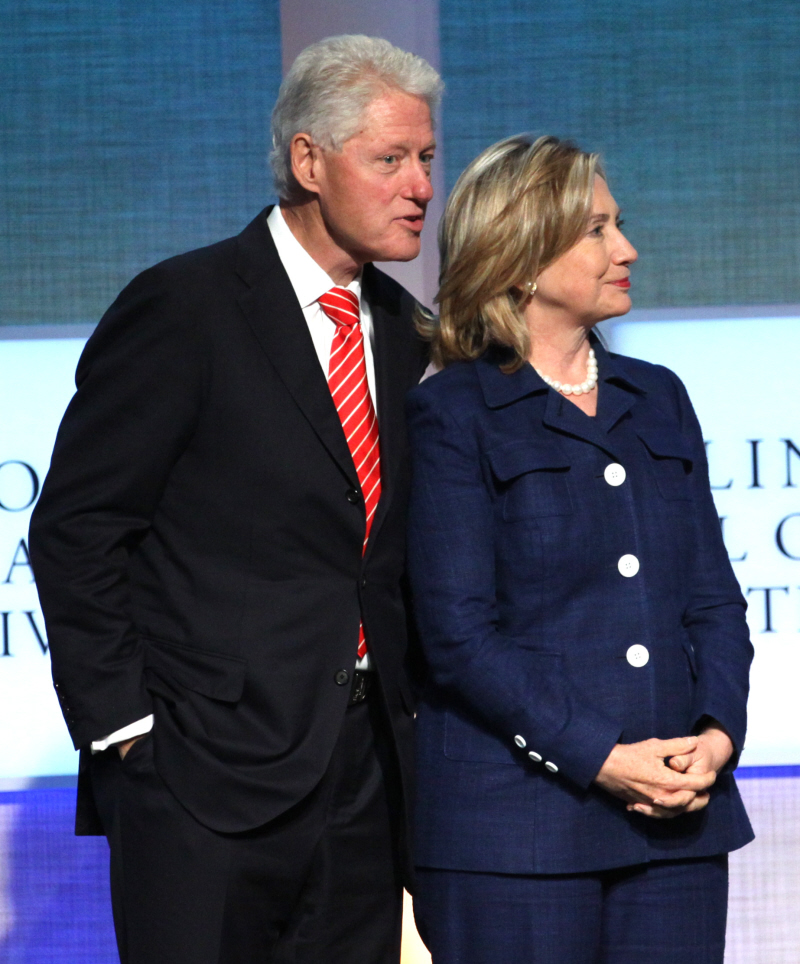 Now let me just say at the beginning that I found this National Enquirer story to be both extremely insulting, as well as genuinely amusing. Is it sexist? Sure. But it's also kind of funny. According to the Enquirer, Hillary Clinton has been stress eating like a madwoman, and she's put on quite a bit of weight just in the past five months or so. I'm putting photos up of Hillary in the past two months, and while it does look like she's put on a little weight, it's not the "40 pounds in 4 months" that the Enquirer claims. My guess is 15-20 pounds in 4 months. Stress eating is a bitch, and I can't even imagine Hillary's stress level as Secretary of State. So I'm giving her a pass, in general, one woman to another. Hillary, if you want to come over for some cookies, cream pies and cocktails, I'm here. If anything, the idea that Hillary is a stress eater who downs cream pies in between pouring over diplomatic cables makes me like her even more. But the truly funny part comes when the Enquirer tries to convince us that Bill Clinton doesn't like Hillary's weight gain. Um, who buys that? Bubba loves chubby girls. Always has, always will.
Super-busy HILLARY CLINTON has packed on 40 extra pounds – and she blew up at former tubby hubby when BILL suggested that she check into a fat farm!

In the past four months, the secretary of state has ballooned to a hefty 171 pounds while criss-crossing the globe on diplomatic missions and dealing with the WikiLeaks scandal, sources say. The 63-year-old politician has been binge eating instead of exercising, and ex-president Bill made the mistake of telling his 5-foot-7 wife that she was looking chunky, insiders say.

"With her nonstop workload, Hillary has ditched her regular gym schedule. She's been eating rich, fatty foods while dining with heads of state around the globe – and it's no wonder she's gained 40 pounds in the last four months. Now she's hit an all-time personal high of 171 pounds," a Clinton friend told The ENQUIRER.

"Poor Hillary feels terrible about the way she looks, but she is so busy she isn't making time for her own needs."

Making things even worse is her husband of 35 years – who's battled his own weight woes until becoming thinner recently. Bill pointed out that she needed to do something, sources say.

"When Hillary asked him how she looked, he told her, 'You're huge! You need to go to a fat farm!' Then he made things worse by saying treadmills and stair climbers were fun," a pal told The ENQUIRER. "Hillary exploded! She doesn't need anyone saying she needs to go to a fat farm!"

Pals say Hillary's biggest problem is her hectic travel schedule. Since July, she's traveled to Poland, Azerbaijan, Armenia, Georgia, Bosnia, Kosovo, Belgium, VietNam, Cambodia, and many more. She's also been under tremendous pressure over the damage done to the State Department by the WikiLeaks scandal.

"It's caused her to do something she's seldom done – binge eating," said a friend. "In weak moments, Hillary has been staying up late nursing her stresses by pounding down rich desserts like cream pies, doughnuts, and ice cream sundaes with whipped cream. Bill was a champion junk food eater in the old days, but since his heart surgeries, he's watched his diet and he's concerned about Hillary's weight gain."

A Clinton friend adds: "Bill was never more proud of the way Hillary looked than when they danced the night away at their daughter Chelsea's wedding in July. But since then, Hillary has piled on the pounds and doesn't need reminding how out of shape she is. She will decide when she can find the time to go to a high-end spa or a fat farm, not Bill. But it will be soon – Bill is determined to help her get her weight under control and has convinced her it's for her own good."
[From The National Enquirer, print edition & online edition]
Yeah. Bubba never told Hillary that she needed to go to a fat farm. First of all, if he did say that, Hillary would smack the crap out of him. Second of all, he didn't say it. He probably told her she never looked better. As I said, Bubba loves "a little extra" on his women. Oh, and my third point – I kind of don't buy that Hillary and Bubba even spend that much time together any more. Why would Bubba be monitoring Hillary's weight when he's probably flying all over on party jets with hookers? Just a thought.
Also… if Hillary is concerned about this, while she comes over for pies, cocktails and cookies, I'm going to share my wisdom about never wearing horizontal stripes.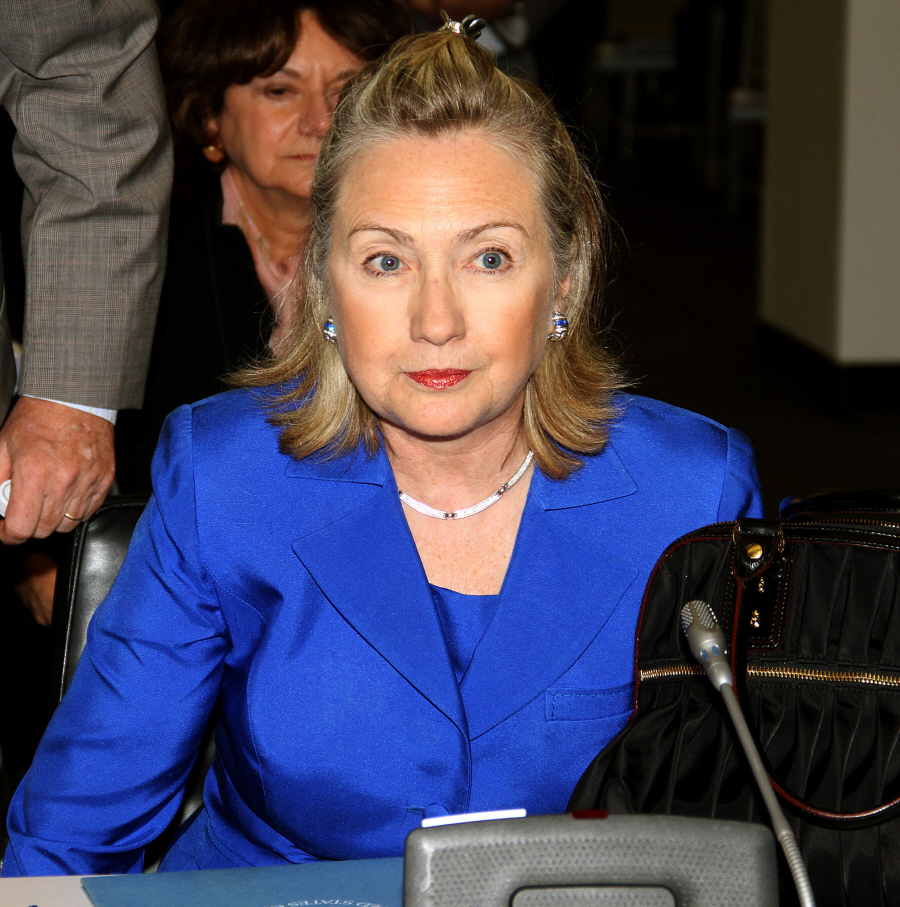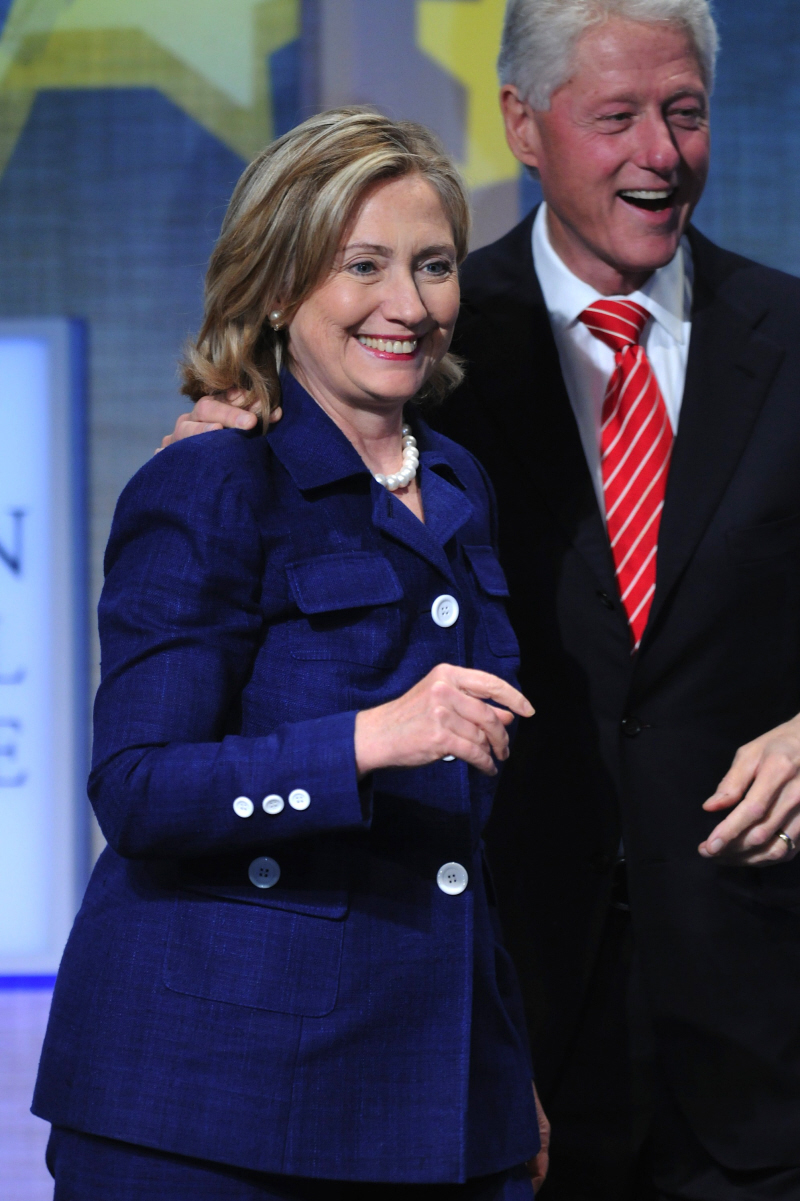 Photos courtesy of WENN.