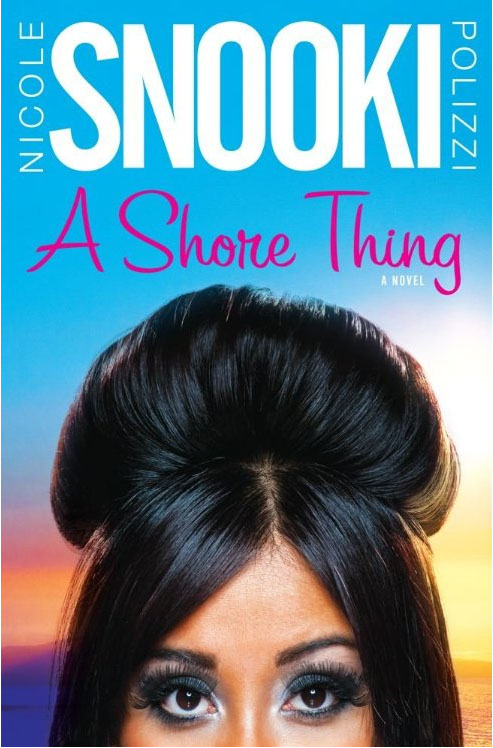 Snooki once told a reporter for the NY Times that she'd only read two books in her life, Dear John and Twilight. The orange wonder can add one more book to that list, because her new work of "fiction," A Shore Thing, is out in stores today. I got a sample on iBooks and it's just as bad as advance quotes and common sense would lead you to believe. Although Snooki told E! News she wrote the book herself, that doesn't seem to be the case. In the acknowledgments section, she thanks her "collaborator," writing "Thank you so much to Valerie Frankel, my collaborator, who helped translate my ideas onto the page." The book is about a character named "Gia," who is basically Snooki, and her cousin, who rent a "Seaside Heights beach house/dump" over the summer and try to get laid. It's a vapid read with too many stupid details and a plot that's lifted straight from Jersey Shore. My eyes started glazing over and my mouth was hanging open a few pages in. Here's a segment where Gia tries to pick up a guy at a club.
A hot guido was staring at her – in a nice way – from across the room.

Gia smiled at him. His back against the wall, he stood just off the dance floor, thumb in a belt loop. His chest muscles strained the fabric of his black tank top. It fit across a tummy that was hard and flat enough to cut salami on. No tattoos, which meant plenty of empty space on his arms to ink PROPERTY OF GIA. He started as if he could see through her dress, right down to the zebra-print bra and thong set underneath.

"I found him," Gia said to Bella, draining her Slippery Nipple in one long suck…

Right at that moment, a Deadmau5 mix came on. He was her fave; it was a sign. She stepped onto the dance floor. The music took her over. Dancing had to be Gia's second favorite way to work up a sweat. It definitely beat going to the gym. For exercise, Gia cranked house music in her bedroom and danced until her legs felt numb. She loved dancing and was talented, too. Gia won a contest while in high school for shaking it the longest and hardest without spilling a single drop of her vodka tonic.

Tonight, she aimed her gyrating hips straight at Salami Boy. The guy could take a hint. In two seconds, he creeped over to her. In five seconds, they were grinding, her butt pressed against his thighs.

She turned around to introduce herself. "I'm Gia," she screamed in his ear above the music.

"Rocky," he said, putting a bear paw on her waist and holding her against him.

Rocky in his jeans, thought Gia.

Even in the dark room, his blue eyes dazzled Gia. Ice blue. Something about light eyes on dark skin always made Gia's body temperature rise. The music was too loud to talk, not that it mattered. Gia wasn't interested in making a deep soul connection. Tonight was all about the three D's: Drinking, Dancing, and Duh.

"Are you from around here?" she yelled.

"You got a nice rack," screamed Rocky in reply.

Well, yeah, she thought. Okay, not a supergenius. That was fine. Gia didn't judge. She was glad he approved.

"Come here," he said, lifting her off her heels to bring her lips to his. She had to wrap her legs around his hips to stay up there. Here we go, thought Gia. Twenty minutes from club entry to hookup. This might be a record, even for her.

"Bitch, get away from him!" pealed a shrill voice from behind.

Bony fingers grabbed Gia's shoulder and yanked her out of Rocky's arms. She hit the floor on her heels like a cat, but then stumbled and landed on her ass embarrassingly. A few guys stared, jaws unhinged, at her sprawled on the dance floor. One started drooling.

"Oops," she said, realizing her dress was pushed up around her waist. Full-frontal thong exposure….

Gia met the eyes of the seething blonde bimbo who'd thrown her to the floor. The girl's arms were in battle position, ready to go. Rocky stood behind her, grinning as innocently as a choirboy.

The blonde lowered her arms suddenly. "Gia friggin' Spumanti."

"Oh my freakin God," said Gia. "Linda Patterson."
[From Shore Thing]
It goes on, and Linda and Gia were co-captains of the cheerleading team in high school and had a falling out or something before this fated meetup in a seedy club where Gia snagged Linda's Neanderthal boyfriend. There were plenty of lines in the excerpt that made me roll my eyes, and a couple that were funny, maybe unintentionally so. Like these:
"Trouble shouldn't be his nickname, thought Bella. It should be tattooed on his forehead."
"Gia said, 'The club will not run out of tequila before I get my hair right. So shut the f*ck up'"
"'But we're hot girls,' Gia pointed out. 'We don't need to pay for anything.'"
I'll spare you more detail. You get the point, but no one expected a masterpiece. I just hope that this POS book doesn't sell at all. It doesn't need a sequel or a movie version, although Snooki might be counting on it. She told E!'s Mark Malkin "I feel like it could definitely be a movie." And I feel a spontaneous hangover coming on. That's what I think of when I see Snooki, hangovers, spray tans and clouds of Aquanet. The details of her numbingly boring life don't interest me, but I've never been able to watch Jersey Shore either.
Photos credit: WENN.com